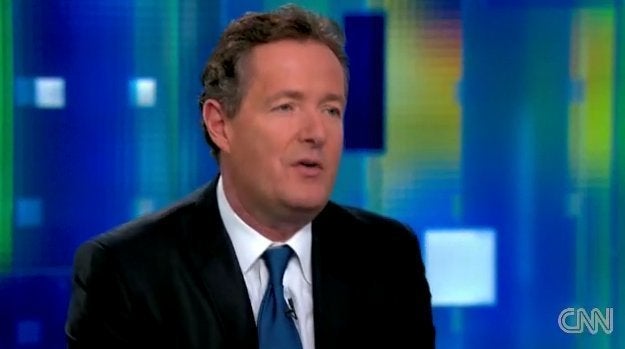 Piers Morgan has emphatically denied all charges of phone hacking, but the repeated allegations against him have been a cause for concern at CNN.
The Wall Street Journal reportsthat "two people close to CNN say that there has been ongoing discussion about the situation internally at the network."
The developments have led the Daily Telegraph's Toby Young to speculate, "It now looks probable that he'll receive an invitation from John Whittingdale MP to appear before the Culture, Media and Sport select committee."
Meanwhile, CNN continues to publicly support Morgan, with a spokeswoman affirming to the newspaper, "Piers Morgan has been firm and specific in his denial." CNN was aware of Morgan's tenure as a tabloid editor, and took care to clear his journalistic ethics before adding him to the network's prime-time lineup as Larry King's successor earlier this year.
According to the Journal, CNN executives carefully read his books, which include a 2005 autobiography in which Morgan mentioned that he had changed his phone code after someone suggested that his phone may have been hacked. (Parliament member Louise Mensch recently confused his remarks to mean that Morgan himself had hacked phones.) The network also reportedly quizzed Morgan intensely about his standards, and got him to assure that he would not pay for interviews.
Morgan has continued to maintain his innocence, taking to Twitter and television to defend himself.
Related
Popular in the Community