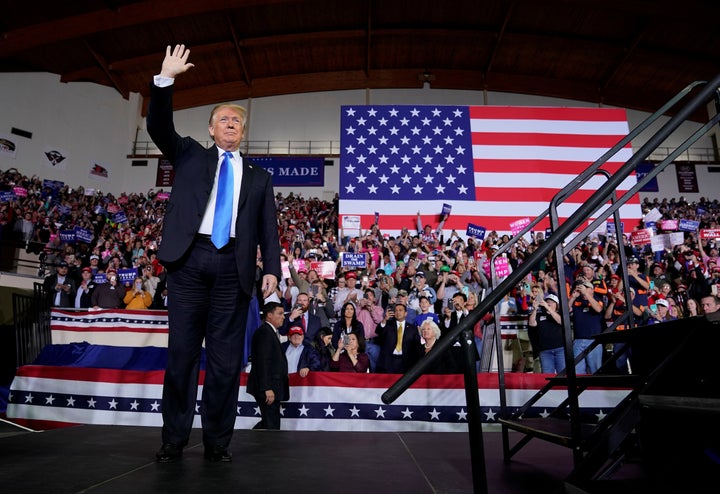 Forty-six percent of those polled think Trump will defeat his Democratic opponent in 2020, as opposed to 47 percent who think he will lose. The poll comes with a 3.8 percent margin of error, so essentially it's a draw.
However, the surprising takeaway seems to be that the public thinks Trump's odds are improving. In March, 54 percent of Americans believed the president would lose in 2020.
Of course, as CNN's report notes, these predictions have proved wrong in the past. Polls from 1995 and 2010 showed a majority of Americans predicting presidents Barack Obama and Bill Clinton would lose re-election.
Regardless, the uptick in people foreseeing a Trump win may be related to how Democrats and Democratic-leaning independents feel about the party's potential 2020 candidates. The field is large and support is currently scattered.
The poll shows former Vice President Joe Biden leading the pack at 33 percent, followed by Sen. Bernie Sanders of Vermont with 13 percent, and Sen. Kamala Harris of California at 9 percent.
We're still two years out from the next presidential election and weeks away from the 2018 midterms, so this is all very preliminary. And as CNN's Ryan Struyk points out, the Republican field in November 2014 ― two years before then-candidate Trump defeated Hillary Clinton ― looked vastly different than what the GOP ended up with.
In 2014, former Massachusetts Gov. Mitt Romney led with 20 percent support, followed by Ben Carson with 10 percent and former Florida Gov. Jeb Bush with 9 percent.
Trump's own party continues to support him by a vast majority, the poll shows, with 74 percent wanting to see him in office for a second term. Twenty-one percent of Republicans and Republican-leaning independents would prefer someone else.
The phone poll, conducted by SSRS, sampled a total of 1,009 random adults between Oct. 4 and Oct. 7.
Popular in the Community