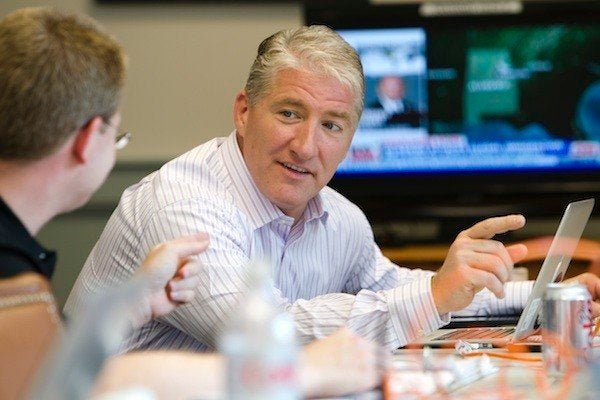 MANCHESTER, N.H. -- While political pundits began speculating about the 2012 election just as the 2010 midterm results trickled in, news executives started thinking about how to cover the still-undetermined Republican field.
CNN Washington bureau chief Sam Feist arrived in New Hampshire a week after Republicans took back the House in search of a venue for the party's first primary debate in the Granite State. After scouting various locations, CNN brass settled on a hockey rink for Monday's prime-time face-off -- the event Feist considers the unofficial launch of 17 months of intensive presidential coverage.
"Between now and November 2012," Feist said, overlooking the Saint Anselm College arena-turned-TV debate set, "this is going to be probably the biggest story we cover at CNN."
The CNN debate, co-sponsored by New Hampshire television station WMUR and the Union Leader newspaper, isn't the first time that 2012 candidates have sparred on stage. Last month, Fox News hosted a debate in South Carolina. But Feist and moderator John King each pointed out that Monday's debate is significant in that several GOP contenders -- Newt Gingrich, Michele Bachmann, and front-runner Mitt Romney -- will be making their first appearance in a 2012 debate.
"This is a very different field of candidates and they're in New Hampshire, which is the state that, in many ways, may be the most passionate about the presidential primary process," Feist said.
King was quick to point out that Fox News' Bret Baier "did a great job" moderating "an interesting debate" last month, but said that Monday's bigger roster of candidates, coupled with increased voter interest, makes this debate "special."
In addition to more podiums on the stage, Feist said that Monday's event will be "the most sophisticated debate we've ever produced in our history in terms of complexity."
At that event, Anderson Cooper turned to pre-taped video questions from voters. Monday night, King will take live questions from Republican and Independent voters in the debate hall and at coinciding New Hampshire town hall events in Rochester, Hancock and Plymouth, which will be beamed into the Manchester location. King will also take questions from commenters on CNN.com and from social media users on Facebook and Twitter (by way of the hashtag #CNNdebate).
"What you're getting in this debate is a wide variety of ways that the candidates are getting questions," said Feist. He added that voters may even get a chance to respond as to whether they feel the candidate adequately answered a question.
King likens his moderator job to that of a "traffic cop."
"This is not my debate," he said. "It's the candidates' debate and it's the voters' debate -- voters both here in New Hampshire and across the country who may just be starting to get an introduction to this campaign and want to learn more."
For the past few months, King has talked quite a bit about the early 2012 race on his 7 p.m. show, "John King USA." But in February, the CNN host expressed some frustration over what he dubbed the network's "Fox problem."
At the time, would-be candidates Mike Huckabee, Sarah Palin, Rick Santorum and Newt Gingrich were all under exclusive contract at Fox and could not appear on another network. Huckabee decided to keep his Fox News job and not run. Palin, who's still a Fox contributor, hasn't ruled out getting into the race. And candidates Santorum and Gingrich no longer work for the network.
Going forward, King said he doesn't expect CNN to have difficulties getting access to Republican candidates who may find more sympathetic ears among right-leaning cable hosts. He said that if candidates want to reach beyond their base before November 2012, they'll need to engage with a variety of media outlets -- whether a cable news host might agree with them or not.
"Are these guys more comfortable going on Hannity or O'Reilly?" King asked, referring to the Fox News hosts Sean Hannity and Bill O'Reilly. "Maybe. Are most of them smart enough to know they can't just do that and get elected president? I think so. I think they have to be everywhere."
WATCH: King previews Monday night's debate.
[HuffPost's Jon Ward has a preview of what to watch tonight here.]
A former chief political correspondent for the Associated Press, King doesn't like to be constrained by the studio. He traveled to all 50 states while hosting the Sunday show "State of the Union," and says he plans to leave the Beltway often during the 2012 race. The campaign trail, he said, is "oxygen to me."
"You cannot understand the campaign sitting in a desk in Washington D.C.," King said. "You can't. You can study the issues. You can learn a lot about the Ryan plan. You can learn a lot about the president's plan. But you cannot understand how its being translated into the voters' lives and how they process it unless you get out and travel."
While King may want to take his 7 p.m. show on the road, there's been speculation lately that the network may have other plans for his timeslot. The New York Post recently reported that CNN plans to launch Erin Burnett's forthcoming daily show at 7 p.m., which presumably means "John King USA" will move or get knocked off the air.
The Post speculated that King's show might be "doomed" nearly a year ago, but the network has so far stuck with it. Last week, Feist told Washington bureau staffers that senior management is behind King's show, as FishbowlDC reported. Feist reaffirmed that commitment Sunday.
"We are committed to that show and it's doing very, very well," Feist said. "John King USA" topped MSNBC's "Hardball" in the 25-54 demographic last month, while still trailing Fox News' Shepard Smith. "The ratings of that program are up significantly this year. I think, as we head into the political season, that show is perfectly well-positioned to cover the election," Feist added.