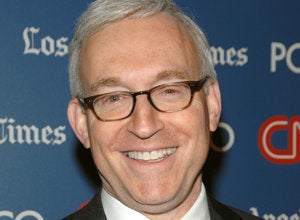 As 2008 comes to a close, each of the cable news networks has reason to celebrate: Fox News maintains its #1 ratings slot, MSNBC is growing faster than its competitors (albeit from a distant third starting position), and CNN has staked its claim on America's news brand, routinely winning the major nights (Election Night, for instance, which it dominated) and, in the process, figuring out a formula to help it battle against the Fox News juggernaut. That formula — which network president Jon Klein describes as "news instead of partisan talking points" — has led CNN to take first place for the year in the coveted Adults 25-54 demographic in the 10 PM hour, with Anderson Cooper's "AC 360" unseating Greta Van Susteren's "On the Record." "The Situation Room," Wolf Blitzer's 4-6 PM weekday show, won the demo in the crucial month of November for the first time ever, Campbell Brown has seen one of the most buzzed-about debuts (and improved CNN's 8PM ratings 60% year-over-year), and even Larry King has posted impressive gains, doubling his audience from a year ago (and growing 75% since Rachel Maddow began challenging him at 9PM).
I recently spoke to Klein about CNN's year — and what he expects will happen in 2009. Our Q&A appears below.
Congrats on a great year.
We feel good about it, because ratings success was driven by journalistic success, and that's what we're all about.
We had focused ourselves on delivering quality, in-depth journalism and we did that. We set ourselves apart. Not only did we attract a lot of viewers, but we helped folks understand what cable news could be, in terms of focusing on the news instead of on partisan talking points.
I'm proud of our team and I'm pleased with how it all turned out.
I know you've really personally been invested in the 10PM hour. I'm assuming that win is the most exciting accomplishment for you?
Among other achievements, winning the year at 10PM is remarkable. When you look three years ago, nobody thought that would be possible, when we first launched Anderson at 10. And he has created America's national newscast. That's what it is. It's the news of the day. It's in-depth analysis -- smart people having interesting conversations about the news. And nobody thought that was possible in cable. The presumption had been that the only way to win in cable is to do sensationalism or over-the-top partisan opinion. We have proven otherwise at 10 PM. And we've done the same at 4, 5, and 6, where the Situation Room is the winner*. So we're proud of having pulled that off the right way.
I think Campbell is doing remarkably well when you consider she hasn't even been on the air for a year at 8PM. She's seen far more success far more quickly than either of her competitors there. And she became one of the most talked-about journalists of the election cycle, which is hard to do because every journalist is covering the election. But she's been steadily honing that voice and turning out an excellent newscast every night. That's been a winning formula for us, just putting out the best newscasts anywhere. And it's what we're gonna keep doing.
So, the tagline throughout the election season was CNN=Politics. Do you think the enormous national interest in politics will persist in 2009, and what does it mean for CNN if it doesn't?
I think there's an enormous interest among all Americans in how this new administration is going to handle the economic crisis, and we are well-equipped to swarm all over the economic story just the way we embraced the politics story. Ali Velshi has led a very large business and financial reporting team, both on air and online, and we're gonna keep doing that. The economic story is more than just a Washington story, it also encompasses the rest of America and we've actually added folks to cover more cities across America. And we're gonna continue to do that throughout the year, and we're in good position to do so. The election was driven, yes, by interest in the larger than life characters who were running for office, but it was also driven by this economy. If anything, the economic story has gotten worse, the crisis has intensified, the questions have multiplied, and we will be trying to supply answers and thorough coverage as to what's being done about it all.
Speaking of the economic situation, I know there have been several individual departures at the network recently but the network hasn't come out and called them layoffs. Are they layoffs?
We actually have more people working at CNN than worked here a year ago. And we continue, of course, being mindful of the economic environment, we're cautious as we've always been, but we're continuing to lay our plans for building up our businesses, and yeah sometimes you have to make tradeoffs. But CNN's a very healthy business, and more people work here now than worked here a year ago.
But what about that whole, "God dammit, we're gonna hire more people" quote you gave to the New York Observer?**.
That was misconstrued. I didn't say we are going to hire more people. I said we are in a position, because we're a healthy business and a network that's devoted to journalism, we are able to field more people on the air and off the air than anyone else can. And that's what we did this past year and the year before. And we will continue to do that. We have a very healthy business that enables us to focus on the journalism, and that's what we'll continue to do.
Any predictions for 2009?
We'd like to expand the lead and just continue building on the great journalism that we did. That can take us in any number of directions, but we've grown across the board from the morning all the way through.
Larry King, who's been doing this for quite a while, had one of his best years ever. He doubled his audience in the last several months. He's also on a roll, also by focusing on getting the big newsmaker interviews. We're just gonna keep it up. Covering the news in-depth was a very successful strategy for us, and we're gonna continue doing that. It's what our audience expects of us, it's what they root for us to do, and it's what they turn out for. So we'll keep doing it.
But what do you say about the fact that Fox News keeps winning year after year? Do you have any explanation for that?
We actually have more viewers than Fox does. Our cume -- that is the total number of people who tune in -- is about 25% higher than Fox's. Ratings are a different matter. Ratings are judged by how many minutes the viewers spend. Fox viewers spend a long time. But the reason that we won at 10PM, and the reason that we won at 4, 5, and 6, is because we held those viewers who tune in longer. The reason that we're rising in every other daypart -- double digits -- is because we are holding those viewers longer. We're just a more interesting place to watch, especially for people who are looking for news. We've got a wider lead than we've ever had over MSNBC. We've got double the growth that Fox had. You can't just take a snapshot of a moment in time. You've gotta look at the trends, and the trends are absolutely breaking our way. But that's not an automatic. You've gotta keep earning that. CNN has to focus on putting out the best newscasts every day, and that's what we're doing. There's not a magic wand that you wave. You have to knuckle down, and you have to provide the best information, the best analysis, break the most stories, enterprise, do the best investigation, do the most important sweeping documentaries. And day in and day out you've got to reprove yourself to viewers. And that's what we're doing. We've been very successful at that the past couple of years and we're going to continue focusing on that.
*CNN won the month of November in the demo at 4, 5, and 6 PM. The total year numbers are still outstanding; Fox News' "Your World with Neil Cavuto" and "Special Report with Brit Hume" are likely to win at 4PM and 6PM, respectively. The 5PM hour remains close, with "The Situation Room" currently beating "America's News HQ" by a narrow margin.
**Note: In Klein's defense, he didn't say "hire more people." He said "have more people," but many media sites have taken that to mean hire more people.
Related
Popular in the Community