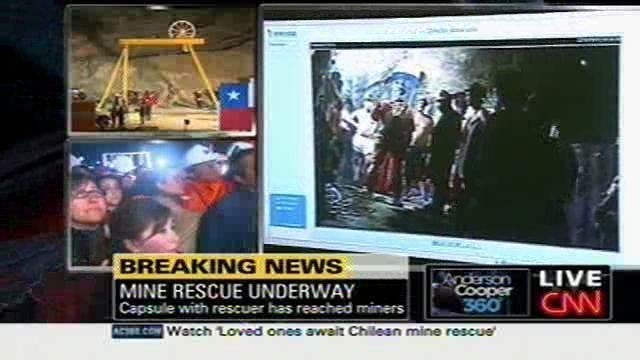 The Chile miners' rescue also rescued CNN's ratings, at least for one night.
For the 11PM hour, when the first miner was brought to the surface, CNN averaged 3.998 million total viewers, enough to beat Fox News (3.468 million) and MSNBC (1.083 million) for the hour.
CNN's ratings victories continued into the middle of the night, according to the New York Times:
From 12 to 1 a.m., CNN averaged 2.3 million viewers, Fox averaged 2.1 million and MSNBC averaged 832,000.

From 1 to 2 a.m., CNN averaged 1.7 million, Fox averaged 1.2 million, and MSNBC averaged 575,000.
It is a welcome sign for the network, which has lost even its major-news-event ratings edge to Fox News over the last two years.
In primetime (8-11 PM), Fox News ratings were tops, with 3.222 million total viewers (736,000 A25-54 demo) to CNN's 1.947 million (551,000 A25-54 demo) and MSNBC's 1.016 million (250,000 A25-54 demo).
ABC's "Nightline," which covered the miners' rescue with a special one-hour edition, also saw a ratings boost: the show averaged 5.042 million total viewers for its regular time period, besting both CBS's "Late Show with David Letterman" (3.631 million) and NBC's "Tonight Show with Jay Leno" (3.211 million).