CNN senior White House correspondent Jim Acosta took an unusually blunt approach Monday in questioning President Barack Obama about why the United States has not destroyed the Islamic State, the militant group also known as ISIS.
"A lot of Americans have this frustration that they see the United States has the greatest military in the world, it has the backing of nearly every other country in the world when it comes to taking on ISIS," Acosta said. "I guess the question is, and if you'll forgive the language, but why can't we take out these bastards?"
Obama, who was speaking in Antalya, Turkey, at the G-20 summit, responded that he had "just spent the last three questions answering that very question."
Earlier Monday, Obama had defended the U.S. strategy against the Islamic State, which has largely focused on airstrikes, amid calls for deploying a large number of ground troops in response to the Paris terrorist attacks. Obama said a ground invasion would be a "mistake" because it would require using U.S. troops to occupy Iraqi and Syrian cities indefinitely.
Obama also said he respected the debate over what to do against the Islamic State, but "if folks want to pop off and have opinions about what they think they would do, present a specific plan."
"If they think somehow their advisers are better than the Chairman of my Joint Chiefs of Staff and the folks who are actually on the ground, I want to meet them," Obama said. "And we can have that debate. But what I'm not interested in doing is posing or pursuing some notion of American leadership or America winning or whatever other slogans they come up with that has no relationship to what is actually going to work to protect the American people and to protect the people in the region who are getting killed and to protect our allies and people like France. I'm too busy for that."
In response to Acosta's question, Obama reiterated that the U.S. military could retake territory from the Islamic State, but the result would be occupation.
"So we are going to continue to pursue the strategy that has the best chance of working," he said, "even though it does not offer the satisfaction, I guess, of a neat headline or an immediate resolution."
When asked about the framing of his question, Acosta said in an email to HuffPost: "I just wanted to ask something that's on all our minds. Plain and simple."
This post has been updated to include a response from Acosta about his framing of the question.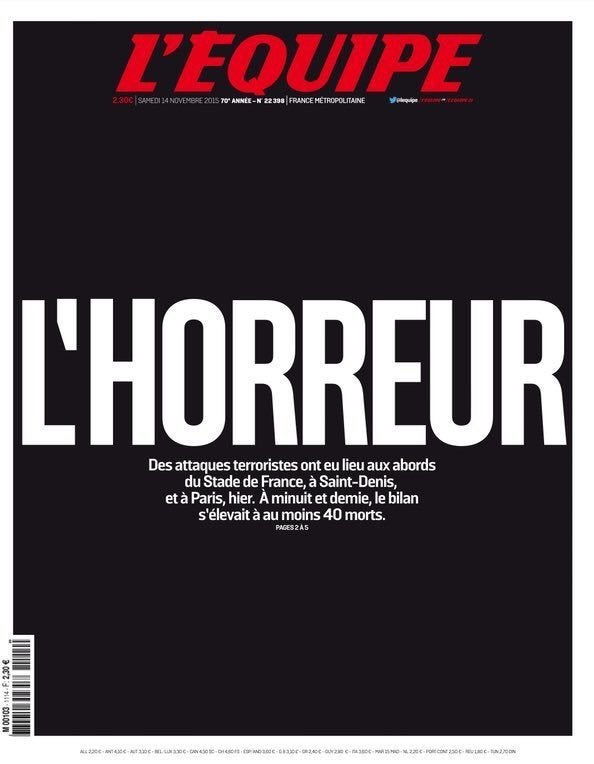 Newspapers Cover Paris Attacks
Related
Popular in the Community