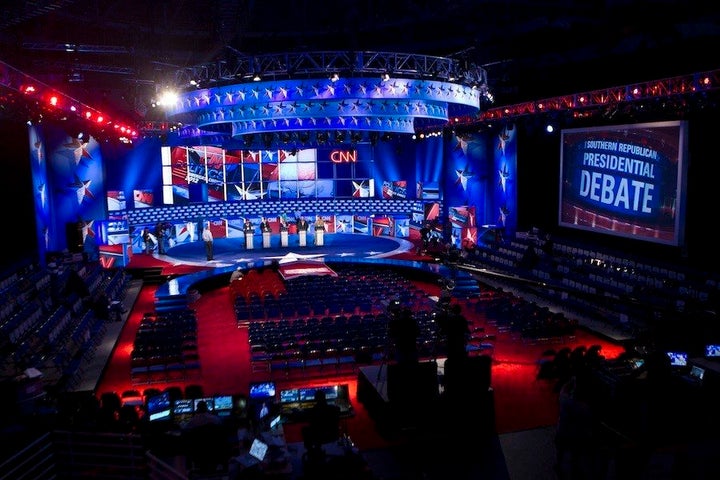 CHARLESTON, S.C. -- Washington bureau chief Sam Feist got a call Thursday morning that would not only shake up the Republican primary but lead to some last-minute tweaks before CNN's prime-time debate.
CNN reporter Peter Hamby notified Feist that Rick Perry was dropping out of the race, a scoop that would soon make the rounds on Twitter and on air before the Texas governor's 11 a.m. press conference. "When we left here last night, we had finished what we thought were the debate questions for five candidates," said Feist, who's producing the network's 8 p.m. faceoff, co-sponsored with the Southern Republican Leadership Conference.
In addition to revising the questions -- something CNN debate staff also did on Monday after Jon Huntsman dropped out -- the production team set to work on rearranging the stage and lights for the four remaining candidates. "It has been an interesting morning," Feist noted.

That's an understatement, considering what's been one of the most dramatic days in the 2012 race. And the Perry news wasn't the only story fighting for airtime on Thursday morning. A certified count in Iowa revealed that Santorum received the most votes two weeks ago, rather than media-declared winner Mitt Romney. Meanwhile, ABC began airing clips of an interview with Marianne Gingrich that will be broadcast in full on "Nightline" just 90 minutes after the candidates leave the stage.
So yet again, amid a stream of nonstop campaign news, the latest candidate surge and media controversy, comes a debate -- the 17th thus far in the Republican race.
"We've had a cycle in which the debates have had dramatic, oversized influence compared to any campaign past because of the number of them, because the race has changed with them," said CNN's John King, moderator of Thursday's debate.
"It's a close, competitive, changing race," King added. "You have a debate within 48 hours of the vote. That's a big deal."
The same could have been said in New Hampshire with a two-debate marathon that played out in Manchester and Concord the weekend before Republicans headed to the polls. In fact, someone did say that. Rick Kaplan, producer of ABC's debate, told The Huffington Post that the Manchester event would be "do or die" for the field. And since the New Hampshire vote, there's now two fewer candidates.
The frequency of debates this cycle -- and fears that they amplify candidate spats and cut into traditional retail politicking -- has led to calls for reform of the system.
Frank Fahrenkopf, a former chairman of the Republican National Committee and now co-chairman of the Commission on Presidential Debates, recently told Politico that the number of debates has gotten "out of hand."
"I would rather see a system where it's agreed to that there will be seven or eight and spread them out across the proper states," Fahrenkopf said. "But doing one every other night is ridiculous."
Several prominent Republicans, such as Karl Rove, have also questioned whether there have been too many debates. In the Wall Street Journal, Rove wrote that "debates have nearly crippled campaigns, chewing into the precious time each candidate has to organize, raise money, set themes, roll out policy and campaign."
While praising Fox News' handling of the debate, King suggested that a one-on-one interview might be a better venue for Williams' questioning of Gingrich about racial insensitivity than in front of a wild debate crowd -- perhaps signaling that the much-discussed moment earlier this week won't get rehashed on Thursday night.
"I understand where Juan was trying to go with that," King said. "I've known Newt Gingrich a long time. I understand his ideas. I think sometimes he could use different, softer language. Some of his language, some people do find offensive. He's trying to start a provocative conversation and -- as someone who's a student of politics -- I respect that. But it needs to breathe."
Since the heated exchange, Gingrich has surged in the polls and cut into Romney's South Carolina lead, thus proving once again how much the debates are influencing the race.
Despite calls for reform before 2016, both Feist and King argue that numerous debates have been good for democracy.
"I've yet to hear a sound argument for fewer debates," said Feist, who's produced five this past year. "The campaign changes. The issues change. Candidates come and go. The more debates the better."
"I think they've been great for the process," Feist added. "I think you learn more in a presidential debate than any other way of getting to know a candidate. They're certainly a more valuable way to get to know the candidate for president of the United States than sound bites on newscasts and 30-second ads that are often misleading."
King, who last spoke to The Huffington Post 15 debates ago, said that over the past seven months, "voters in this country have had more exposure to these candidates, more sunlight put on them, more of an opportunity to find out what they want to do, what they propose, and ... in the competition, learn who they are."
Perhaps not surprisingly, the veteran journalist hopes news organizations steer the debate schedule next cycle.
"As somebody who has spent 26 years, first as a wire guy, now as a TV guy, as an independent ... objective-as-I-can-be journalist, I'm always skeptical of the institutions taking over control, the political parties taking control," King said. "To me, that's bad."
"This is not like we are going to the campaigns and saying, 'We're going to cut your cable if you don't come to our debate,'" he said. "We say, 'This is a big race; we're going to have this debate.' So Fox got them Monday night. CNN gets them tonight. I'm sure NBC or ABC would love to have them Saturday morning."
No, there won't be any debates Saturday morning. The next is further away -- on Monday.
REAL LIFE. REAL NEWS. REAL VOICES.
Help us tell more of the stories that matter from voices that too often remain unheard.
BEFORE YOU GO