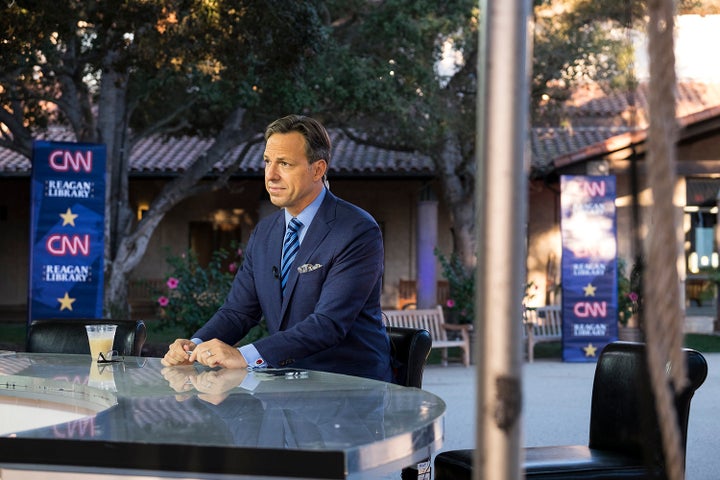 SIMI VALLEY, Calif. -- Jake Tapper has recently interviewed all 11 Republicans hitting CNN's primetime debate stage. He won't be doing so again Wednesday night.
What Tapper intends to do is draw out substantive policy disputes amidst the on-stage squabbling, getting candidates to reveal key differences even as they trade rhetorical blows.
"We don't want them to be talking about their stump speeches. We don't want them to be on talking points," Tapper told The Huffington Post. "We want them to be disagreeing with each other. This is a real dogfight, this Republican presidential contest. … We want them to be explaining why them and not their opponents."
The Republican candidates better be prepared to do just that at the Ronald Reagan Presidential Library because time is ticking. An unprecedented field began to narrow last week, when former Texas Gov. Rick Perry dipped out of the race. Candidates still barely registering in the polls know it's essential to make an impact on Wednesday night -- or be next off the stage. New Jersey Gov. Chris Christie has threatened to "go nuclear." And some fading candidates may consider the best way of getting the public's -- and certainly the press' -- attention to be swiping fast at frontrunner Donald Trump.
So there are sure to be fireworks right out of the gate. But Tapper said his ideal exchange would resemble Christie and Kentucky Sen. Rand Paul sparring over NSA surveillance and bulk collection during last month's Fox News debate. It was a genuine policy dispute that, importantly, also drove conversation on Facebook and Twitter. "What I'd like would be as many of those moments as possible in the second debate," Tapper said.
While Fox News assigned different moderators for its first- and second-tier debates, CNN picked Tapper to moderate both the 6 p.m. undercard and 8 p.m. main event. It's a big opportunity for the host but also for CNN as a whole, which has invested heavily in political coverage this past year. The network boasts a 2016 election team approaching 100 staffers, with recent additions from ABC News, The Washington Post, The New York Times and The Wall Street Journal. The network poached a dozen journalists from Politico alone as it ramped up digital coverage.
"When we began to think about this campaign maybe a year and a half ago, we realized it was an important campaign," Sam Feist, CNN's Washington bureau chief, said in an interview. "We didn't know exactly who the players were, but we believed this was going to be one of those campaigns that captivated the country."
So far, that bet has paid off. The Fox News debate drew a record-setting 24 million viewers, far more than the roughly 3 million who tuned into the first Republican debate of the 2012 cycle. CNN, anticipating another huge audience, is reportedly charging 40 times its average price for a 30-second ad spot during the debate.
While CNN should profit off the debate, the network also devotes significant resources to covering and producing it, with several hundred staffers involved.
That investment is evident when you walk into the Air Force One Pavilion at the Reagan Library. Normally, library visitors look at Reagan's Air Force One, but viewers will see the plane directly behind candidates. CNN staff intricately built scaffolding so that the stage is raised a few stories to the height of the elevated aircraft.
Feist said the layout doesn't just provide a "spectacular backdrop for a debate," but allows those Republican candidates claiming to carry Reagan's torch to have the opportunity to make their case in front of the plane he used to travel the world as president.
Of course, CNN couldn't skimp after a steady drumbeat of debate coverage the past several weeks, with news segments, candidate interviews, pundit panels and seemingly nonstop reminders during commercial breaks or via on-screen graphics. CNN rolled out a countdown clock Monday night -- still 48 hours away! -- and the network's wall-to-wall coverage Tuesday was like a (very long) Super Bowl pregame show. "We are just 34 hours from the crucible of political competition known as the CNN Republican debate," said "New Day" co-host Chris Cuomo.
Coverage Tuesday focused heavily on how candidates could stand out on Wednesday night -- and of course, on Trump. The reality star-turned-Republican frontrunner has had a frequent presence on CNN over the past few months, each offensive comment or spat providing an additional subplot. Trump has called into several CNN shows, talking at times for 20 minutes straight without commercial break, and was the subject of a primetime interview special.
The network has disrupted programming to show Trump events live, even recently bumping Anderson Cooper's long-planned Hurricane Katrina special in the process.
"If you get good ratings, they'll cover you even if you have nothing to say," Trump told around 15,000 people gathered Monday night in Dallas for an campaign rally, carried live on Fox News, MSNBC and CNN.
"As a political television producer, I will never turn down an interview with the frontrunner for any party on any program," Feist said. He and Tapper suggested they'd similarly make time for Hillary Clinton, the more press-averse frontrunner on the Democratic side.
Though Trump seems like a debate-night wild card, especially when compared to the more staid governors and senators in the mix, Tapper insists he doesn't have a specific game plan for dealing with him. Fox News co-moderator Bret Baier, for instance, acknowledged having a "nuclear" option going in to last month's debate, a prepared script to launch into if Trump strayed from the ground rules.
"The way I've covered Donald Trump from the very beginning is as I would cover any presidential candidate," Tapper said.
He plans to enforce the same time limits for all the candidates. He should have an easier time during the earlier debate, given that just four candidates will be on stage. Later in the evening, Tapper will have to wrangle 11 candidates, the most to ever appear on a primary debate stage. Though unwieldy, Tapper noted the primetime debate allows for more time -- nearly three hours -- and potential disagreements on stage.
Tapper will be joined by Dana Bash and conservative radio host Hugh Hewitt, each of whom will ask some questions of the candidates. CNN has a deep bench and last election cycle, when Tapper was still at ABC News, it tapped Wolf Blitzer and John King.
Feist said the network wanted "to treat of the candidates as similarly as possible," with the same moderators, questioners and audience for each contest. Because of security reasons, Fox News didn't allow members of the public into its undercard debate, resulting in the candidates debating in a largely empty, cavernous arena.
"This is all just fun. This is all interesting," Tapper said. "I have no idea how it's going to end. Every day during debate prep, when we're going over questions, we talk about what our first question would be if the debate were tonight. And every day it's different. Every day it's a different question."
Related
Popular in the Community