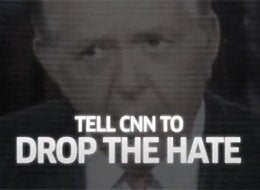 With Additional Reporting By Sam Stein
CNN is declining to carry a national advertisement, purchased by two progressive groups, which attacks its host Lou Dobbs for his controversial views on immigration.
On Thursday, the progressive media watchdog group Media Matters, along with the organization America's Voice announced a new ad attacking Dobbs and CNN for airing "60 minutes of anti-immigrant hate." And in a deft touch of political messaging, the groups announced that they had their ad buyer place the spot on CNN itself, during the network's "Latino in America" series.
The possibility of an ad slamming Dobbs on his own network created a bit of buzz and anticipation in progressive circles. But CNN moved quickly to squelch discussion. A spokesperson at the network told the Huffington Post that they would not be running it on the national network, though there is no word yet as to whether local affiliates would, or could, carry the spot.
"Contrary to reports, CNN has not accepted these spots and they will not air on the network," said a statement from the network.
This is the second time that the network has declined to run an ad critical of Dobbs. Earlier in the year Media Matters had attempted to buy a spot whacking the host for entertaining birther conspiracies about the president. That too was rejected.
The most recent spot was part of the groups' grassroots campaign effort to push CNN to cancel Dobbs' show. The host, who has been a source of agitation for immigrant-rights groups, is reportedly considering a move from CNN to FOX News.
There is no word, as of yet, whether Media Matters and America's Voice will attempt to put the ad up on another station. In trying to place the spot on CNN, the groups were undoubtedly hoping to generate enough publicity to make it a news story of its own -- a technique that would have resulted in the ad being replayed on other news sites for free.
Here is the spot, entitled "Drop Dobbs":
Related
Popular in the Community