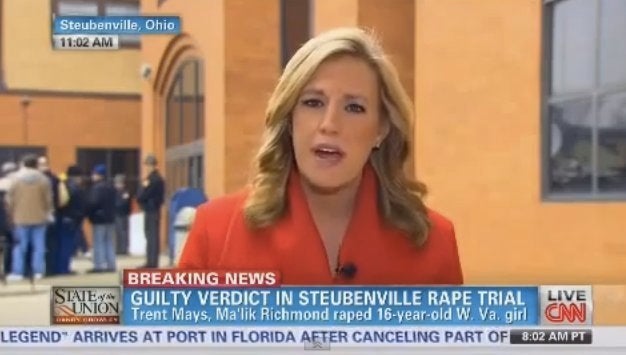 The network drew fire on Sunday after many critics said it spent more time focusing on the damage to the lives and the "promising futures" of the two teenagers convicted of raping a girl than on what had happened to the girl herself. Though it was not alone in its emphasis on the boys, CNN received the brunt of the outrage.
The petition, which was posted to Change.org, had received over 30,000 signatures by early Monday afternoon. (UPDATE: by Monday night, the petition had drawn over 80,000 signatures.) Petition author Gabriel Garcia tore into CNN:
That CNN decided to paint the tears of the convicted Steubenville rapists in a sympathetic light and say how their lives were ruined -- while completely ignoring the fact that the rape victim's life is the one whose life was ruined by these rapists' actions -- is disgusting and helps perpetuate a shameful culture in which young people never understand the concept of consent and in which rape victims are blamed and ostracized. Changing that culture must be done brick by brick, and it can start by heaping public shame on this major cable news network and forcing them to admit that they are wrong. Publicly.
Related
Popular in the Community