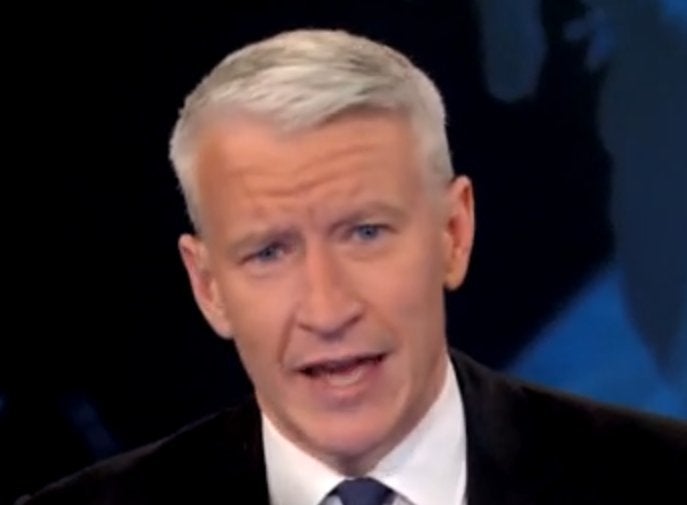 When I read that CNN's Anderson Cooper was hosting a news special about the AIDS epidemic in America, I wasn't too excited about it. Don't get me wrong, I have a lot of respect for Cooper, but too many times mainstream media's coverage of HIV/AIDS has fallen flat.
Case in point: CNN's 2009 special "Black Men in The Age of Obama." In one of the segments, they attempted to address gay and bisexual black men. But instead of tackling homophobia, violence, bullying and job discrimination, CNN anchor Don Lemon, Essence's former Editor-in-Chief Angela Burt-Murray and a panel of straight black men (none of whom possessed HIV or LGBT expertise) used the time to talk about how the down- low is killing black women. No real proof to back up their claims, no real HIV/AIDS expert to explain the rise in HIV rates among black MSM and no voices of actual gay men telling their own stories in their own words.
So I did. And I was pleasantly surprised by what I saw.
As the hour went by, I found myself feverishly taking notes, nodding my head to many points that were being made and feeling somewhat impressed. That rarely ever happens with these kinds of programs.
Many topics that my colleagues and I complain don't get enough media attention got their due during this hour-long special. The panel of talking heads included singer and AIDS advocate Elton John; Project Runway contestant Mondo Guerra; Black AIDS Institute CEO and President Phill Wilson; Academy Award-winning actress Monique; and the director of the U.S. National Institute of Allergy and Infectious Diseases, Anthony Fauci, M.D. They discussed the connection that LGBT inequality has to HIV; how oppression, homophobia, racism and hate fuel stigma and HIV; their own personal experiences with HIV/AIDS; the importance of knowing one's status and getting into treatment, and the consequences of not doing so; the negative outcomes of abstinence-only education; generational complacency around HIV/AIDS; the need for better prevention methods; and recent medical breakthroughs.
A few moments that stood out:
Elton John's honesty: Even though John has done tons of AIDS philanthropy since creating his Elton John AIDS Foundation, he admitted that in the early days, he did nothing when the epidemic first hit, despite losing 80 friends to the disease. He said, "I was frightened. I was scared. I turned my back. I should have been out there with Larry Kramer." His openness was touching, and I hope it will spark more people to get involved.
Phill Wilson on AIDS in black America: While he wasn't saying anything new per se, Wilson did a really good job of illuminating just how serious HIV/AIDS is in the black community -- it is a fire raging in the African-American community. And even better? There wasn't a single peep about the down-low.
Berlin patient is not "The Cure": Earlier this month, the media was buzzing that the "Berlin patient" had proven that there was a cure for HIV. Fauci set the record straight and said that while this finding was promising, this was "not practically applicable to the people who have HIV." I hope that people were listening. There is still no cure for HIV.
"Keep your chin up": A lot of times when HIV/AIDS is covered in the media, there are rarely any messages of hope for people living with the virus. Jeanie White-Ginder shared an emotional story about how her son Ryan White would always tell her to "keep her head up" when she got down. So in turn, she sent a message to all the people living with HIV to "keep your chin up." I'm pretty sure there wasn't a dry eye in the house after that segment.
Where were the HIV-positive women?: Minus AIDS activist Marvelyn Brown, who had a brief taped segment, there were no HIV-positive women panelists talking about any of the issues that women face, such as motherhood, pregnancy and gender inequality. Like John said, the No. 1 killer of women throughout the world is AIDS. An HIV-positive woman should have been there to represent.
Hollywood overload: I appreciated celebrities such as Kareem Abdul Jabbar, Susan Sarandon, Sharon Stone and Maya Angelou for sharing their "deciding moments," as well as Elton John and Monique for making really poignant points, but more time should have been allotted for people living with HIV to talk about their own experiences. The HIV/AIDS community barely got the spotlight. And while closing the show to a slideshow of their faces was touching, it wasn't quite enough.
We need more than 60 minutes: It's obvious that an hour is no way near enough time to dig deep into the complex issues around HIV; the show just scratched the surface of the epidemic. But this was a good start, and hopefully with AIDS turning 30 this year, CNN is planning something bigger for its viewers.
Mr. Cooper: You and your staff did a good job researching the topic, presenting its history and illuminating some of the pertinent barriers that we face today. I just hope that by sticking the show on a Friday night, CNN didn't make it so that people like myself -- those who are already educated about HIV/AIDS -- were the only ones watching.
Calling all HuffPost superfans!
Sign up for membership to become a founding member and help shape HuffPost's next chapter