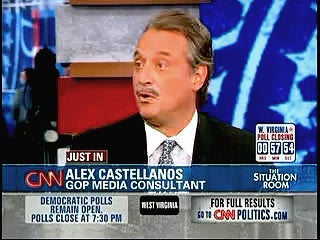 A day after Media Matters revealed that CNN contributor Alex Castellanos' consulting firm is connected to the recent anti-health care reform advertising blitz from America's Health Insurance Plans (AHIP), CNN has announced that they will hereafter disclose Castellanos' ties to the health care industry in future appearances. Greg Sargent has more:
This connection, you'd think, should be disclosed whenever Castellanos appears on CNN discussing health care. Asked for comment, CNN spokesperson Edie Emery acknowledged the tie and promised full disclosure in the future. She emailed:

"When Alex Castellano returns from his vacation and next appears on CNN, we will clearly disclose to our viewers relevant information including his firm's relationship with AHIP."
Sargent's take is that "CNN doesn't appear to have known about Castellanos' work," but it's worth pointing out that Media Matters cited a prior occasion on which CNN fumbled a disclosure issue where Castellanos is concerned.
Last August, we noted that Castellanos -- best known as the creator of the racially-charged "Hands" advertisement -- was hired as a CNN contributor three days after the New York Times reported that he was part of John McCain's "panel of outside advertising consultants." CNN subsequently failed to disclose Castellanos's connection to the McCain campaign while he was, for instance, applauding the McCain campaign's ads.
I shan't be holding my breath, by the way, that this matter gets discussed on CNN's Reliable Sources!
Calling all HuffPost superfans!
Sign up for membership to become a founding member and help shape HuffPost's next chapter