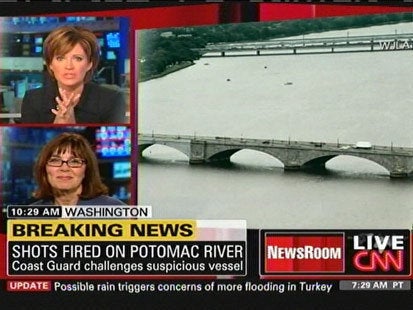 CNN is under fire for its erroneous report that the Coast Guard was firing shots on the Potomac River.
The report was infused with tension given that the shots — which turned out to be a routine training exercise — came on the eighth anniversary of the September 11, 2001 attacks.
CNN reported the Coast Guard had fired 10 rounds at a suspicious boat, and showed vessels circling in the water -- near the bridge President Barack Obama's motorcade crossed on the way to a memorial at the Pentagon Friday morning.
CNN was later forced to retract the report, as seen below (via Politico):
White House Press Secretary Robert Gibbs slammed the network, saying, "Before we report things like this, checking would be good."
Popular in the Community