CNN senior White House correspondent Jim Acosta on Monday questioned why he, and the rest of the press corps, bothered showing up.
"I don't know what world we're living in right now," Acosta said on air after White House press secretary Sean Spicer took questions from reporters but didn't allow video or audio coverage of the exchanges.
"I don't know why everybody is going along with this," he added. "It just doesn't make any sense to me. It just feels like we're sort of slowly but surely being dragged into a new normal in this country where the president of the United States is allowed to insulate himself from answering hard questions."
President Donald Trump hasn't participated in a full-blown press conference since February, and his last interview was five weeks ago with a sympathetic Fox News host. Trump's spokespeople have also been meeting the press less frequently.
During the first 100 days of the administration, Spicer and deputy press secretary Sarah Huckabee Sanders held an official briefing or more informal gaggle at "a rate of about once every two days," The Washington Post reported last week. Spicer and Sanders have since shifted to a rate of once every three days, with briefings also becoming shorter.
The White House traditionally communicates with reporters at night to tell them what time the next day's briefing or gaggle ― a format often used when the president is traveling ― will be held. Reporters were simply told "TBD" on Sunday night. A release went out on Monday morning informing them that there would be an off-camera press gaggle in the White House briefing room. Audio coverage was also prohibited, leaving reporters' Twitter feeds as the only real-time coverage of the back-and-forth.
Spicer did not immediately respond to a request for comment about the ground rules.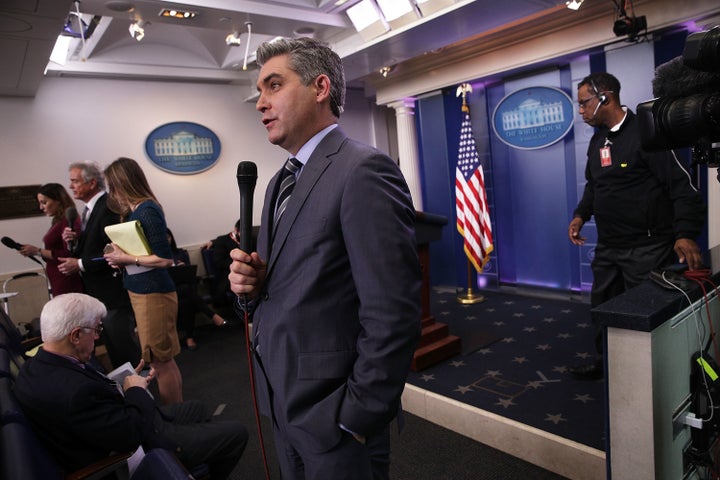 HuffPost asked Acosta how reporters could push back against the White House's restrictions.
"We should walk out," he responded.
"There must be collective action or else the stonewalling will continue," Acosta added.
The White House Correspondents' Association has expressed concern when traditional access is denied, but has stopped short of advocating for a boycott. WHCA President Jeff Mason did not immediately respond for comment.
In addition to briefings occurring less frequently, Spicer and Sanders increasingly fail to give adequate answers to basic questions, such as whether the president believes in climate change.
Acosta said on CNN that Spicer is getting to the point "where he's just kind of useless" and called the briefings "basically pointless."
"I just don't know what we're doing," he said. "It's not even like we're covering a White House anymore, with Kellyanne Conway and Omarosa in the briefing room off to the side of Sean, refusing to be on camera. It's like we're just covering bad reality television."
Support HuffPost
The Stakes Have Never Been Higher
Related
Before You Go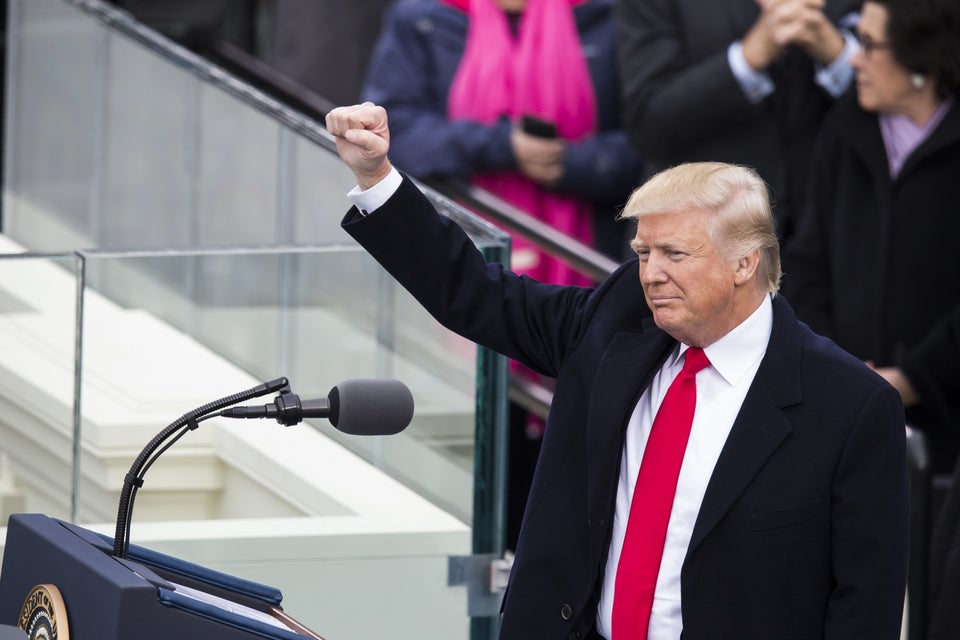 Best Photos From Trump's First 100 Days
Popular in the Community