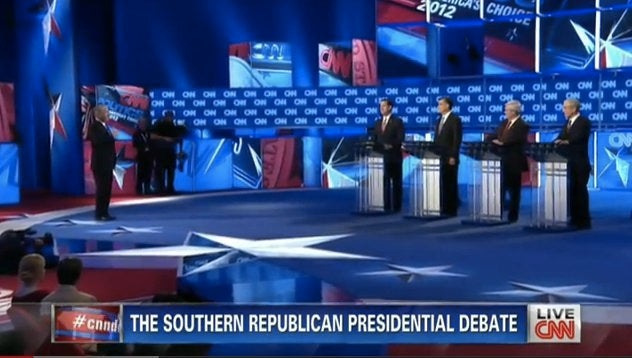 NEW YORK -- Newt Gingrich won't have to worry about the audience being completely quiet during Thursday's debate in Jacksonville, the final primetime face-off before the Jan. 31 Florida primary.

CNN allows the audience to applaud the candidates, but in a statement to The Huffington Post, a CNN spokesman explained that some types of behavior will not be permitted.

"As we have done in the past, CNN will ask the audience to be respectful of the candidates," a CNN spokesperson said. "We have always said that if audience reaction such as shouting or booing interferes with the debate or with the candidates' answers, we will ask the audience to refrain."

On Tuesday morning, Gingrich, whose polls rose along with the volume of the debate audiences in South Carolina, criticized NBC moderator Brian Williams for asking the audience to "withhold their applause" and "verbal reactions to what they hear on stage."

The Republican debate audience, a major factor in last week's primetime contests, were silent Monday night following Williams' request.

"I wish, in retrospect, I had protested when Brian Williams took them out of it because I think it's wrong," Gingrich told Fox News. "And I think he took them out of it because the media is terrified that the audience is going to side with the candidates against the media, which is what they've done in every debate"

For future debates, Gingrich said the "we're not going to allow that to happen."

"The media doesn't control free speech," Gingrich added. "People ought to be allowed to applaud if they want to. It was almost silly."

One assumes that Gingrich won't protest CNN's ground rules. Similar to last Thursday's CNN debate in South Carolina -- where Gingrich pounced on John King's opening question about claims he once asked his second wife for an "open marriage" - it appears that the Florida audience will be permitted to applaud and cheer loudly. Gingrich received a couple standing ovations during his opening riff against the so-called "media elite."

In response to Gingrich's complaints Tuesday, the Romney campaign blasted the Daily News' famous "Cry Baby" front page from 1995, along with the subject line: "A picture is worth 1,000 words."

If Gingrich were to win the Republican nomination, he'd have some trouble with his audience demand in the general election. The Commission on Presidential Debates, which oversees the three fall presidential debates, doesn't allow verbal responses from the audience.

In kicking off the first Obama-McCain debate in 2008, moderator Jim Lehrer said that the "audience here in the hall has promised to remain silent, no cheers, no applause, no noise of any kind."
REAL LIFE. REAL NEWS. REAL VOICES.
Help us tell more of the stories that matter from voices that too often remain unheard.