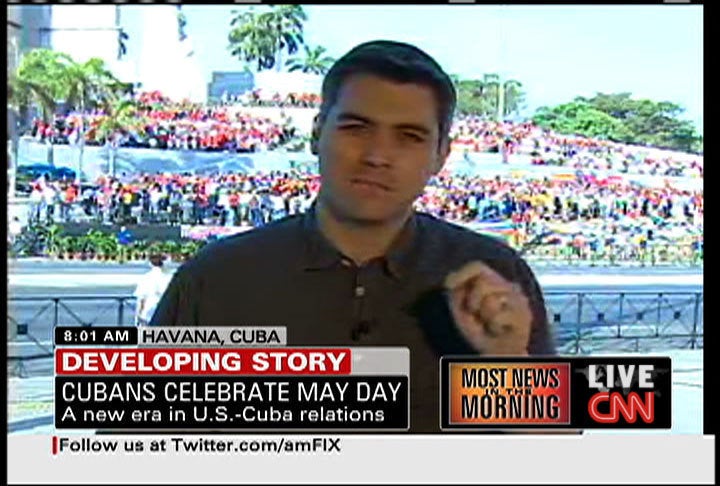 Jim Acosta, correspondent for CNN's "American Morning," has been reporting live from Havana since last week. Acosta, a Cuban-American whose father left the island in 1962 (just two weeks before the Cuban Missile crisis), reported live on Friday from Havana's May Day parade and has been filing reports as well as blogging and Twittering the trip.
On Friday, Acosta called the Huffington Post from a cell phone in Havana to reflect on his first visit to the country where his father was born.
"It's warm and it's as colorful as all get-out," he told me. "It's like nothing I've ever seen before."
"I started asking about an assignment down here after the new Obama administration policy affecting Cuban-Americans," he said. "And we started making some inquiries, we talked the Cuban Interests Section in Washington...and basically we put in a request with them, and we got word that we were allowed to come to Cuba one day before we left. We got the word on Wednesday and we left Thursday morning."
Acosta said that he was most surprised by the level of poverty he encountered when he arrived.
"I didn't expect to see the level of poverty that I'm seeing," he said. "This island needs help. I think that's part of the reason why we're seeing the Cuban government sound so open about talking with the US about a whole host of issues that they hope would lead to a normalization of relations. They would like trade and travel."
He was also surprised, he added, by the Cubans' friendliness.
"Nobody has said, 'Yankee go home!' Nobody has said, 'Down with America! Down with USA!'" he said.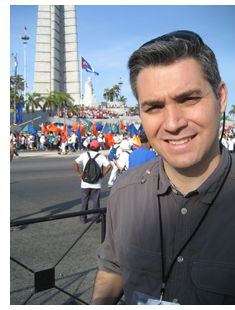 "There's none of that here. If anything, people are very friendly and they're sort of ready to throw out the welcome mat if you say that you're an American. They're like, 'Yeah, come on in! Have a mojito, have a cigar.' I was doing live shots this morning and somebody handed me a Cohiba — so I stuck it in my shirt pocket and said, 'I'll have that tonight, thank you!' So that has also been surprising and kind of nice to see. I didn't know exactly how the people would be and they've just been completely friendly."
In his reports, as well as in our interview, Acosta stressed that Cubans feel the change the Obama administration has brought to Washington.
"What we've found is really that attitudes are changing here," he said. "For years, the Cubans would shake their fists at the United States and obviously they did not like the previous administration. But this one they're giving a chance. And we're hearing that time and again. They're not absolutely sold on President Obama. They recognize that he is the President of the United States, and that he did not instantly end the embargo on Cuba when he came into office, so there are Cubans here who are not satisfied yet. But when you talk to the average Cuban on the street, they will tell you that they're hopeful, and I think that's something we haven't heard in a very long time coming out of this island."
Acosta said that he would like Cuba to become a "pseduo-beat" of his, and that he expects that there will be more developments in American-Cuban relations.
"I think this is a developing story," he said. "I think we're going to see more changes coming. I could be wrong about that, but I think that the White House would like to have a dialogue with the Cubans. I think they would like to see more exchanges in terms of cultural programs, areas of common interest, that sort of thing. I have no sense as to where they're gonna go with the policy, but my feeling is, after talking to the Cubans down here, that they like what they're hearing out of Washington. They just want to hear more."
As for Acosta's own father, he was "shocked" that his son was returning to the island he left when he was twelve and hasn't returned to since.
"I only got to talk to my dad as I was leaving the Miami airport, and he said, "You're doing what?!" Acosta said. "He was shocked. He was definitely surprised, but he understood. I've been wanting to come down here for myself for a long time."
Watch Acosta report Monday on Cuban embargo politics:
Watch Acosta report Friday from Havana's May Day parade:
Popular in the Community