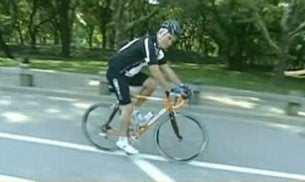 CNN's John Roberts had a rough Thanksgiving — but it could have been a lot rougher if he hadn't been wearing a helmet.
Roberts, an avid cyclist, was biking in Central Park on Thursday afternoon when a car pulled out suddenly in front of him, causing him to collide with a jogger. Both Roberts and the jogger, a woman, were taken away in ambulances.
"It happened so fast, I couldn't even react," Roberts told ETP via email. "One second the road was clear — the next, a car was blocking it. I was on my head in a heartbeat...Thank God for helmets."
Thank God, indeed — amazingly, Roberts was able to rally and go on air the next morning before taking a few planned days off before heading to Tampa for debate coverage on Wednesday. To the right is a shot of Roberts' helmet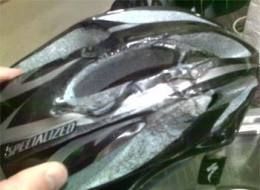 (kindly provided by Roberts) with the kind of dent that you'd rather not have in your head. "I never get on a bicycle or motorcycle without a helmet and am I glad," said Roberts. "I don't know where I'd be right now if I hadn't been wearing one. But I sure wouldn't have been on the air the next day. At the very least, I would have had a lot of stitches and abrasions — at worst, a cracked skull and brain injury."
Roberts had to have stitches in his right hand after the impact of the fall ("skin and Central Park asphalt don't mix") but says he's more concerned about what happened to the woman he collided with — they left in separate ambulances and the last he heard is that she may have broken her nose. "I feel terrible... I'm sure her Thanksgiving was ruined," said Roberts.
As for the driver of the car that started it all, he/she did not stick around to see how the two crumpled athletes on the pavement were doing, alas. (Roberts says that he wasn't sure the driver even knew what happened.) For now he is resting up and plans to return to air Wednesday live from Tampa — and is adding "helmets" to the list of things he is thankful for.

Calling all HuffPost superfans!
Sign up for membership to become a founding member and help shape HuffPost's next chapter