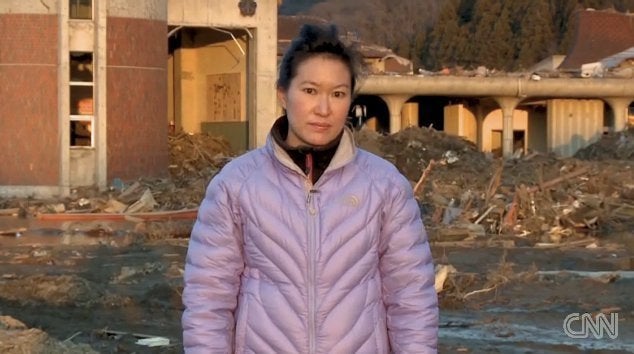 Natural disasters tend to strike with no notice. So it is not surprising that, when the devastating earthquake and tsunami hit Japan on March 11, CNN's Kyung Lah was not instantly, ideally suited to respond. In fact, she was underground in a Tokyo subway station, reporting a story about a high-tech vending machine.
Lah has been CNN's Tokyo correspondent since 2007. Living in an earthquake-prone region tends to make you blasé about them: the ground shakes, it stops, you move on. But it was clear this was not an ordinary quake.
"It felt much bigger and it was much longer, Lah said in an interview with The Huffington Post on Monday. "And I looked over to my right, and there was this woman, and she looked really frightened. That is when i knew something was really wrong. The Japanese do not look frightened."
Tokyo is hundreds of miles from the epicenter of the quake and tsunami, in Sendai. Lah said that, when the quake first hit, it took an hour for her to get away from the mass of people clogging the subway station and walk with her camera crew back to CNN's Tokyo bureau. It was only after she got back to the office, she said, that the sheer scope of the crisis began to dawn on her.
She instantly shifted into a different gear and raced off to Sendai. When she got there, she said, what she saw stunned her.
"I don't really know how to describe it without lapsing into cliché," she said. "It was flattened. Cars were everywhere. I went to a school and saw a truck sitting inside the school...I've covered the earthquake in China, the flooding in Pakistan--these massive, huge disasters. This is like no disaster I have ever seen."
Now, nearly two weeks later, Lah has stayed in the center of the tsunami zone, helping to report the story of the aftermath. "I am literally tripping over stories," she said. Things have been so busy that she has barely even had the chance to watch CNN. She just reports, files and moves on.
Out of the thousands of reports on Japan, one, by CBS' Scott Pelley, received substantial attention for one line: "there are not enough living to take care of the dead." Lah said she agreed with this statement.
"There is an abnormally high percentage of elderly people in the tsunami hit zone," she said. "When people say there's not enough people to take care of the dead, they're talking about the elderly who simply don't have the physical strength or the emotional strength to rebuild. And then there are the children."
She described one family she had come across in a shelter. She was the sole caretaker of three sick people, including her father, who had had a stroke, and her 93-year-old grandmother. Lah said she has seen story after story just like theirs.
Asked how she deals with such unending scenes of tragedy, Lah said it's all part of the job.
"We don't cover these stories without being prepared to compartmentalize," she said. "You want to report the story for the international community."
Living in Japan has also given Lah a different perspective from the hordes of reporters who rushed to the country in the wake of the disaster. She said she thinks the international press has been having some "translation issues" when it comes to the coverage--especially with government press conferences and the way people are coping with the crisis.
"Japan is a very special place," she said. "People may not understand why there's no looting, why there's no rage, why it's rare to see tears, why there's been such little information coming out of the press conferences. But when they express their 'regret,' it seems so stoic and cold but in the Japanese language it's actually much more powerful. There's a bit of a culture gap."
Still, Lah said, the stoicism and generosity she has seen from the Japanese has floored her.
"I've learned so much about how to be a better person just by watching the small things that they do for each other," she said, describing how people waited patiently in line for food rations, shared their meals with each other and tried to make sure everyone was being cared for. "It has truly inspired me," she said.