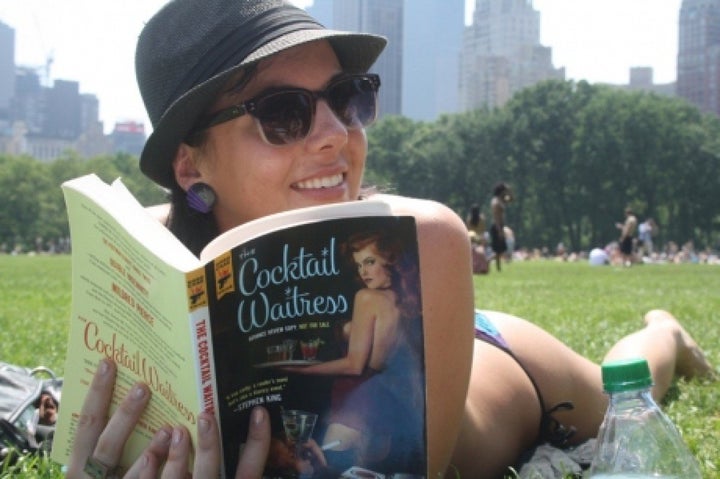 [SCROLL DOWN FOR SOME NSFW PHOTOS]
A post on their blog describes their day:
Well, we met some new friends and cracked open some new books (including — thank you Hard Case Crime! — early advance copies of new novels by Stephen King and Elissa Wald), discussed the merits of Dr. Who and Benedict Cumberbatch and whether Wallace Shawn is or isn't adorable, debated the definitions of "dialectic" and "apogee," ate miniature cupcakes before they melted in the sun, and best of all, felt the sun — glorious, radiant, blessed sun! — on our Vitamin D-starved bare skin. Do our nipples look hard in some of these pictures? That's just them straining heliotropically toward the sun.
The OCETPFA-- who thinks pulp fiction pairs well with a "bold, topless outing"-- describes their mission:
We're a group of friends, and friends of friends, and friends of friends of friends, and complete strangers, who love good books and sunny days and enjoying both as nearly in the altogether as the law allows. Happily, in New York City, the law allows toplessness by both men and women. So that's the way we do our al fresco reading. If you're in New York and the weather's good, won't you join us sometime…?
So, are you interested in some al fresco reading? Find out where the group meets next here and you can follow their Twitter here.
The first 10 NSFW photos below, all courtesy of The Outdoor Co-Ed Topless Pulp Fiction Appreciation Society, are from Tuesday's trip. The rest are from previous outings.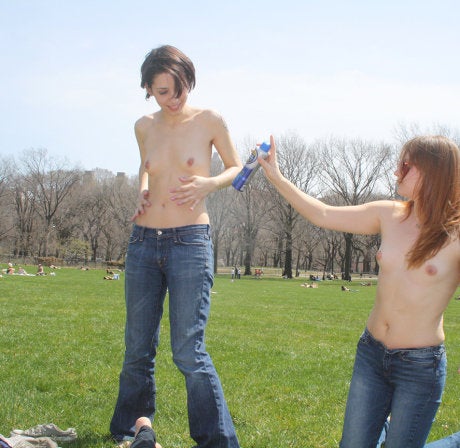 The Outdoor Co-Ed Topless Pulp Fiction Appreciation Society
Popular in the Community