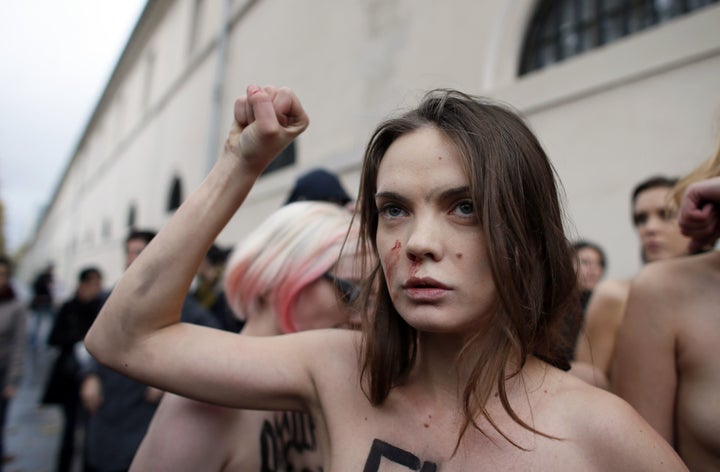 Oksana Shachko, one of the three women who founded Ukrainian feminist organization Femen, was found dead in her Paris apartment on Monday.
"RIP. The most fearless and vulnerable Oksana Shachko has left us. We mourn together with her relatives and friends," the organization wrote in an announcement published to its blog on Tuesday. 
The group added that it is waiting for the "official version from the police" before providing more information. The Ukranian embassy confirmed Shachko's death to a Russian television network. 
French authorities have yet to release an official cause of death, but multiple outlets, including Agence France-Presse, reported that the 31-year-old activist was found with a suicide note next to her body.
"It is with great regret and deep pain that I must confirm the death of Oksana," Femen leader Inna Shevchenko told AFP.
One of the three co-founders of Femen, Anna Hustol, posted the official announcement to her Facebook page with a photo of Shachko. 
Shachko exiled to France in 2013 and left Femen. Since then, she had been working as an artist. 
During the five years she was in Femen, Shachko was arrested dozens of times, interrogated, allegedly abused by police and spent almost a year in jail. She was also one of the members who was allegedly kidnapped in Belarus in 2011 after protesting the Belarusian president Alexander Lukashenko during a topless rally. Shachko and other members said they were forced to strip naked in the woods, were beaten, had oil poured on them and were threatened to be set on fire. 
"She must have committed suicide at the last drop of her suffering ― she had experience tons; I am not surprised she has done it, her entire life has never been easy, she had layer upon layer of pain," photographer Dmitry Kostyukov, husband of Femen co-founder Sacha Shevchenko, told The Daily Beast. 
Femen, known for its topless protests, was founded in Kiev, Ukraine, in 2008. Shachko, Sacha Shevchenko and Hustol founded the group with the slogan, "I came, I stripped, I won." According to the organization's website, Femen protesters use "sextremism" in order to execute "complete victory over the patriarchy."
"Female nudity, free of patriarchal system, is a grave-digger of the system, militant manifesto and sacral symbol of women's liberation," the website reads.
CORRECTION: A previous version of this story incorrectly identified Inna Shevchenko as a Femen co-founder and indicated Dmitry Kostyukov was married to her. Inna Shevchenko is a current leader of Femen, and Kostyukov is married to Femen co-founder Sacha Shevchenko. This story also previously indicated the group's founders were all 17 in 2008. 
Calling all HuffPost superfans!
Sign up for membership to become a founding member and help shape HuffPost's next chapter
BEFORE YOU GO