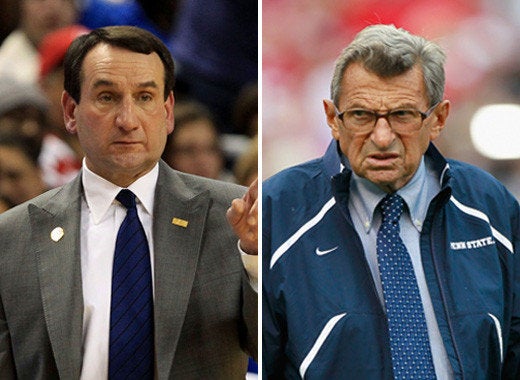 Less than a month ago, former Penn State football coach Joe Paterno became the winningest coach in Division I history after the Nittany Lions came back to beat Illinois at Beaver Stadium. On Tuesday night, Duke basketball coach Mike Krzyzewski broke Bob Knight's record for most wins in Division I basketball history with a win over Michigan State at Madison Square Garden.
Not surprisingly, Coach K was asked on Monday about Paterno and the Penn State scandal, in which the longtime coach was fired in the wake former defensive coordinator Jerry Sandusky facing charges of sexually abusing eight boys over 15 years.
Krzyzewski said that it's tough to comment on it if you're not there, but he feels "badly for him and whatever he is responsible for."
According to the grand jury report, Paterno was told in 2002 of an incident involving Sandusky sexually assaulting a young boy in a locker room shower. He reportedly told athletic director Tim Curley, but never contacted law enforcement. Since the report was released, Paterno and others have come under heavy scrutiny for their involvement.
"I think one thing you have to understand is that coach Paterno's 84 years old," Krzyzewski said, per Vin Bernstein of the New York Times. "I'm not saying that for an excuse or whatever. The cultures that he's been involved in both football - wise and socially, have been immense changes and how social issues are handled in those generations are quite different. But as we judge, remember that there's just a lot there. There's a lot,lot there. I think he's a great man and it's a horrific situation."
Calling all HuffPost superfans!
Sign up for membership to become a founding member and help shape HuffPost's next chapter