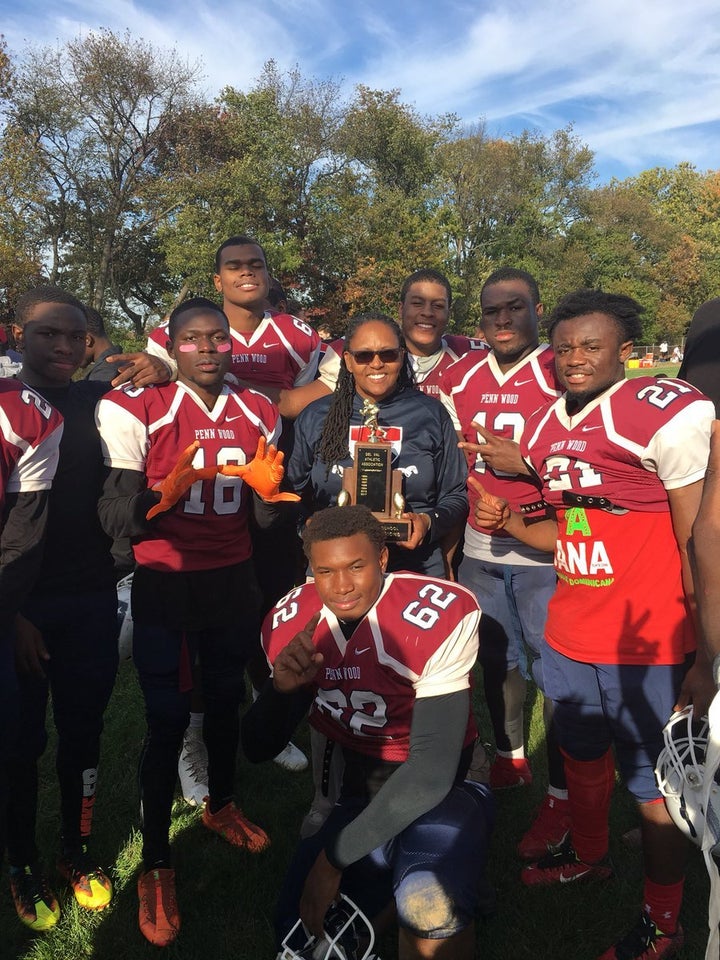 "Some football teams have a "get back coach" whose job it is to literally tell the players to get back away from the sideline during games," said Rap Curry, District Coordinator of Athletics at Penn Wood High School in Pennsylvania.
"Well Coach V's job is to coach the culture."
"As a volunteer coach she is given full access to the coaches, players, and the athletic director to make sure we stay consistent to the culture we stand for," said Curry, a former Saint Joseph's standout and Big 5 Hall of Fame inductee.
"In the world of football, this is a unique concept. Creating change in developing young men starts with the culture," said Curry, "and she is there to insist we all stay true to that."
Passionate and dedicated to bringing awareness about domestic violence and abuse, Peterson has interwoven her advocacy work into educating and building the characters of young men through athletics. Since joining Penn Wood's football staff, under former head coach Nick Lincoln, Coach V has been the team's secret source of inspiration and catalysts for personal growth and empowerment.
"I bring a presence to the team," said Peterson.
"I have a standard for the program that Nick and I started which we've continued under Coach Ato Troop's leadership. We're preparing our boys to be productive citizens in our global society. We're preparing them to be successful men, eventually successful husbands and leaders of corporate America and the communities they live," Peterson said.
In 2014, Peterson introduced Futures Without Violence's Coaching Boys into Men curriculum to Lincoln who in turn welcomed the series of coach-to-athlete trainings that illustrated ways to model respect and promote healthy relationships. Equipped with resources to help prevent relationship abuse, harassment, and sexual assault, Peterson has had to go "toe-to-toe with coaches on behalf of my boys."
"One of our coaches said early on in the season that it's hopeless for these kids. We went at it for two hours and I believe he's a different man after that interaction. I stressed the importance of our coaches not taking out their personal frustrations and issues on our boys, they don't deserve it. There's no need to curse them or to drop the F bomb every second," said Peterson.
Referencing Frederick Douglas's famous quote, "It is easier to build strong children than to repair a broken man," Peterson also serves youth through her work with Lincoln and their non-profit organization, Open Door Abuse Awareness Prevention (ODAAP).
Peterson, whose mother was killed by her father, is a strong believer in intervention and prevention. Motivated in part by her personal and traumatic experience, Coach V has been immersed in improving her student-athletes' lives, character and academic development. Often consulting with colleague Marvin Cornish, Bowie State University's Character & Student-Athlete Development Specialist, Peterson said her "young men will tell you what my motto is, they all know."
"If one of you becomes a good father, husband or man of integrity, its all worth it," said Peterson.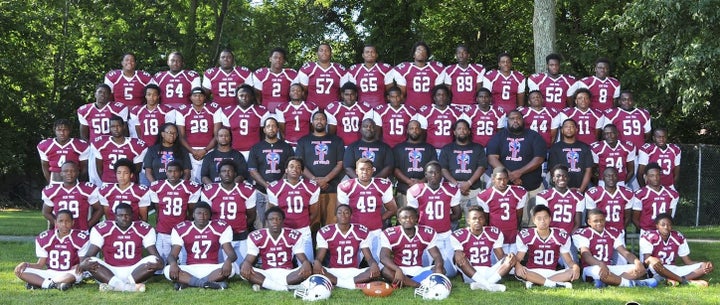 Popular in the Community