Are you interested in seeing a documentary that truly lifts your spirits, inspires you to become a better mother/father, mentor, friend, or just become a cooler all-around person? Do you also want to laugh, and root-on some pretty amazing tough kids? Kids who probably have more grit, heart, soul, and ambition than we forgot we might still have in today's unfortunate world of endless video-game playing, social media posting, non book reading generation. Well then... you my friend, are in for a treat! And who better to guide you to an undefeated path of righteous victory, than Snoop Dogg himself! Yes that's right the D O double G man, respectfully known as Coach Snoop in the football universe, is providing you with this behind-the-scenes true story, of his mentoring inner city kids. They tackle life lessons and some sweet real life football victory. You see like being an icon of rap, or a legit household name from his many consecutive #1 hits, or his numerous appearances in myriad of movies like his epic portrayal Straight Outta Compton to some of my cult faves Old School and Starsky & Hutch. Coach Snoop takes you on his journey to how he helps make these kids strong.
And so, it was on a Thursday night a while back... I was catching the last non-stop flight out of Seattle. I had the fortunate pleasure of sitting next to a kind soul, by the name of Damien aka "Big Percy" we talked about our daughters, the Seattle Seahawks, and how these flights need to add hot chocolate on their drink menu. We additionally found out we're both involved in the music industry, he the hard working and smart manager of Snoop, and me the long time wife of Duff (founding member of Guns N' Roses and Velvet Revolver)... He generously invited Duff and I to the brilliant, very private screening premier, of this must see documentary appropriately titled Coach Snoop.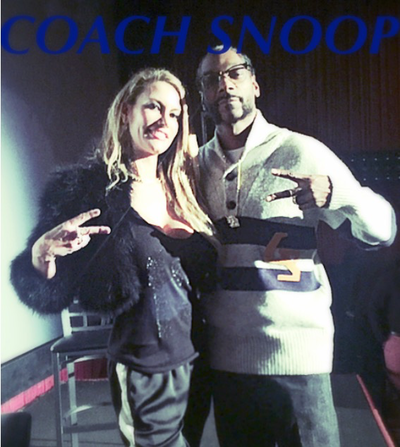 SUSAN HOLMES-McKAGAN: The Coach Snoop AOL documentary (delivered in 9 episodes) conveys how you mentor the children to believe in them selves, work hard, and at the same get good grades... How did the SYFL come about? What's the goal of this league in the big picture?
COACH SNOOP: We've worked really hard and one of our former players (Ronnie Hillman) is already in the NFL, so in turn, I feel like we also won the Superbowl. The kids surprise me--they shock me. We have kids that went on to become lawyers, doctors, firemen- it's not just the football players, it's not just the boys in the league it's cheerleaders too. These are lives that we're shaping, changing and molding. To me, I didn't do it for the reason of (publicity), I did it because my son was playing, and I didn't like the other league that was not catering to the urban kids, the prices, and the fees. It sort of stemmed from this, and then from one of the coaches I met, we both shared this mission. From here we bonded and created a friendship, from which we wanted to start a league.
Maybe Winston Churchill expressed it well with his quote, "with great power comes great responsibility," I love how I can give back to the kids... A lot of the kids on the red carpet were saying, "Thanks Coach Snoop for putting me in position's that I'm in now--- that you trained me for as a kid" whether it's walking the red carpet, teaching them discipline on and off the field, playing out of state as a team, or being in the presence of celebrities. It truly means the world to help out these children. I'm privileged to be able to take my Snoop Dogg power and pay it forward--sprinkle all the love, to give insight to these kids and their hard working families.
SUSAN HOLMES-McKAGAN: What's one of the incomparable aspect's of being Coach Snoop?
SNOOP: I love being a big kid with them! I get to experience what they experience too. It's a never ending story of me being the biggest kid on the team (laughs). When I see them I have the most fun. I don't get to see them as much as I like, but I make the most of my time with them when I do. I like to give them gifts and reward them when they're doing great. I make it a point to stay in their lives and make sure that they're accomplishing what they're supposed to be doing. That's the most important thing. I think I'm at where I'm at, because I used my educational tools to get here, and I wouldn't be here without them. I push for that- for them (the children) to strive for more. We work with the parents to make sure we're all on the same page, keeping the kids straight."
SUSAN HOLMES-McKAGAN: What's one thing you'll never stop doing?
SNOOP: I'll never give up on helping these kids. I'll always be there and believe in them. They're our future.
Calling all HuffPost superfans!
Sign up for membership to become a founding member and help shape HuffPost's next chapter