At TNTP, we believe that a worthy teaching profession should be built around its most outstanding members. To find out what attracts and keeps exceptional teachers in the classroom, we surveyed 117 of the country's most celebrated educators for our Perspectives of Irreplaceable Teachers project.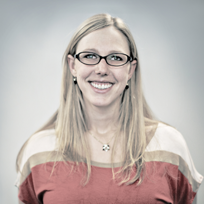 This back-to-school season, we're continuing those efforts by featuring the voices of great teachers on the strategies and support systems that help them do their best work. Today, we're talking to Perspectives participant Rachel McClam, a 2012 Fishman Prize finalist who taught fifth grade math at DC Prep Public Charter School and now serves as an intervention teacher and assistant principal there.
In our Perspectives survey, nearly 80 percent of teachers told us that feedback from instructional coaches had made them better teachers. Rachel believes that the opportunity to work with a dedicated coach supported her growth as a practitioner, but it also inspired her to step into a role where she can coach others. For Rachel, being deemed "good enough" was just the beginning of her career in the classroom.
You received coaching for the first time in your third year in the classroom. Can you compare your experiences before and after?
I moved to DC Prep, where every new teacher receives a dedicated coach, in my third year of teaching. Before that, I was at another local school, where I didn't have any coaching. But after my first year, my administrators started bringing visitors in and showing off my classroom. At that point, apparently things looked good enough on the surface—my data was good; I was in control of my classroom.
But there was more to learn beyond "good enough"—and the opportunity to work with a coach and push my growth as a practitioner to the next level were some of the reasons I chose to move to DC Prep. Once I had a coach, I had someone in my room every week, looking closely at my instruction. It helped me focus so much more on the little things that I could improve to really push my practice to the next level, like how to give my students more opportunities to guide their own learning and respond directly to each other in discussions.
What was your relationship like with your coach? How frequently did you work together?
My coach was in my classroom once a week. Every week, we created a mini-goal, based on what she was seeing. We also did practice exercises—we'd discuss a strategy and then practice it together.
For example, at one point I was having trouble getting my second-period math class settled efficiently. So my coach and I set a mini-goal of creating a competition to motivate the students to settle in their seats quickly. Together, we planned out what the competition would look like—I would set a timer as soon as I was ready to welcome the students into the room, and then jot down which row was the first one to get completely settled. It was a small thing, but it had a huge impact on the instructional time we gained and the culture of the class. My students started coming in quickly and calmly, ready to learn.
One of the things that made coaching so effective for me was the consistency of it—through those weekly sessions, I developed a trusting relationship with my coach, and she had a really clear picture of what was happening in my classroom over time. It also allowed us to set small, sequential goals. I had a larger teaching goal, but every week I was working toward it by attacking smaller chunks.
Whatever the issue you're tackling, coaching always needs to focus on helping a teacher move forward in a very guided way. My coach never said, "We're going to debrief and then you have to go off and do this on your own." It's so important to practice a technique or do a dry-run of a new activity, to troubleshoot potential issues before you try it with students.
Did you see a change in your students' learning outcomes as a result of being coached?
It's hard to compare directly because I was at two different schools. But I do know that having a coach helped me dig deeper into what my students weren't learning and why. I remember bringing student data to my coach and saying, "I don't know the next step from here." She helped me think through: "What are these tests showing us? Let's brainstorm some ways of re-teaching this." Having a designated person and time to problem-solve these issues allowed me to deepen my practice and learn to use the data strategically.
Let's talk about your experience as a coach now. As an assistant principal, how do you work to build a strong instructional culture at your school?
I've thought about what was effective and what wasn't. We're talking about this a lot at my school—what does an effective coach do? And what different types of coaching strategies are useful for different kinds of teachers? We've implemented "pretend practice" in our coaching sessions—having the teacher practice activities with the coach and receive real-time feedback, which is really valuable.
Building relationships is critical, and every effective coaching relationship is different. Two years ago, as the math department chair, I coached two teachers, one who was a first year teacher and one who was a veteran at teaching but new to teaching math. Because of their different prior experiences, our coaching meetings needed to be differentiated to meet their needs. For the first year teacher, we did a lot of work around building a strong classroom culture and getting kids ready for learning. With the other teacher, the focus was more on applying the teaching practices she already knew to a new content and grade level. With another teacher last year, we've done a lot of work around making the explicit connection between teacher actions and student learning, both culturally and academically. In all instances, we were working toward building a more purposeful practice, but in order for coaching to be effective, the starting place and types of activities you do have to be differentiated to each teacher's needs.
Do you miss being in the classroom or is the AP role as fulfilling?
Yes and yes. I feel lucky because all the administrators in our building, except the principal and the dean of students, teach part-time. I teach two intervention blocks with fabulous fourth graders. I think I would miss full-time teaching a lot more if I didn't have that opportunity. I can see how an administrative role can feel removed from actual classroom work. But I also love working with teachers to make sure they are improving their practice and building the curriculum.
Does having the administrators teach part-time have an effect on school culture?
It's amazing. There's this all-hands-on-deck mentality. We're not just sitting at our desks, telling the teachers what to do. It sends a really powerful message: We're all in this together.