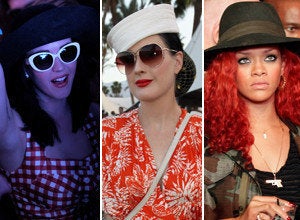 As I arrived at Coachella this year I couldn't help but to reminisce about the US Festival, which took place in 1982 and 1983. Only about 85 miles from each other, both in the blistering heat and both filled with the best indie rock of their time. The 1983 US Festival was the last time Mick Jones played with The Clash but there he was wowing the audience with Big Audio Dynamite at Coachella in 2011. On the same stage, three hours earlier, I saw Cage the Elephant, which reminded me of a late '70s/ early '80s punk-rock band with singer Matt Shultz stagediving and crowd jumping in a little red dress. His bandmate smashed his guitar and then handed it to some lucky soul in the audience. Brandon Flowers covered Kim Carnes's 1981 No. 1 hit "Bette Davis Eyes" before he was joined on stage by his Killers bandmates Dave Keuning on guitar and Mark Stoermer on bass. Perhaps I enjoyed that show so much because The Killers remind me of an eighties band.
Even with all the similarities of the US Festival and Coachella, I came to realize that these festivals were very different.
The rock star of the seventies and eighties were and still are larger than life. The US Festival featured bands such as The Police, U2 and Van Halen. At Coachella, per bands like Mumford & Sons, Arcade Fire, Bright Eyes, The Black Keys, Cold War Kids and Angus and Julia Stone, it was all about humble, appreciative musicians.
Arcade Fire lead singer Win Butler thanked the crowd multiple times for listening during their performance. With such sincerity, he said, "Don't think we take this for granted for even one second."
Marcus Mumford of Mumford and Sons looked a little stunned in front of such a massive crowd. He said, "This is by far the biggest gig we've ever played" and banjo player Winston Marshall told the audience, "Just a few years ago I was a punter sneaking in here for Rage Against the Machine."
Today's rock star is not on a pedestal but rather one of us. Although sixty thousand people were cheering and singing along the feeling was more like they were playing for us around a campfire at the beach. The humble attitude spread to the crowd as everyone was courteous, peaceful and friendly. On the other hand, the masses at the US Festival were far more rambunctious. The eighties was all about "me, me, me" to the extent where they felt compelled to name the festival "US."
At Coachella I saw three days filled with rousing, passionate performances. I don't really know what Woodstock was like but I feel like I was there this weekend. Then Duran Duran came out and took me right back to the eighties. Simon Le Bon came out in a white tuxedo jacket ala James Bond. With grand gestures he strutted the stage like he owned the place, and gave an over-the-top yet outrageously retro fun performance. The audience couldn't get enough. Now I only hope that Mumford & Sons will be playing Coachella in 2042.

Calling all HuffPost superfans!
Sign up for membership to become a founding member and help shape HuffPost's next chapter