Its that time of year again... when holiday cheer and leaked Coachella line-ups fill our Facebook news feed.
The latest "2012 Lineup" from StarzUncut, which started making the rounds in late November, seems almost too good to be true. So, if you're already considering which feathered headdress to wear with your new lace crop top -- instead of bundling up in the chilly weather -- this is for you.
Coachella 2012 might look something like this (via StarzUncut)
Friday April 13 & 20
No Doubt, The Shins, The Roots, Florence + Machine, Armin Van Burren , Mos Def, Hieroglyphics, Bassnectar, Underworld, Beirut, Lykke Li, Ingrid Michaelson, Roots Manuva, Refused, Dirty South, Dillon Francis, Young Galaxy, Morning Parade, Wolfgang Gartner, the Naked and Famous, Dom, the Japanese Pop Stars, Miguel Migs, the Sleepy Jackson, Felix Da Housecat, Mazzy Star, Metric, Mark Farina, Ryan Adams, NEED TO BREATHE, Holy Ghost!, Midlake, the Night Marchers, Perry Farrell, Zeds Dead, Active Child, Alan Braxe, Porter, the Coup, the Sword, Grace Jones, Fatima, Future Islands, Souls Of Mischief, Doc Martin, Fairview, Whirlwind Heat, Binary Star, Craft Spells, Feed Me, Wild Nothing, Giant Drag, S.T.U.N., DB, Mr Lif, Ima Robot, Gratitude, Bikini, Sleep Salva, Calibre, Tomahawk, Tha Liks, Erase Errata, Celebration, EMA, Guitar Wolf, Nicolas Jaar, Seba, Lukid
Saturday April 14 & 21
Foo Fighters, Daft Punk, Chris Cornell, LMFAO, Wilco, Snow Patrol, Swedish House Mafia, Peter and John Bjorn, Derrick Carter, the Heavy, Kelis, Calvin Harris, MF Doom, Sleep Tinariwen, Big Sean, the Decemberists, the Bisd & the Bee, Bobby Burns, MUTEMATH, Bon Iver, Girls, 12th Planet, Owl City, Tiga, Switch, Soulwax, Noel Gallegher's High Flying Birds, the Dirty Heads, Bag Raiders, An21, Kings Of Convenience, Classixx, Keep Shelly In Athens, Death Grips, Dawes, ASAP Rocky, Friendly Fires, Ricardo Villalobos, Abandoned Pools, Band of Skulls, SmokeStacks, Mando Diao, the Soft Pack, Youth Group, Nada Surf, the Civil Wars, Anna Calvi, Ducktails, No Age, Shackleton, Junkie XL, Vas DeFrans, Mylo, Murs, 22-20s, Aceyalone, iamamwhoami, Quivver, Headhunter, Huoratron, Paparazzi, 120 Days, Dredg, Jesse Murphy, Brett Dennen, Summer Camp, Suuns, the Coathangers, Dak, Pandit, Plastiscines, Spy Mob, the Sexy Magazines
Sunday April 15 & 22
Radiohead, Feist, Moby, Death Cab For Cutie, Modest Mouse, Justice, AVICII, Kasabian, Tom Waits, Roger Sanchez, VHS Or Beta, Digitalism, M83, American Mars, Joy Formidable, Nero, Martin Solveig, Fiona Apple, AWOL NATION, the Gaslamp Killer, the Glitch Mob, Casting Krowns, Kraddy, ST Vincent, Young The Giant, Thomas Gold, Childish Gambino, Yoav, Wild Flag, Maverick Sable, the Head And the Heart, Four Tet, k-os, Christopher Lawrence, Gold Panda, Slow Club, Torches in Trees, the Sleepy Jackson, Rogue Wave, Pablo Hassan, Doctor P, First Aid Kit, Battles Best Coast, Mona, Chilly Gonzales, Fred Falke, Medusa, Mindless Self Indulgence, Treelight for Sunlight, dios, Radio 4, Dave Armstrong, dBridge & Instra:mental
And for those who love the classic Coachella poster (via StarzUncut):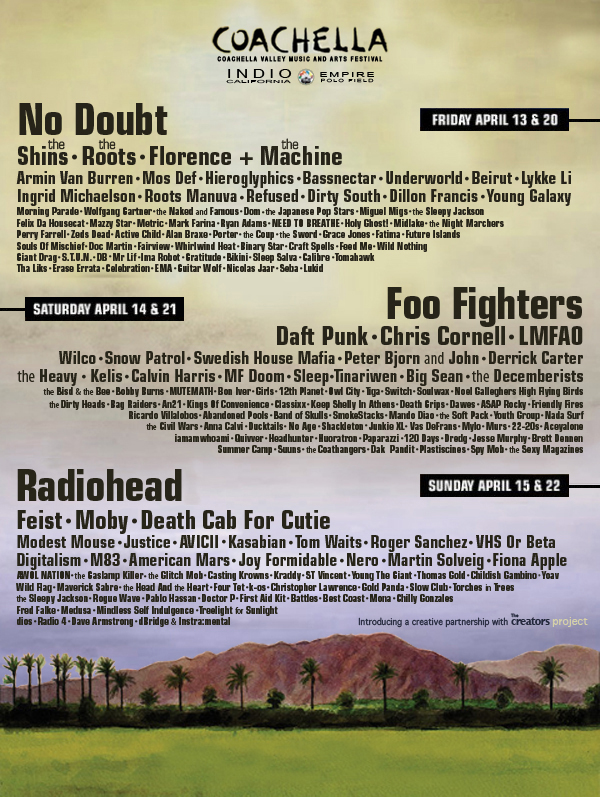 A reminder of what we have to look forward to! Photos of Coachella 2011 by Getty Images.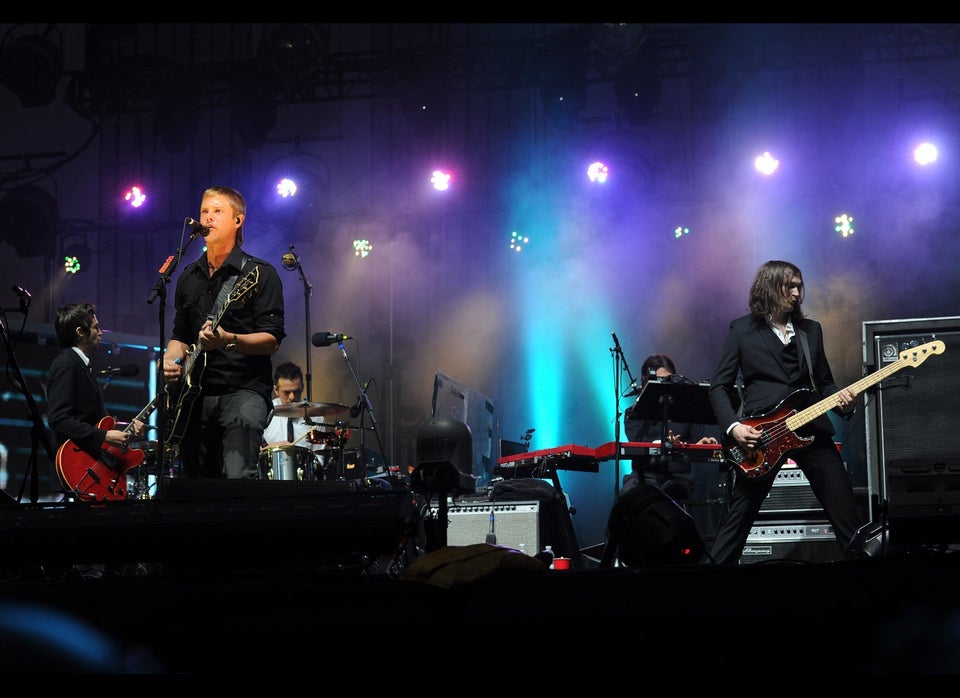 Coachella 2011 Day 1
Related
Popular in the Community