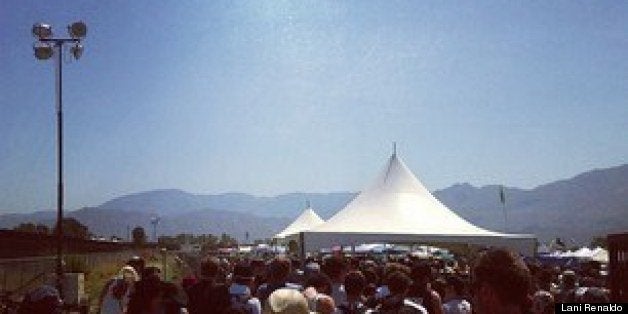 Three days, in a desert, 90-degree-plus weather. While this sounds like complete hell to some, music lovers from all over the world make the pilgrimage to one of the biggest music festivals in all of California: Coachella. Last month, I had the pleasure of attending the festival for my second year in a row! As a musician, Coachella is heaven for me -- even if I manage to come back sunburned, exhausted, and feeling disgustingly dusty. I love it. The atmosphere is so peaceful, carefree -- it's as if someone transported the 90,000 people attending the festival to Woodstock, 1969. Everyone is there to enjoy the bands, meet new friends, observe art and fashion, and even indulge in the amazing festival food!
My first day started out at 7 a.m., frantically packing what I should have packed nights before. Once my necessities were gathered, I met up with my good friend, Julian, his dad James, and off we were on the two-hour drive to Indio, California (which is about 30 minutes from popular, tourist location Palm Springs)!
My line-up for Day 1 consisted of:
Dillon Francis
Tommy Trash
Tegan and Sara
Passion Pit
Purity Ring
Yeah Yeah Yeahs
Day 2:
Major Lazar
Grizzly Bear
Benny Benassi
The XX
Phoenix
Day: 3
Jessie Ware
Alex Clare
James Blake
Vampire Weekend
Eric Prydz
Dirtyphonics
Some of the major highlights of the festival were seeing Purity Ring, The XX, Benny Benassi and James Blake. I had never seen these artists before and though I had heard their records several times, seeing them live was a unique and eclectic experience. James Blake's soulful voice, the ability Purity Ring has to recreate their mostly electronic music was amazing, the booming bass and hardcore techno sound Benny Benassi produced was unreal -- making him my favorite performance of the week.
I also had the chance to see two of my favorite bands, The XX, whose mysterious tone and Oliver Sims... (attractive, bassist and lead singer) made them so fun to watch as well as Vampire Weekend. The last time I saw them was about four or five years ago. Seeing them today, they still have such a vibrant stage presence. Vampire Weekend's sound is quite amusing. They have this beginning of summer, exciting vibe to them, which makes their music so awesome to listen to. They even played some new songs from their upcoming album! These songs did not fail to shock me. Vampire Weekend has the ability to incorporate several elements as well as different genres into each of their songs, making no song sound like another. They are truly brilliant.
Some thoughts for next year: Be prepared for windstorms. Having sand blown in every direction and into my eyes was not too pleasant. I knew that the nights would get cold and possibly rainy, but wind was not something I anticipated. Also, because of the desert environment, I felt my throat getting extremely dry and my sinuses getting irritated, so bringing a bandana to protect from the dust, pollen, and other irritants is a must. Lastly, I realized that sometimes I move a bit too fast. How is it possible not to? So many cool bands playing, art work, the excitement of just going to a festival... with all of that in mind, I realized that next year, I want to take more time to just appreciate the scenery around me. The palm trees, blue sky, the environment that really doesn't exist in fast-paced, Los Angeles. With summer coming up, I realize that time moves fast -- I mean, the beginning of the school year was only eight months ago and bam! It went by like that. I hope that next year, I can enjoy the festival even more than I did year's prior and with that in mind, I know I will have a happy Coachella!