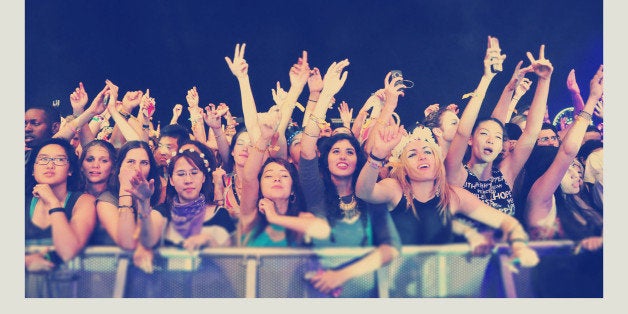 I've been going to concerts for as long as I can remember. Growing up, concerts were my family's favorite type of outing. I didn't know much about the music or artists that I would be taken to see, but I was fascinated with learning about them on the days after the show. For example, I even checked out books at the library about Ringo Starr the day after I saw him perform when I was eight. It was that bad.
However, since my dad always thrives to get us the best seating possible, we've encountered some concertgoers who have disliked my presence at these shows. I reflected on this not too long ago with my parents and they mentioned that since I was so young, some concertgoers seemed to feel that, "Hey, I've been following The Flaming Lips on tour all year but yet this 6-year old-girl that obviously has no clue how important they are to me, gets a better seat than I do." Even if they wouldn't say it in those exact words; you could just feel it.
I first went to Coachella with my family when I was 13. I was in middle school at the time and Coachella was something you either knew about or didn't know about. After a couple of years of going to Coachella with my family and friends, I quickly noticed the change of environment in 2012. In this year, it felt like everyone had their smartphones out; documenting everything about their day at Coachella instead of actually ENJOYING their day at Coachella. By the looks of my Facebook feed, people from my high school were wanting to attend Coachella 2012. So I asked most of them, "What bands are you wanting to see?" I would usually get the same reply which would be that they want to see one of the headliners since they weren't exactly familiar with the smaller font bands on the lineup poster. So I'd reply with, "Well, since you just want to see one or two bands, you could just wait to see them play at their own show instead of paying 300-plus dollars." (Localchella, for the win.)
However, the answer was always, "No, I'd rather just go to Coachella." I didn't understand their logic at the time. Why would anyone want to shell out so much money and time to only want to see one band? Isn't Coachella mainly about the music? Why would anyone want to sunburn to look like Larry the Lobster JUST for one band? I didn't understand it until the festival concluded. I realized that the difference between now and then is simply that I didn't have a smartphone with Facebook, Twitter or Instagram capabilities the years I had gone before. Social networking has been around ever since I was born. However, being able to social network on the go has not.
Social networking was changing my views on Coachella and those views were rubbing me the wrong way. It was starting to feel that if you're a super cool person and if you're a somebody, you're at Coachella. I didn't like that one bit. I didn't blame Coachella for this, I blamed social networking. I just felt that people were attending for the social recognition. I thought about it extensively and realized that if a person just wants to go to Coachella to spam their social networking sites with photos of them standing in front of the iconic Coachella Ferris Wheel while wearing their fresh-off-the-runway outfits, then you best believe that the people who would die to be able to see their favorite bands in one locale, will hate you. Ah, that was a mouthful.
Overall, now it feels that the some of the people I've encountered are going to Coachella for the sake of going to Coachella. Now, I am not saying everyone who goes to Coachella is like this because I'm sure it's very minuscule compared to the awesome and very passionate concertgoers who do attend and have been attending for years. I have no problem with people who do attend for the sake of attending, to each their own; however, if you've been going to Coachella pre-smartphone-Facebook app time, then you'd agree that it's become very difficult to simply buy your ticket to the festival than how it used to be in the years before.
Now this is the part where I tie in what I mentioned in the first paragraph about the passionate concertgoers who would loathe my early-childhood-self for taking up space at concerts. I realized that I have become one of them. However, instead of loathing the musically ignorant children that are forced to take up space at shows, I discovered that I do not care for people who go to shows for the status symbol. That's about the same as taking up space, right?
REAL LIFE. REAL NEWS. REAL VOICES.
Help us tell more of the stories that matter from voices that too often remain unheard.