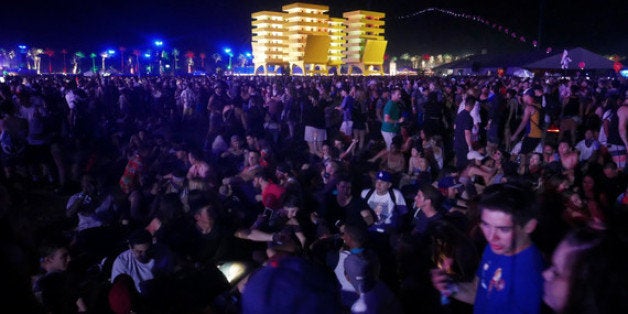 Coachella Music Festival: April 15-17, 2016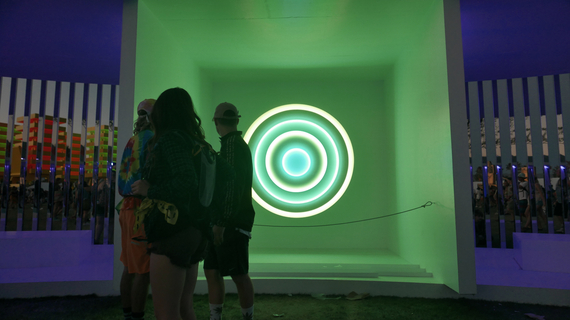 Phillip K. Smith III. Portals. Photo by EMS.
 
Coachella opened once again with a new lineup of art sculptures and continues to play a major role in the transformative landscape which separates itself from other music festivals. Throughout the polo grounds, one sees large-scale site specific works that compels the patrons what the commissioned artist and organizers ultimately want...to social media the experience. The magical quality of Coachella Music Festival is the desert itself. It comes at a time of year when the weather produces just amount of heat during the day, and coolness at night to provide the high-priced ticket buyer a dual experience. The dual experience comes in many forms. It's the warm balmy weather during the day that is therapeutic and invigorating. At night it is breezy and cool. The fact that the music festival is held at this time of year and at this location is part of the financial success and why its only getting bigger. I like to compare Coachella...the Disney of music festivals.
One of the major reasons why Disney has been so successful is its location. Second, is its magical qualities. Its magical qualities mostly come from the visceral experience one undergoes at a weekend at Coachella or a full day at Disney. There is so much to see and hear that our senses undergo an intoxication of stimuli that puts you in a hallucinatory state only wanting more. It is definitely a fix. If you have a good experience at Coachella, with the right mind and the right stamina, your Coachella experience will live with you for a while. The dream landscape of the Coachella desert begs your senses to come back. One of the reasons why Coachella can charge such high prices is because they can. These high ticket prices make Coachella more elite and elusive. There are no discounts on tickets because the festival is held during prime time weather for two weekends a year. They don't have the luxury that Disney has of being open year round; offering opportunities for every economic class to attend.
So, every year in April, people with money make their annual pilgrimage to the desert to feel closer to their God. Coachella is a shamanistic baptism for the privileged that many back home who couldn't attend (throughout Southern California) can only stay home and scoff or make fun of. It kind of feels like not having tickets to the prom. There's a big party in the desert and I'm not invited. It's all about being there. When people push send on their smart phones their advertising the experience of Coachella. This at a time when sophisticated music lovers from the 1900s get older and Coachella gets more innovated. They made it into the club and you didn't.
What Coachella has done is brought in international art talent to create large scale artworks worthy of any international biennial. They are attempting to paint their skylines with beautiful lights that adds to the magical experience. I'm not even talking about the music and the stage lighting. I'm talking about the concert experience, and the climate, and the immersive art. Every single person who enters the gates of Coachella, navigating security worthy of the TSA, is immediately compelled to social media the sublime experience of being there...the lights...the sculptures...the sunsets...the beautiful people. One wonders if their pursuit of curating a great art experience has inspired the 2017 Desert X biennial. Of course it did! Trust me, if you're stuck at home and and you see the heavens throwing a party, you really begin to despise Coachella. Not everyone goes to Coachella. Everyone goes to Disney. Big difference, but no difference in magic.
This article is part of an ongoing photojournalism survey of art exhibition openings titled EMS N(art)rative. Through my lens I document a photographic essay or visual "N(art)rative" that captures the happenings, personalities, collectors, gallerists, artists and the art itself; all elements that form the richly varied and textured fabric of the SoCal art world. This reconnaissance offers a unique view for serious art world players to obtain news and information on the current pulse of what's in the now, yet capturing timeless indelible images for posterity and legacy. Here is EMS N(art)rative Thirty-Seven.
Calling all HuffPost superfans!
Sign up for membership to become a founding member and help shape HuffPost's next chapter