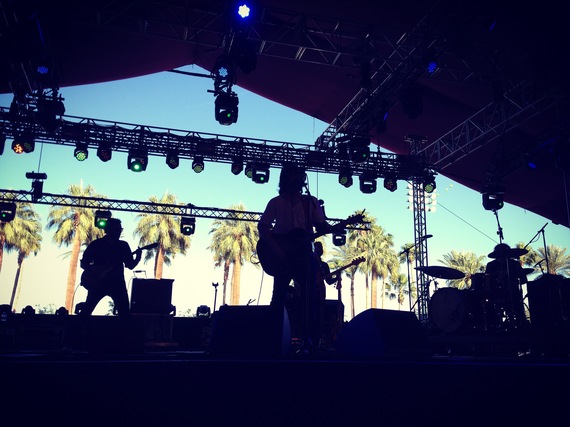 A silhouette of Pete Yorn performing at Weekend 1 of the Coachella Valley Music and Arts Festival 2016. Photo courtesy of Skyler Gray.
In terms of music festivals, Coachella is definitely the place to see and be seen. It is a place where you can wear whatever you want, do whatever you want, and - in reality - be whoever you want for a three-day span. It's hard to ignore that, over the years, the Coachella lineup has become more and more of an "anything goes" variety, featuring almost every genre imaginable in one form or another. Some of this year's top-billed artists demonstrate the wide-range of sounds that Coachella has to offer. From Guns N' Roses to Ice Cube to Calvin Harris, concertgoers can personally craft their experience to twist the festival to their musical, or non-musical, likings. Now, Coachella can be an EDM festival, a hip-hop festival, a pop festival. Even further, Coachella can be a fashion festival, an art festival, a food festival.
And, out of all of this, those festival-goers that want the (arguably) classic Coachella rock festival experience, in fact, majorly benefit. The wide-range of genres that Coachella provides leaves space for rock fans to have the opportunity to see some of the top artists of the genre in a more intimate setting than one would expect. This year, the festival provides unbelievable access to some of the top rock artists via their less mainstream bands. In this vein, here's what Coachella 2016 has to offer:

1. The Last Shadow Puppets
With the success of their 2008 album, The Age of the Understatement, and their newly released sophomore album, Everything You've Come To Expect, the Last Shadow Puppets provide a Beatles-esque, string-filled ensemble, complete with the ever-suave vocal stylings of lead singer, Alex Turner. Yes, we are talking the same Alex Turner that is the lead singer of the Arctic Monkeys.
With their debut album appropriately titled Yours, Dreamily, released last fall, the Arcs provide a dreamlike rock, soul and psychedelic experience, fronted by none other than lead singer and guitarist of the Black Keys, Dan Auerbach. Moreover, during the Arcs' set last Saturday at Coachella, they brought on surprise guest Joe Walsh of the Eagles...all in one of the side stage tents.
Chris Stapleton released his first solo album, Traveller, last year, but he is a true veteran of the music and songwriting world. He reached a new level of fame, thanks to super-fan Justin Timberlake and their incredible performance at last year's CMAs. Joined by his wife, Morgane, who is also an extremely talented vocalist, Stapleton provides a true quality rock and blues performance. He's major in the country scene, and, thanks to Coachella, fans can see him as part of the festival in an unbelievably intimate setting.
To sum up, Coachella has something for all, and that is good for more reasons than one. For rock fans, Coachella offers the chance to see major stars in a closer setting. They may just have to put up with some heavy bass-pumping in the background.
Rock fans heading to Weekend 2 should also check out performances in the Mojave and Gobi tents by BØRNS, James Bay, Pete Yorn, Deerhunter and Silversun Pickups.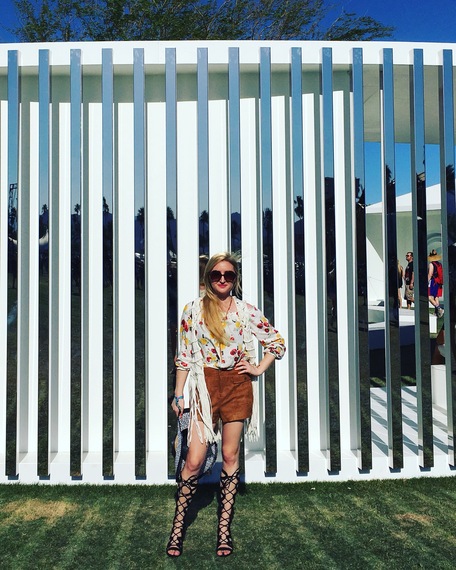 Pictured above is author Skyler Gray at Weekend 1 of the Coachella Valley Music and Arts Festival 2016. Photo courtesy of Skyler Gray.
REAL LIFE. REAL NEWS. REAL VOICES.
Help us tell more of the stories that matter from voices that too often remain unheard.