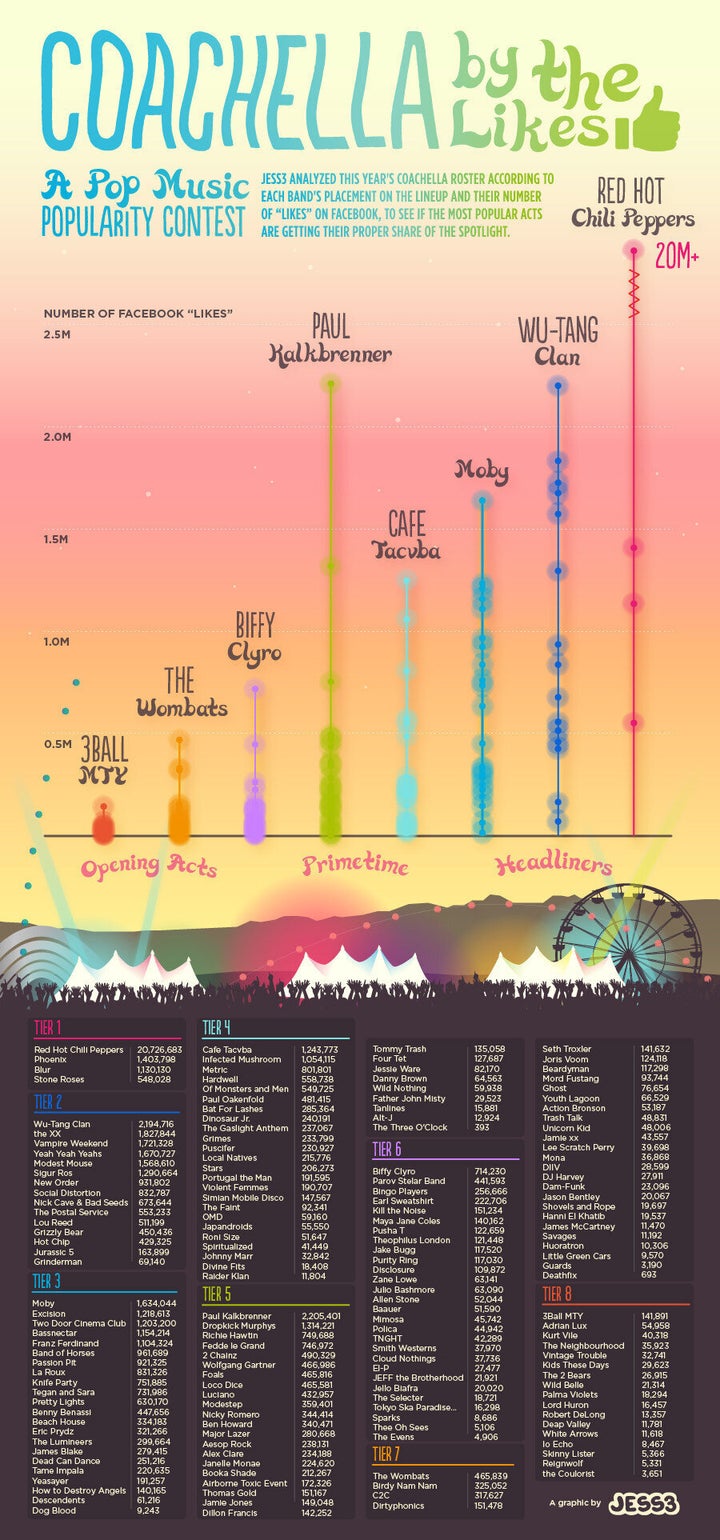 The Coachella Music Festival's lineup includes almost 200 different musical acts, but these bands aren't all pulling the same weight when it comes to ticket sales. Which bands motivate music fans to purchase the pricey $349 general admission passes? Does Coachella's iconic poster do justice to the most popular acts when it comes to prominence and font size?
Data visualization agency JESS3 decided to put the Coachella poster through a little experiment by ranking all musical 177 acts by the number of their Facebook fans to find out one thing: "Are the most popular acts getting their proper share of the spotlight?"
The answer: yes. Kind of. At more than 20 million Facebook likes, the Red Hot Chili Peppers is absolutely in the right spot on the Coachella poster. So are the other headliner bands Phoenix and Blur.
British headliner band Stone Roses didn't make the cut because they had less than one million Facebook fans. Other outlier bands include German DJ Paul Kalkbrenner, which has the second-highest amount of Facebook fans but is just squished in the middle of the lineup. Cafe Tacvba, which also has over one million fans on Facebook, is similarly positioned on the Coachella poster.
JESS3 chose bands' Facebook fans to measure popularity because "we needed something that tracked loyalty, and for Millenials (which Coachella fans predominantly are), that meant Facebook." The agency tracked their results on the below infographic: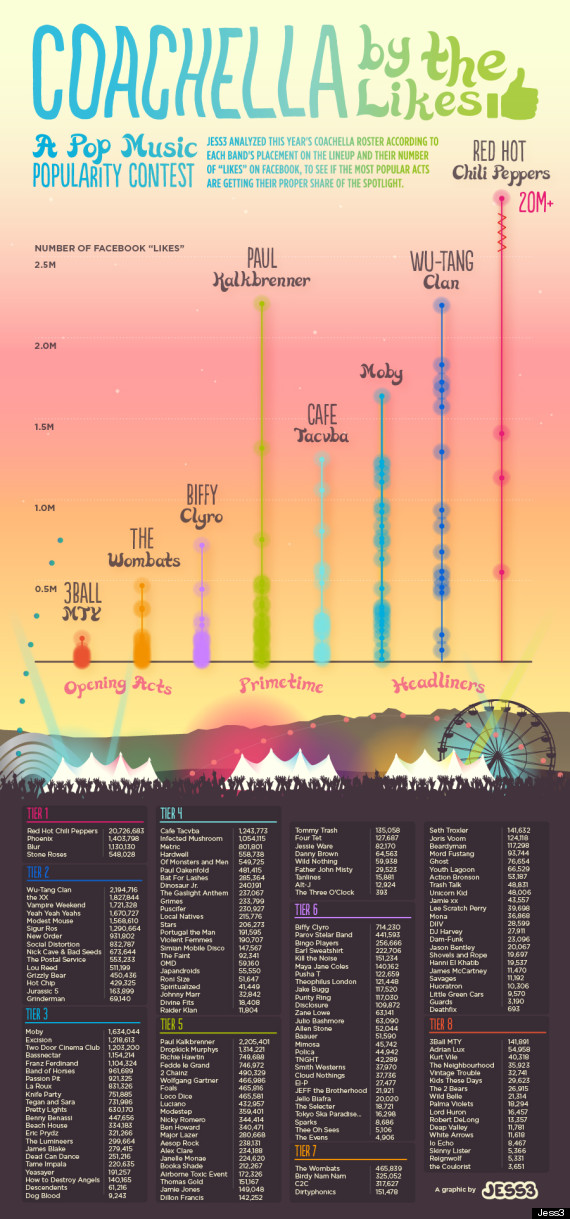 Of course, Coachella does not use Facebook likes to determine how to promote the bands on their lineup announcement. In fact, part of the fun of Coachella's poster is decoding the music festival's stance on music artists based on their name's font size.
For example, fans of the rapper 2 Chainz were galled to see his name in the fourth line of the Saturday schedule, between Ben Howard, a British singer-songwriter with one studio album release in 2011, and Janelle Monae, an R&B soul singer whose last single was released in 2010. 2 Chainz released one studio album in 2012 and is featured on recent hit songs with immensely popular artists like Drake, Kanye West, Lil Wayne and Kendrick Lamar.
HuffPost reached out to Coachella to ask how the festival poster is designed. They declined to comment.
"Coachella thought they were slick for putting 2chainz on the lineup in f**king 10 point font," tweeted Twitter user Melissa Bonner.
Another fan was "shaking their head" at this 2 Chainz diss after the Coachella poster was released.
For some bands, it can be exciting to see themselves rise up the food chain across successive Coachella festivals. Last year, the Black Keys returned to Coachella as headliners after playing at the festival four times already. In an interview with magazine Rolling Stone, frontman Dan Auerbach and drummer Patrick Carney reminisced about being one of the little guys that performed during hot Coachella Valley afternoons. From Rolling Stone:
This year marked the Black Keys' fifth trip to Coachella, and their debut as mainstage headliners. "I like to remember the first time we played Coachella, in '04," Carney says. "It was hot as f*cking balls. We were sweating our as*es off, and there were very few people there."

"It was in a tent with no ventilation," Auerbach adds. "It was the kind of hot where you're completely drenched, except for the top of your head where the heat's coming out of."
Sounds like great motivation for 2 Chainz.
Support HuffPost
The Stakes Have Never Been Higher
Related
Before You Go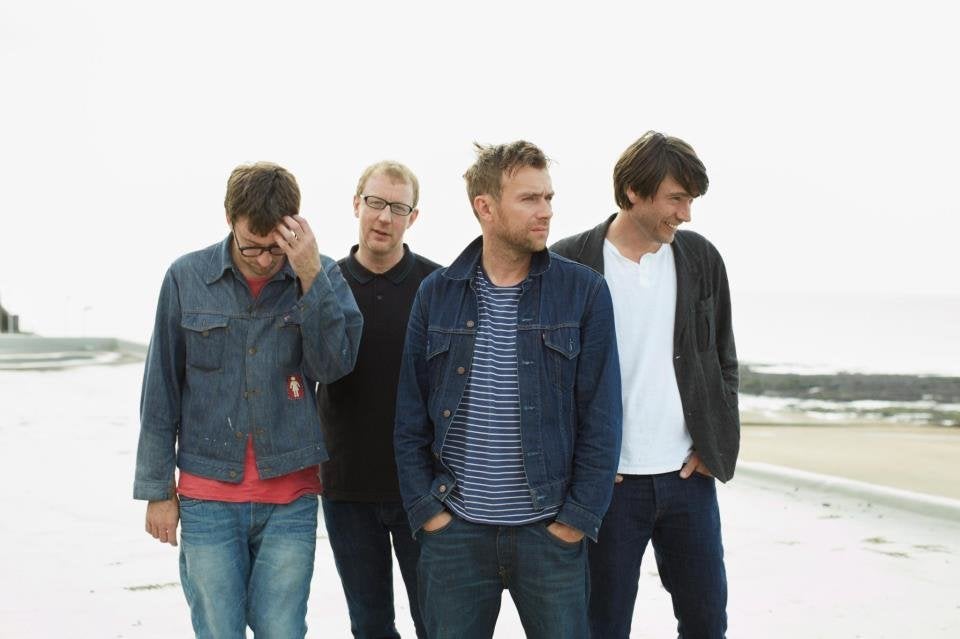 Coachella 2013 Lineup
Popular in the Community