 Best moment: Arcade Fire's post-closing parade. In typical Arcade Fire fashion and more reminiscent of a Vietnam protest than a Coachella headliner, they refused to let the midnight sound cutoff cramp their style and brought a megaphone, instruments, and themselves into the crowd after their sound was turned off. It turned into a communal, crowdsourced effort of singing 'Wake Up' that was the perfect way to round out the groovy set- one which included digs at Coachella's VIP policy and the EDM scene.
Best cover: Grouplove's Drunk In Love. The unlikeliness of this combo, Beyonce/Jay Z/Grouplove, made it all the more awe-inspiring. Christian Zucconi and Hannah Hooper were able to do this popular song justice while simultaneously adding their own rock grittiness that somehow worked seamlessly.

Most WTF moment: STRFKR. All of it. There were people sumo wrestling in fat suits on stage - people who I'm assuming are just friends of theirs that wanted to party at Coachella in the ultimate way. Moral of the story: become friends with STRFKR.
Best special guest(s): Nas really killed it on the guest appearances. Jay Z. Diddy. Enough said.
Runner up: Solange, because, Beyonce. Really curious to see the increase in Solange fans from weekend 1 to weekend 2.
Worst crowd: Flume. Although Flume played a pretty amazing set, it was nearly impossible to get through the massive crowd. Pretty much everyone in the tent that night was either about to throw up (literally, a guy next to me was profusely sweating and gagging while attempting to exit) or aggressively pushing/cursing at people. Thinking Coachella vastly underestimated Flume's crowd-drawing potential.
Best swag: STRFKR's blow up dolls. Seeing a crowd of people dancing while holding giant sex toys was hands down one of the most entertaining experiences of the weekend.
Most surprising set: Flosstradamus. This Chicago-based DJ duo played in mojave and, though mostly known for trap, dropped one of the most fun sets to be heard all weekend. They dropped everything from Drunk In Love to Get Low, and were able to maintain the integrity of their sound while playing a seriously crowd-pleasing set.
Best sign: The one a Haim fan made of Este's notorious "bassface." Can you imagine playing an entire set while staring into that? Props to Este. You do you girl.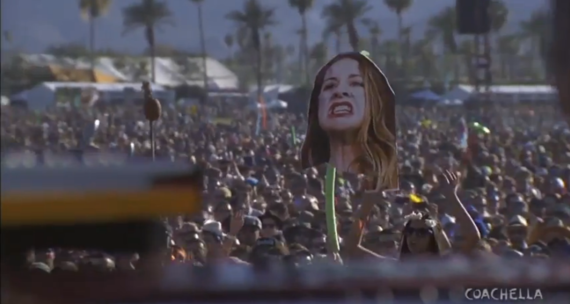 Biggest dance party: Calvin Harris. People tend to either love or hate him for straddling the (often fine) line between EDM and Pop, but either way he's doing it and he's doing it well. It was clear that Coachella-goers were wanting for some sing along dance music, and Calvin Harris delivered with his set, which featured The Killers' 'When You Were Young' and Icona Pop's 'I Love It.'
Most overdone trend: Flower crowns. Lana del Rey did it like two years ago and it wasn't even THAT cool then. It's done, let's all move on.
Best cool-off strategy: Do Lab. The Do Lab used to be in the middle of the field (which made for a great meeting place), but has since moved to the back of the food court terrace. If at any point you want to cool off without missing out on the fun, head to the Do Lab for some spray misting and tunes.
Most humble performers: MS MR. One of the many pluses of seeing bands that are new to the Coachella scene is that they seem so genuinely excited to be there. Lizzy could not stop beaming through the entire set, and had tears in her eyes when they ended the set with Hurricane.
Runner up: Haim. These sisters have been sneaking into Coachella since 2004 and it was great to see them get in for free in a slightly different way.

Sickest unreleased drop: Flume's remix of Lorde's Tennis Courts. This unreleased remix by Flume was dropped during his Friday night set, before Lorde played the original on Saturday. This remix is likely to be huge for Flume- and, by the crowd's reception to his drop, everyone in the tent is already on board.
Best production: Everything in the Sahara tent. Although this locale can be a bit overwhelming (and slightly terrifying) for those of us who aren't fur-boot-and-pasty-wielding rave children, the production in the Sahara tent alone made it worth visiting. This year the entire rounded tent was plastered with LED screens that created whatever the light equivalent of 'surround sound' would be. Surround light? I'll go with that.
REAL LIFE. REAL NEWS. REAL VOICES.
Help us tell more of the stories that matter from voices that too often remain unheard.