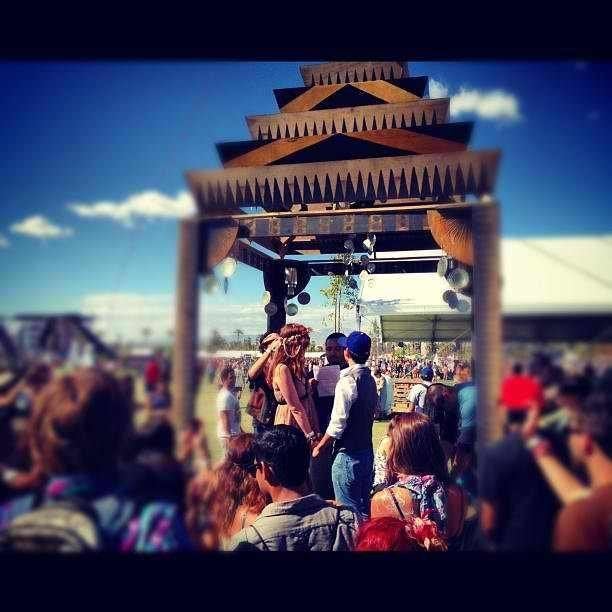 "He had me when we started talking about music," Lauren Shryock said of her first conversation with now-husband Memo Zavala. "We met at a birthday party that a couple of my girlfriends had thrown for me," she continued.
After almost three years, the young couple decided to tie the knot, but they couldn't get married just anywhere. The music-lovers were married at Coachella 2012!
Their ceremony took place beneath the Indian Light Temple and was presided over by a Noel Galan, their friend and ordained minister. Their reception? Well, Radiohead played for that.
After the wedding, the Huffington Post spoke with the bride to learn more about this romantic and unique celebration of love.
When did you decide on Coachella?
We pretty much decided about 3 weeks before the festival when we asked his friend Noel Galan if he would want to get ordained and marry us.

Why Coachella?
It was something we had joked about off and on for months and then when his friend said he would love to do that for us we decided why not? We were going with a group of our friends and thought it would be a memorable experience for us. Both Memo and I have a huge love for music of all kinds and we just thought it would be perfect. I never wanted to turn into a bridezilla and so this was the best no stress wedding ceremony.

Did you consider any other venues?
We had been trying to plan a wedding in our budget for a long time it seemed and yet we were never really able to fully figure out where and when we wanted to do it, we just knew we wanted an outdoor wedding. We will however be having a big party for all our friends and family that weren't there with us prob around the fall.

Did you have wedding cake or churros?
Well, we didn't really think much about that at the time but Saturday night, before Radiohead (our reception headliner), Memo and I were hanging out and we split a Churro.

Do you plan to spend anniversaries there?
We do plan on going back to Coachella next year as long as we are able to get tickets again. It's getting crazy how quick those tickets are selling out.
Browse images from Memo and Lauren's Coachella 2012 Wedding and leave your best wishes for the couple in the comments below:

Calling all HuffPost superfans!
Sign up for membership to become a founding member and help shape HuffPost's next chapter
BEFORE YOU GO