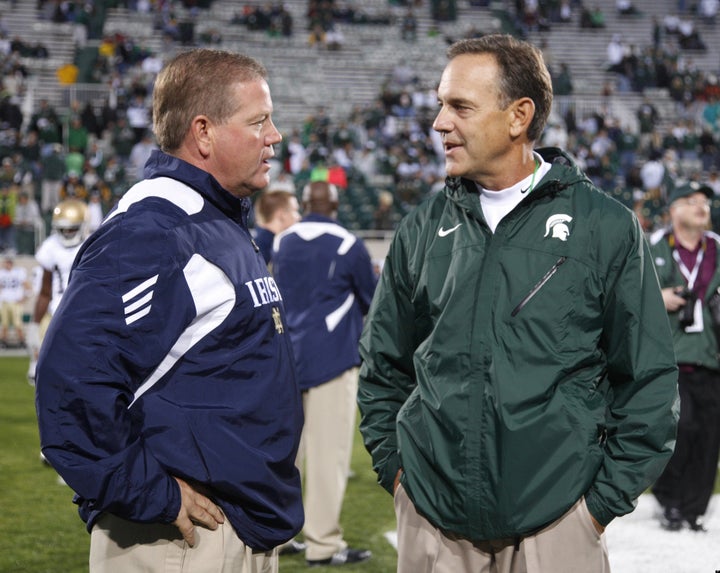 Early Sunday morning on September 19, Michigan State Head Coach Mark Dantonio suffered a heart attack.
Tuesday, he announced he would be coaching his team against Wisconsin on Saturday, only nine days after a doctor inserted a stint in his heart.
The only thing surprising about the news? That Dantonio is not going to be on the sidelines for the game. Instead, he will be in a coaches' box above the field.
Football coaches are the best bargain in sports; they work longer hours than politicians on a campaign and truly believe the marathon pace to be an occupational hazard at worst.
That's assuming they consider it a hazard at all.
Consider this. One coach of a top ranked high school in the Chicago area recently told me he believes he has pneumonia. Why did he believe this? While watching tape at 3AM he could feel the gargling of phlegm in his throat. He said he was more upset about the sound of the mucus distracting him from watching his next opponent's blitz packages than anything else.
Are you serious? The troubling answer is yes. These guys are nuts. What makes them good at their jobs -- unyielding energy, forceful determination -- is what also makes them a danger to their bodies.
And they don't know how to do it any other way.
A recent article in The New York Times shed some light on the stress coaches are under in their jobs. What may be considered stress by most is therapy for them. They feed off of the round-the-clock culture and are hooked on the addiction of winning, the recovery time that follows losses. Since there is no other known result from a sporting event -- a tie is looked at as a loss for most of them -- there is no escape. And in the fraternity of coaching, this pathology is considered a strength, not a weakness.
And a requirement if you expect longevity.
While working at a television station in Georgia, I called a college coach on Thanksgiving Day. Being a journalist, the holiday was a day of work to me. The coach's wife answered and was not sympathetic to my urgent need to speak with her husband. She scolded me, saying it was "unchristian" to call on Thanksgiving. I promptly told her it was unchristian to get someone fired and if I didn't speak to her husband promptly, I would be. The coach overheard this, grabbed the phone and said, "don't you listen to her. She doesn't know what she's talking about. You can call me anywhere, anytime."
I was happy to keep my job and just as happy I found someone who understood my plight. But I'm not sure I would have answered the phone on Thanksgiving if I were in his position. Or spoken to my wife that way.
Or ignored the bubbling fermentation of pneumonia cells.
When asked how he could return to his team just nine days after a heart attack, Michigan State's Dantonio said on a teleconference, "I feel good. I feel very good. I'll ease back into this, just like any injured player would. I guess you could say I'm day-to-day."
For football coaches, such a declaration is a badge of honor.
REAL LIFE. REAL NEWS. REAL VOICES.
Help us tell more of the stories that matter from voices that too often remain unheard.