A significant factor in putting Barack Obama in the White House was the brilliant social media marketing of the Obama for America campaign. The Obama campaign realized that social media was a primary importance, not an afterthought. The number of people the campaign reached on the Web was staggering: Millions friended Obama on Facebook and joined the MyBO social organizing site. By election day, Obama had nearly 4 times more Facebook supporters than McCain and twenty times more Twitter followers.
The Pew Internet & American Life Project April 2009 report The Internet's Role in Campaign 2008 says some 55 percent of all adults--and 74 percent of all Internet users--said they went online for news and information about the election or to communicate with others about the race.
So it's fascinating to watch Martha Coakley's campaign for U.S. Senate in Massachusetts basically ignore new media in favor of the old playbooks that elected Ted Kennedy to the seat.
Of course there is much more to the race: Politics and platforms and personal connections are important. But didn't Obama for America teach us that the Web has the power to push a candidate over the top? Obama also showed the importance of young people (whose communications of choice is digital).
Let's look at a few numbers. As I compare the morning before election day, @MarthaCoakley has 3,520 Twitter followers compared to @ScottBrownMA with 10,214 followers. Coakley counts 14,487 Facebook fans to Brown's 76,700 fans. Advantage Brown by more than three to one.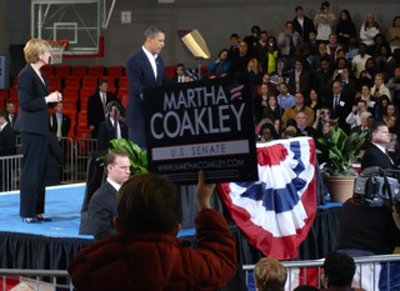 Living in safe, secure blue state Massachusetts, I always envied those from Iowa and New Hampshire who got so much candidate face time in Presidential elections. Now that I've lived through a tightening race, forget it. The robocalls are crazy! I get a half dozen a day! And the television commercials! Don't get me started.
At the same time, why is social media ignored?
The event section on the Coakley site shows a dozen or so rallies and nearly one hundred phone bank events in the three days leading up to election day. Yet there are zero Tweetups and zero virtual events listed.
Massachusetts is a hotbed of information technology. People here are plugged in. Most of my friends don't even use the phone anymore except to call the plumber. It is a college town with young people who don't have landlines.
On Saturday I learned that President Obama was to rally for Coakley in Boston and wanted to go. But there was no mention of the event on her Twitter feed at all prior to the event. Nothing. What about telling fans first? Recall that Obama announced Joe Biden as his running mate via social networking tools like SMS and Twitter before he sent a press release to the media. Coakley seems to be on Twitter and Facebook as an afterthought, an item on a checklist. The Brown social media efforts seem much more active.
I did make it to the rally yesterday. It was the first time I had seen a sitting president speak live and I enjoyed it. Hoopla was generated. Television soundbites were secured. It seemed to be a success.
The event was held at Northeastern University and sponsored by the Student Democrats. Quick. How do college students communicate? Facebook and SMS of course! Yet these two forms of communications played absolutely no formal part in the rally. The brochure that was handed out had no web addresses or social media sites. At the rally, Coakley fans were asked to vote. They were asked to volunteer at phone banks. They were asked to talk to neighbors and friends.
But were the many college students in the crowd told to talk up the Coakley campaign on Facebook, the college student communications tool of choice? No. Were people at the rally asked to tweet? No. Were they asked to join Coakley's fan page? No.
The Coakley campaign is underestimating the importance of social media and the new rules of marketing and PR.
John McCain relied on what worked to elect George W. Bush and he lost mainly because of social media. Now Martha Coakley is relying on the playbook that elected Ted Kennedy and she may lose because of social media too.

Popular in the Community