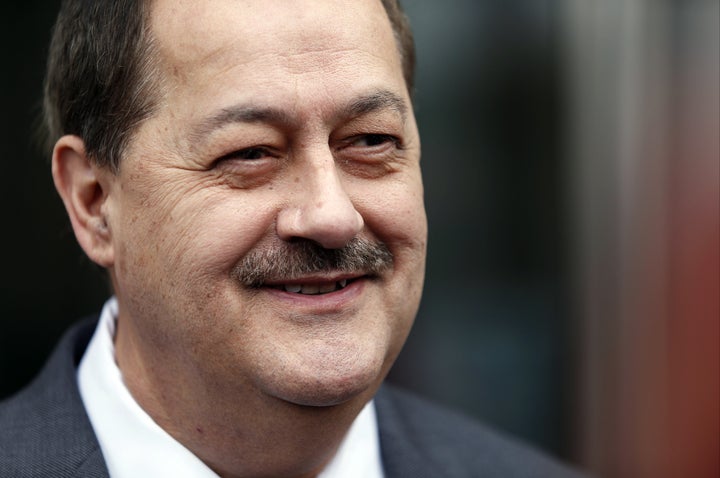 On Wednesday, the former Massey Energy executive was slated to be released from a halfway house in Phoenix, Arizona, after serving time on a misdemeanor conspiracy conviction stemming from his role in the 2010 Upper Big Branch mining disaster. Coinciding with his release, Blankenship's Twitter account fired off a series of aggrieved tweets about the Upper Big Branch investigations.
Blankenship painted himself as a victim of scheming government officials, rather than an executive whose company cut corners on safety and failed to protect its workers. He lashed out at Sen. Joe Manchin (D-W.Va.) and former Labor Department official Joe Main, who headed up the Mine Safety and Health Administration during Upper Big Branch and its fallout.
Blankenship's conviction for conspiring to violate mine safety laws was the first of its kind for an executive who presided over a mining disaster.
Still, many safety advocates and families of Upper Big Branch miners say the punishment was insufficient.
Blankenship was acquitted of felony charges that would have extended his sentence considerably. And his conviction did not assign him any direct responsibility in the blast.
"He shouldn't be coming out," Tommy Davis, a former Upper Big Branch employee who lost a son, a brother and a nephew in the blast, told The Associated Press. "He didn't get what he deserved."
Federal investigators found that a culture of greed and recklessness permeated Massey, laying the groundwork for the deadly explosion. A methane ignition fueled by an accumulation of coal dust triggered the blast ― all of it preventable, according to experts. The leadership at Massey routinely covered up hazards at the mine and "broke the law as they endangered the lives of their miners," MSHA found.
Blankenship has called himself a "political prisoner," and claimed that the explosion was the result of a flood of natural gas into the mine. (Investigators found otherwise.) He even issued a 67-page booklet from prison about his supposedly unfair treatment at the hands of the government.
Charleston Gazette-Mail coal reporter Ken Ward Jr. noted that Blankenship's tirade bore similarities to those of another indignant Twitter user.
Support HuffPost
The Stakes Have Never Been Higher
Related
Popular in the Community