Environmental experts who remain unimpressed with President Barack Obama's war-on-carbon rhetoric point to one key reason for concern that's off most Americans' radar: U.S. coal exports.
A push to expand coal mining operations in the Powder River Basin of Montana and Wyoming, and to build three ports in Oregon and Washington to ship the fuel to Asia, could create more national and global environmental impact than a Canadian company's proposal to ferry Albertan tar sands to the U.S. Gulf Coast via the Keystone XL pipeline. Yet these remote projects are not getting the attention they deserve, critics suggest, and they fear Obama may be overlooking, apathetic to, or even supportive of them.
"If we were serious about doing something about global warming, the federal government certainly wouldn't be talking about controlling the burning of coal in the U.S. on the one hand while encouraging the export of coal to the rest of the world to be burned," said Thomas M. Power, research professor and professor emeritus of economics at the University of Montana in Missoula.
"There's certainly a contradiction there," he added, "where the left hand doesn't know, or pretends it doesn't know, what the right hand is doing."
The centerpiece of the climate plan Obama unveiled in June was a pledge to reign in the global-warming emissions of U.S. coal-fired power plants. Experts predict tightening controls will end up closing more plants and further troubling the U.S. coal industry, which experienced significant declines during Obama's first term.
However, U.S. coal exports during that same time more than doubled, according to a June report from the Department of Energy.
"Companies are investing in this Hail Mary pass, trying to get their coal onto ships and over to Asian markets," said Ross Macfarlane of the non-profit Climate Solutions. "They see nothing but declining demand and usage here in the U.S."
China reportedly plans to double its coal imports over the next three years, and efforts on the part of Korea and Japan are expected to follow close behind.
Experts argue that coal burned in Asia contributes just as much to global climate change as coal burned in Alabama. And it's the same climate change that scientists suggest may spur more frequent Sandy-like storms and heat waves here in the U.S.
Moreover, residents of other countries also suffer from the air pollution created by coal-fired power plants. China's toxic predicament, for example, is now particularly notorious.
Pollution from China can even travel by wind back to the Pacific Northwest, contaminating the region's air and water with toxins such as mercury.
Environmental and public health advocates further warn of the risks to local air and water quality from the mining and transport of coal. On Wednesday, the Natural Resources Defense Council joined other environmental groups in a lawsuit against Burlington Northern Santa Fe Railway Company over what they say is coal dust found in local waterways from the trains already shuttling the fossil fuel across the West.
Proponents of the coal ports proposed for the Pacific Northwest have a different take on the economic and environmental impacts. They suggest the coal dust concerns are overblown and argue that exports mean needed jobs and tax revenues for struggling U.S. towns. They also say that the projects' climate-change effects are little to none -- even going so far as to suggest that coal exports may benefit the environment.
"If all three projects happen, it would account for just over 1 percent of the coal China burns on an annual basis," said Lauri Hennessey, a spokeswoman for the Alliance for Northwest Jobs and Exports, an industry-backed group that supports coal terminals.
"They're going to be getting coal somehow, somewhere," she added, suggesting that coal from the Powder River Basin of Montana and Wyoming is of a "higher quality with less adverse effects" than the coal China uses now.
"There's plenty you can say about how this is, in the end, better for the environment," she said. "I have found a way to feel good about these projects from the very beginning."
Climate Solutions' Macfarlane said the industry's aggressive offense still faces a hard-hitting defense: a "perfect storm" of public outcry, significant legal challenges and collapsing global markets. Three other Pacific Northwest coal port proposals have already been withdrawn, in part due to the rush of several countries to feed coal-hungry China and the resulting price-sashing glut.
Overall, residents of the Pacific Northwest have remained fairly evenly split on the issue of coal exports since HuffPost first reported on it in 2011. An Oregon-based poll in June found opponents in the slight majority, while a poll released on Wednesday gave supporters an edge in Washington State.
The region's politicians and tribal leaders also have offered strong opinions on coal exports.
"Unless we can stop these coal terminals from being built and keep our coal in the ground where it belongs, Washington state coal exports will be responsible for hastening the advance of climate change here at home and around the world," Seattle Mayor Mike McGinn said in testimony before a House subcommittee hearing on fossil fuel exports in June.
The race for four seats on Whatcom County Council this November could make-or-break the proposed Gateway Pacific Terminal at Cherry Point, in Northwest Washington state. That particular port is sited on the historic gathering ground and adjacent to critical fishing waters of the Lummi Tribe.
The Lummi and most other native tribes to have taken a public stance are opposed to the project -- similar to the resistance among Native Americans in the path of the Keystone XL. But the Crow Tribe of Montana is an exception. The tribe agreed in June to lease the rights to mine 1.4 billion tons of coal to Cloud Peak Energy, the coal company pushing for increased exports. That's more coal than the entire U.S. burns each year.
Eric de Place, policy director for the Seattle-based Sightline Institute, has been closely tracking the ongoing debate in the Pacific Northwest, and the array of potential local, regional and global impacts of the projects.
If Cherry Point is approved, he estimates that eight streets in downtown Seattle would have to be shut down for between one and three hours every day due to the additional mile-and-a-half-long coal trains traveling between the mine and the port. "And that's if nothing goes wrong," he said. "These streets carry tens of thousands of cars. And they're near a seaport."
As for concerns about climate change, de Place's calculations suggest that "Northwest coal exports would actually contain more carbon than the tar sands in the Keystone XL."
"We can do small-caliber meaningful things to reduce climate emissions. But if we become a carbon-export hub, that doesn't mean anything," he said, noting the additional push for greater U.S. exports of oil and gas.
"I continue to be frustrated," he added. "It's clear to me that we don't have a coherent energy policy -- and we have nothing even approaching a coherent climate policy."
Support HuffPost
The Stakes Have Never Been Higher
Related
Before You Go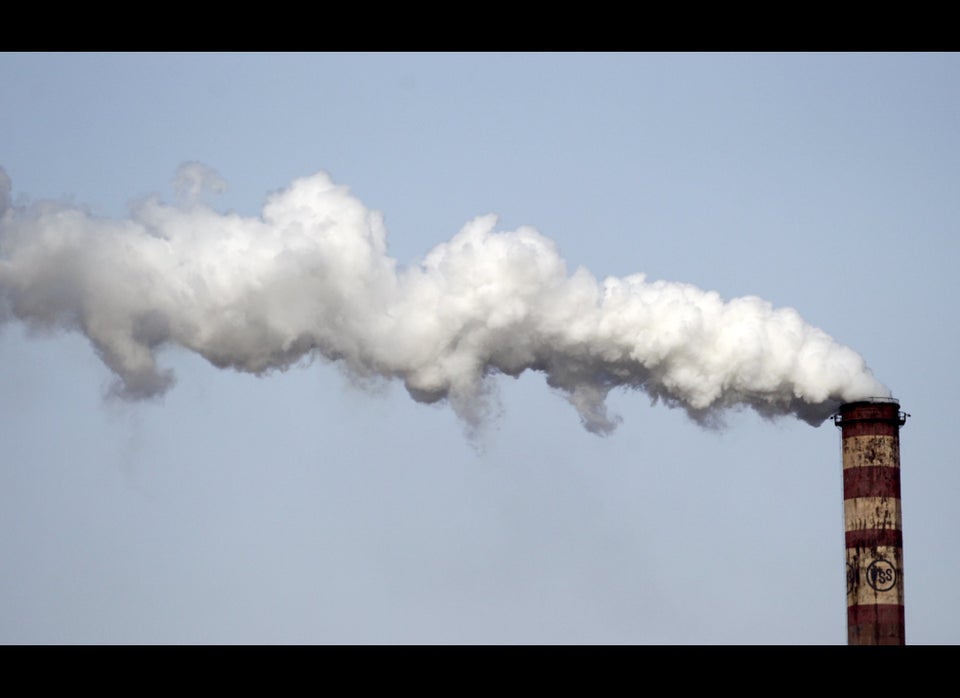 Top 10 Most Polluting Countries (2011)
Popular in the Community