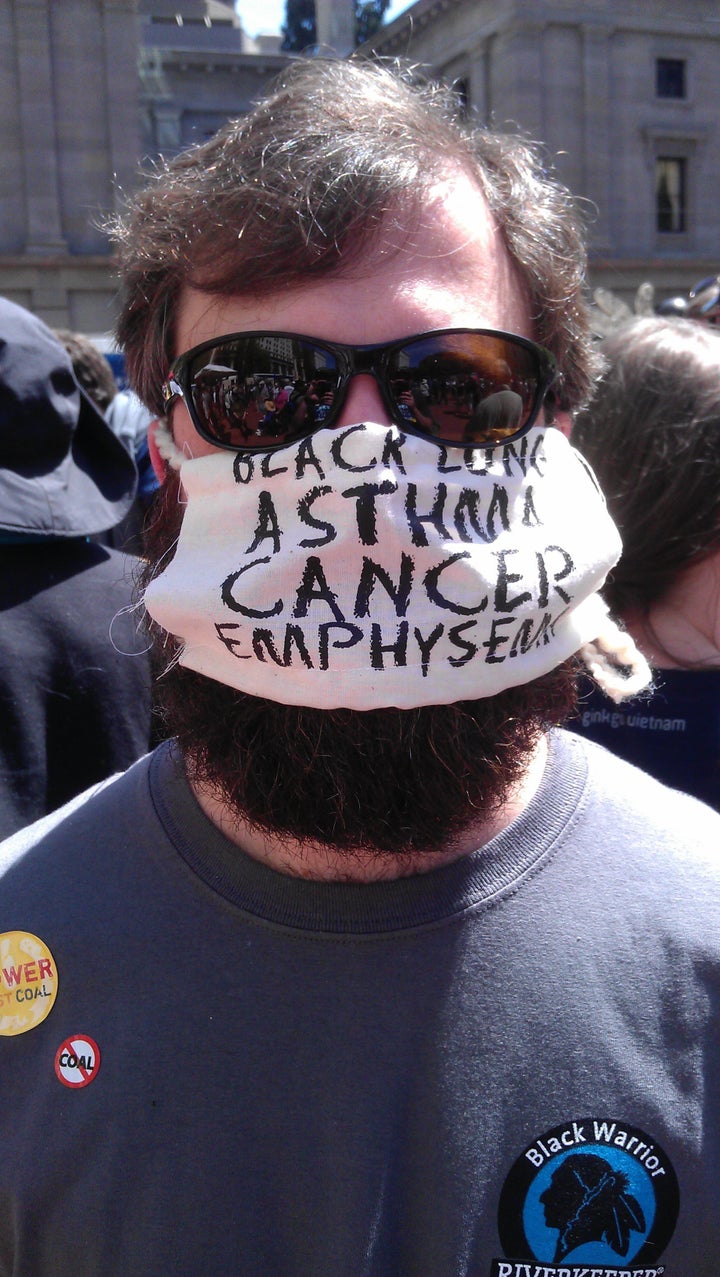 "Black lung. Asthma. Cancer. Emphysema" -- masks marked with conditions often attributed to coal were scattered among the faces of a Portland, Ore., crowd on Monday.
On stage, environmental lawyer Robert F. Kennedy Jr. spoke against the export of Montana and Wyoming coal through six proposed ports in Oregon and Washington.
"They are not coming here to bring you prosperity and jobs," Kennedy, president of the Waterkeeper Alliance, told the 400-plus rally attendees. "They're coming to ship their poison, so that they can poison the people in China, and that poison is going to come back here and poison your salmon and your children. So don't let it happen."
As The Huffington Post reported in November, before the coal ever starts its voyage across the Pacific, mile and a half long trains must first carry it through dozens of Western communities, including the cities of Spokane and Seattle, along a northwest route that originates in the Powder River Basin of Montana and Wyoming. There, the combustible rock would be strip-mined, triggering a cascade of local, national and global health and environmental consequences.
Opposition to the ports is mounting. The rally in Portland is the latest of a string of protests and pleas that emphasize the potential public health fallout should the projects move forward. In a letter on Tuesday, the Washington State Department of Ecology urged that the cumulative effects of all the ports be studied. Oregon's governor asked the federal government in April to address how increasing exports to China and other Asian counties will "fit with the larger strategy of moving to a lower carbon future," reported The Oregonian.
"The scale of these proposals is unprecedented," Eric de Place, senior researcher at Seattle-based Sightline Institute, an environmental think tank, said during a press call on Thursday. Running at full capacity, he noted, the six proposed ports could send around 150 million tons of coal to Asia, far more than the entire U.S. shipped abroad last year.
Some of the most immediate and tangible effects would be felt by the communities along the rail corridor. Cheney, Wash., Mayor Tom Trulove said during the press call that more than 60 trains could soon be "tooting and rumbling" through his city every day.
In addition to the noise pollution, which researchers suggest can raise risks of everything from heart disease to cognitive impairments in kids, Trulove is also concerned about slower emergency response times for fire trucks, ambulances and police that need to traverse the five railroad crossings in town.
He admits that he hasn't even given much thought to coal dust that might blow off each train car during its journey, nor has he really considered the diesel particles pumped into the air by both the trains and ocean-going tankers.
Exposure to coal dust, which can include toxic heavy metals such as mercury and lead, has been associated with greater risks of emphysema and chronic bronchitis, as well as reduced memory, motor skills and attention spans in children. Meanwhile, diesel pollution poses another set of risks: respiratory problems, heart disease and cancer.
"One of the most disturbing issues is that diesel particulate matter has been shown to cause abnormal lung development in kids," Dr. Frank James, a private practice physician in Bellingham, Wash., told The Huffington Post. "And kids that live near the train lines are going to be disproportionately affected. These are mostly poor children, the least able to get the resources to deal with asthma and other problems."
Once the coal sets out to sea, the danger of an oil spill also comes into play, as The Huffington Post reported last month. Research also suggests that mercury and other pollutants resulting from Asia's eventual burning of the coal would come back to haunt the U.S. west coast.
Chinese activists have their own concerns.
As The Oregonian reported, Hao Xin of the Qiantang River Waterkeeper in China told the Portland crowd that lower domestic demand is prompting U.S. coal companies to look overseas for new markets for their product. (The last coal-burning power plants in Oregon and Washington are scheduled to shut down, in 2020 and 2025, respectively.)
"China should not become the dumping ground for your coal industry," he said. "We Chinese people need clean air, clean water."
Related
Popular in the Community