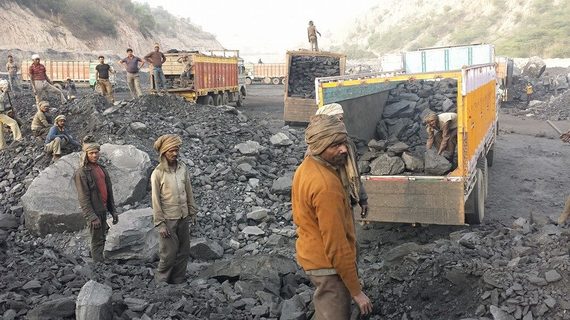 Co-authored by Ashish Fernandes, Greenpeace
Three years can be an eternity for a coal company. In October 2010, Coal India, then the world's largest coal miner, was seen as one of the most valuable equity investments in the emerging economies. With its 1.2 billion strong population and a healthy growing economy, India seemed primed to devour plenty of cheap coal. Coal India with a virtual monopoly over coal supply was set to feed this hunger and provide enormous profit for shareholders. But 2013 was Big Coal's Annus Horribilis and even Coal India wasn't spared.
As recently as late 2013 a veritable who's who of big global banks were lining up to broker Coal India (CIL)s 10% share offering despite widespread warnings of human rights and environmental violations. The offer was expected to boost Coal India's share price, raise the company's profile as a desirable investment and raise billions of dollars for the Indian government. The financial media breathlessly hung on every non-announcement about the impending share sale. They continually prophesied the biggest share offers ever seen in the Indian market, a sign that all was well with India's troubled coal sector.
Fast forward to January 2014 and the dream is dead - maybe for good. After many delays and uncertainties, Coal India finally called off its share offer, ostensibly because of adverse market conditions and labour protests. Instead, it has announced a special dividend, which will ensure the Government of India (which owns 90% of the company) gets the revenue it wanted. This dividend is more than the company's total profit in 2013 and possibly more than its profits this year. Meanwhile, the share price continues to linger at around 250 Rupees, which is about where it was when it was listed on the exchanges in 2010. So far, shareholders don't have much to show for their investment.
What was it that burst the hype around Coal India? It turns out a combination of factors including an unsustainably low coal price, a bloated and inefficient company producing poor quality coal, shoddy corporate governance, and a high degree of reserve uncertainty all conspired to create one of the biggest turnarounds in recent coal finance history. These issues helped to create unwanted attention for the big banks engaged to broker the sale - Bank of America, Goldman Sachs, Deutsche Bank and Credit Suisse. Given their existing reputations, getting dragged through the mud was the last thing they needed.
To make matters worse, Coal India suddenly found the unrealistic projections of its reserves questioned - based on its own internal documents. Not only has Coal India been playing fast and loose with its reserve figures, there is growing evidence that only a tiny fraction of its vast coal "resource" is actually extractable. The implications for the company's valuation, not to mention what this means for India's coal trajectory, are far-reaching. The company now faces a legal complaint in India for its failure to disclose actual reserve figures.
Clearly, what CIL heard from many quarters on their global roadshow, and back home in India, convinced them that the share offer would not be well received. Since the Government of India still needed to raise revenue to prevent a blowout in its fiscal deficit, a special dividend was the only option available.
However, even the generous dividend they announced has done little to boost CIL's share price. For the first time, members of the financial community have begun to voice doubts about the wisdom of a Coal India investment - some publicly, others in private. Officials from one leading German bank have confirmed that they have no intention of purchasing additional Coal India shares, while leading US institutions have been similarly noncommittal. Scrutiny in India has increased, with shareholders and investment advisory groups criticizing CIL's failure to either control its cost of production or raise the price at which it sells coal.
What does the collapse of the share offer mean for coal in India? In plain terms, by forcing Coal India to issue a special dividend instead of a share offer, the company has had to dip into its coffers to meet the Indian government's revenue needs. The special dividend has forced Coal India to pay out nearly $3 billion dollars from its cash reserves. That is $3 billion less for coal investments in India at a time when the power plant pipeline is drying up for want of new coal supply.
So where does all this leave India's huge pipeline of new coal plants? High and dry. CIL looks on track to miss its production target for the period from April 2013-March 2014 by 10-15 million tonnes - the fourth consecutive year it has failed to meet its target. With protests from affected communities and environmental groups growing louder every day, accessing new reserves (most of which lie in forest areas) is getting increasingly difficult for the company, setting the stage for a slow but inevitable decline. A decline that is welcome news for India's forests and those that dwell within.
Related
Popular in the Community