Print and television advertisements promoting the U.S. coal industry and the viability of so-called "clean coal technologies" may seem more prevalent during the 2012 election cycle, but they are nothing new. As part of its Quit Coal campaign, Greenpeace recently launched a database chronicling the U.S. coal industry's public relations campaigns over the past 40 years.
Despite rhetoric accusing President Obama of waging a "war on coal," Obama has also expressed his support for the coal industry. In a 2012 radio campaign ad in Ohio, the President defends his record on coal and claims that he has pledged "to support clean coal and invest in new technologies."
ThinkProgress notes that despite the environmental impacts of mining and burning coal, the industry has promoted coal as "clean" for nearly one hundred years.
Along with these adverse health effects, coal-fired power plants also emit significant quantities of carbon dioxide. The CATF notes, "It is now well established in climate science that CO2 emissions globally must stop, by the middle of this century, to avoid the worst cataclysms of global warming."
Even though Republicans have promoted an energy plan that is friendlier to coal, and a U.S. court recently struck down a new EPA rule regulating power plant emissions, the Energy Department believes coal plants will continue to face pressure. Reuters reports that with an "abundance of cheap natural gas and other regulations that are more likely to survive legal challenges," up to "one-sixth of U.S. coal-fired power plants would close within eight years and be replaced by natural gas."
Below, find coal industry ads from the 1970s through today. Click here for a full archive of advertisements. Photos and captions courtesy of Greenpeace.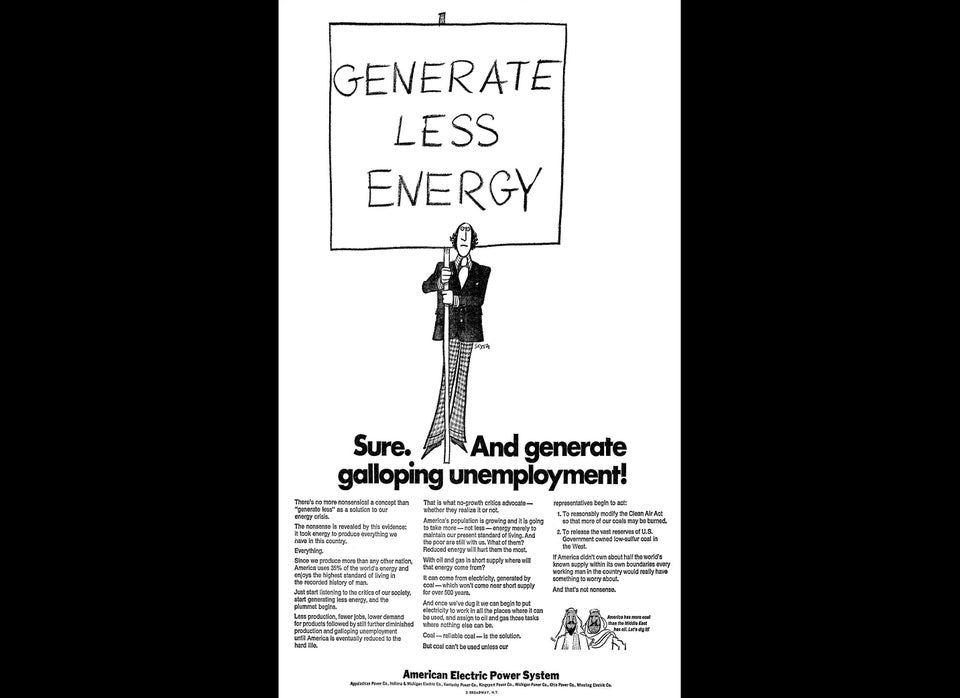 Coal Ads
Popular in the Community