WASHINGTON ― A permanent funding fix for retired coal miners' health benefits may be in trouble. And so could the federal government's operation after the end of next week.
But with days to go before Congress must pass an omnibus spending bill to keep the government operating, health coverage for miners looks like it's about to become a major flashpoint in negotiations, potentially triggering a government shutdown.
The Senate has enough votes for permanently fixing miner benefits, but the House is a different story. Talk of a 20-month extension instead of a permanent fix is floating around the chamber, according to multiple sources. No one in leadership would confirm it, and the offices of neither Senate Leader Mitch McConnell (R-Ky.) nor Speaker Paul Ryan's (R-Wis.) returned requests for comment.
When asked about a possible 20-month extension, one GOP aide would only say House Republicans were "working hard for a permanent fix."
"Maybe Speaker Ryan would feel different if there were thousands of people in his district affected by this," said Phil Smith, spokesman for the United Mine Workers of America.
Kicking the can down the road with another extension creates further agony for retired miners ― who in many cases have life-threatening diseases caused by years of underground work ― and their families. Smith said.
Advocates argue that a permanent solution would make the federal government good on a 70-year-old promise to protect United Mine Workers' health benefits.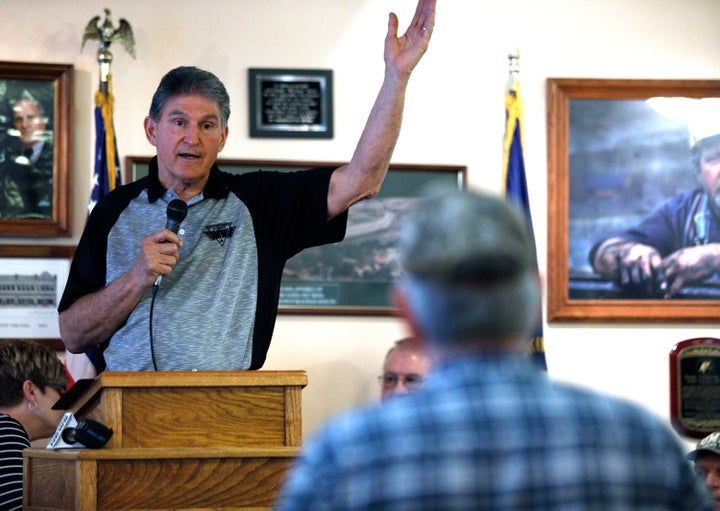 If Republican House leaders try to push through a government funding bill with only a 20-month extension, battle lines will be drawn by Sen. Joe Manchin (D-W.Va.) in the upper chamber.
On Monday, Manchin and Republican Sen. Shelley Moore Capito, also of West Virginia, wrote to party leaders in both chambers, urging them to settle for nothing less than a complete fix for the more than 22,000 miners who stand to lose their health care on April 28.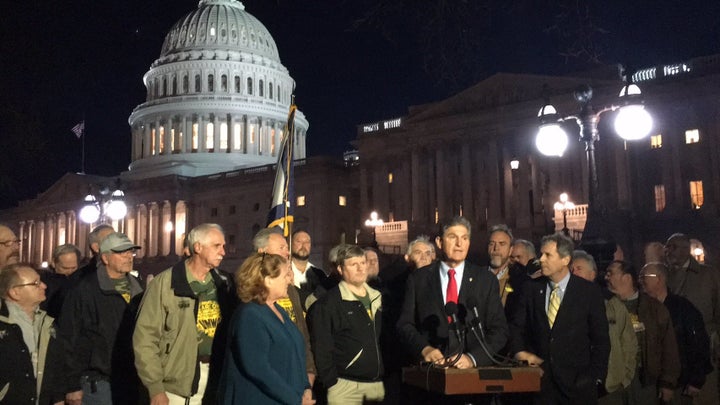 "As Congress considers a continuing resolution to keep the government running, we fully expect that such a vehicle will include the permanent health care fix for our nation's retired miners as promised at the end of 2016," the bipartisan duo wrote to McConnell, Senate Minority Leader Chuck Schumer (D-N.Y.), Ryan and House Minority Leader Nancy Pelosi (D-Calif.). "Anything less is an unacceptable and tragic failure of this body to keep its word to the men and women who powered our nation to prosperity at the risk of their own health and lives."
Capito has not said outright whether she would vote against a government funding bill if it doesn't include a permanent solution for the miners. But she and other coal-state Republicans, including Sen. Rob Portman (R-Ohio), have hinted they'd back Manchin.
Before leaving for the Easter break, Sen. Sherrod Brown (D-Ohio), who has long supported a permanent fix for the miners' health care, warned during a speech on the Senate floor that another extension would be unacceptable.
"The clock is ticking down to ... when the temporary miners' health care fix we passed in December, along with funding for the entire federal government, runs out," Brown said. "We must pass a solution, or face a government shutdown."
Brown met with retired miners this month, and said it was the first time he's ever received a standing ovation for advocating legislation fixing health coverage and the pension fund for miners, which is set to go insolvent this year.
The issue of retired miners' pensions, however, is a battle that Republican leaders have made clear they want to avoid in the current government-funding negotiations.
On a call with reporters on Tuesday, Schumer didn't mention health benefits for miners, but said talks with Republicans over the impending government funding deadline were going well.
"What I've said, and I think there's quiet agreement in the four corners, is that if the president doesn't interfere and insist on poison-pill amendments being shoved down the throat of Congress, we can come up with an agreement," Schumer said. "Our Republican colleagues know that since they control the House, and the Senate and the White House, a shutdown would fall on their shoulders, and they don't want it."
It should be an easy lift for Republicans with a president in the White House that campaigned heavily to help save miners livelihoods, but there could be political calculations in play. If a 20-month extension is all that is passed, benefits will expire as voters head to the polls in November 2018 ― when Manchin, Brown, and other coal-state Democrats are up for re-election.
The provision on the miners' health coverage would cost $1.9 billion, but the Congressional Budget Office found that a bill authored by Manchin and backed by Capito, Brown and others ― dubbed the Miners Protection Act ― would save the government $74 million over the 10-year life of the legislation. That bill also provides a fix for the pension benefits and would be paid for by increasing customs fees on imported goods.
Matt Fuller contributed reporting.
Popular in the Community