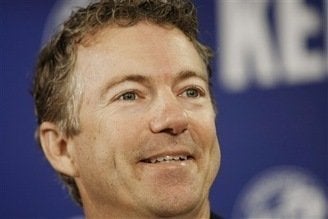 (AP) - Kentucky coal miners are criticizing Republican Senate candidate Rand Paul for suggesting that Congress shouldn't be making mine safety rules.
United Mine Workers members told reporters Tuesday that miners depend on federal regulations to prevent injuries and deaths.
Miner Bernie Alvey says mining catastrophes "always bring on new laws that keep the rest of us safe later on."
Paul's campaign responded that he doesn't want to exclude the federal government but wants more state and local control over mine safety.
Paul said in the August issue of Details magazine that since he's "not an expert," he shouldn't be given the "power in Washington to be making (mining) rules." Paul gave the interview in May before he won the Kentucky Republican primary.