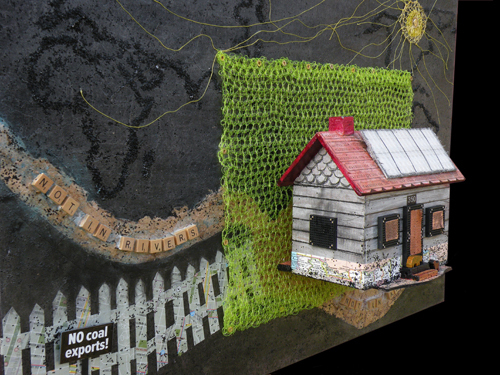 Art about hard issues is easier to take if it doesn't hit you over the head. Sculptor Bonnie Meltzer wants people to stick around to look at her artwork; not run away screaming. She likes to capture the imaginations of viewers and engage them with her seemingly fun images. Although environmental issues have been a longtime theme in Meltzer's very mixed-media sculptures, the threat of hazardous coal trains rumbling through her Portland, Oregon neighborhood immersed her in a kettle of bubbling environmental activism (hearings, rallies, writing) and the production of artworks about the proposed coal export in Oregon and Washington.
In Meltzer's exhibition, Coal -- Not In Any Backyard at the University of Portland, she shows artworks made from a diversity of materials and art techniques -- crocheted fishing line, painted toys, globes and other found objects, collaged maps and fabric, and millions of beads. The use of recycled castaways gives her work an additional environmental twist, but it also gives her a symbolic, visual and verbal vocabulary in which to frame an idea and interpret the news. In Not In Any Backyard maps build the pickets and the foundation of the house. Scrabble letters spell out relevant sentences and make a path that turns into a blue tinged brown river. A cat and a dog are on the front steps of the house with solar panels and bank check shingles on the roof.
Meltzer explains, "Sometimes I use things very purposefully for their iconic content but other times it is just an attractive object that I need for structure or texture. Viewers bring insights and additional meanings that I hadn't seen. Nothing pleases me more." Meltzer offers a compelling look at the local and the global implications of destructive coal by turning a fusion of unrelated materials into sculptural commentary.
It just wasn't the anticipated local problems of coal dust and mile-long trains causing snarls that served as inspiration for Meltzer's exhibition, but the cumulative environmental impacts from the mines in the Powder River Basin, the transit of the export coal along the whole route from Montana and Wyoming to Asia, the generation of electricity in Asia, and the blowback from the power plants to the Pacific Coast. Individual artworks address coal dust, money (who pays, who gets) green washing and traffic. Meltzer's interest started with her backyard but the backyard kept getting bigger until it included the whole earth. It is not the only perspective shown in this group of artworks, but it is the one overriding idea. Local is global and global is local.
Related
Popular in the Community