* Romney says will undo Obama's 'coal-killing' regulations
* Cheap gas, EPA's rules to force coal plant retirements
* One-sixth of coal-fired plants would close within eight years
WASHINGTON, Aug 23 (Reuters) - Coal-fired power plants will face pressure and in some cases closure despite a Republican energy plan favorable to the industry and a court victory against new environmental rules.
As many as one-sixth of U.S. coal-fired power plants would close within eight years and be replaced by natural gas, according to an Energy Department estimate.
Republican presidential candidate Mitt Romney on Thursday laid out his new energy policy that aims to promote oil and natural gas production and roll back environmental rules that he said are killing the use of coal.
The candidate has accused the Obama administration of "waging a war on coal" by implementing rules to curb emissions of carbon, mercury and other air pollutants from power plants.
Romney unveiled his energy plan just a day after a U.S. court decided 2-1 to strike down an Environmental Protection Agency rule that placed tight curbs on power plant emissions across states borders.
That decision was a blow to Obama administration plans to curb air pollution from the coal-fired power plants, which until 2008 supplied over 50 percent of America's electricity.
But analysts said while the Romney plan and the court decision appeared to throw a lifeline to struggling coal, the abundance of cheap natural gas and other regulations that are more likely to survive legal challenges will still cause as many as 50 gigawatts of coal-fired capacity to retire.
"I think the biggest challenge facing the coal industry is cheap, abundant, less carbon-intense natural gas, and no matter how many photo ops he has in front of coal-fired stations, it doesn't change the economics," said Kevin Massy, a Brookings Institution analyst.
Major advances in horizontal drilling and the practice of hydraulic fracturing have led to a boom in natural gas supply, driving prices to 10-year lows of around.
Even with the cross-state air pollution rule being thrown out, it is unlikely to change the math around how many coal-fired plants are likely to be shuttered over the next decade or so, Massy and other analysts contend.
"I think the retirements under Romney are unlikely to look that different than those under a second Obama administration," he said.
The court sent the cross pollution rule back to the EPA for revision and ordered the agency to administer its existing Clean Air Interstate Rule - the Bush-era regulation.
By the time the EPA revises the rule, which could take at least two years, it would have limited impact because more stringent mercury and air toxics rules will kick in by 2015 and force old, coal-fired plants to shut down.
"It may not matter much whether President Obama wins a second term or Governor Romney wins the election," said a research note by Clearview Energy Partners.
The EPA's Mercury and Air Toxics rule is being challenged in the same court that struck down the cross state rule. The National Association of Manufacturers and Chamber of Commerce, have filed briefs this month asking the court to strike down the rule because it would drive up power prices.
Some analysts contend that the mercury rule won't meet the same fate as the cross-state plan because the agency's authority to regulate mercury emissions is very clear.
"The statue clearly delineates how the agency is to carry out its authority," said Vickie Patton, counsel for the Environmental Defense Fund.
A vote in the Senate to try to undo EPA's mercury rules in June failed.
Patton said the cross state ruling was an anomaly for the court, which has repeatedly affirmed the agency's clean air policies.
The same court upheld the EPA's greenhouse gas regulations in June, as well as air quality standards for sulfur dioxide and nitrogen oxide.
"It gives the EPA a little bit more of a black eye," said Andrew Weissman, senior energy adviser at law firm Haynes and Boone, which advises power and gas sector clients.
"But in the bigger picture, it may not be important in terms of the practical consequences."
Barclays Commodities Research said in a note that despite a knee-jerk drop in natural gas company stock prices on Tuesday, the ruling would not affect longer-term prospects for natural gas demand.
Near record-low prices for natural gas that has stemmed from a boom in shale gas supply, have already caused a number of older coal-fired plants to be retired.
Clearview Energy Partners offered a wider range of coal-plant retirement estimates, predicting that generators will shut between 24 and 40.3 GW of coal-fired capacity by 2016. Commodity price fluctuations, however, could broaden that range to between 16.5 GW and 52 GW, the analysts said.
Clearview's Kevin Book said if President Barack Obama wins in November the EPA could extend the greenhouse gas standards to existing power plants - a controversial move that will likely meet resistance from utilities.
"The Obama administration would go past the current new power plant target for those stationary standards and go for existing plants," he said.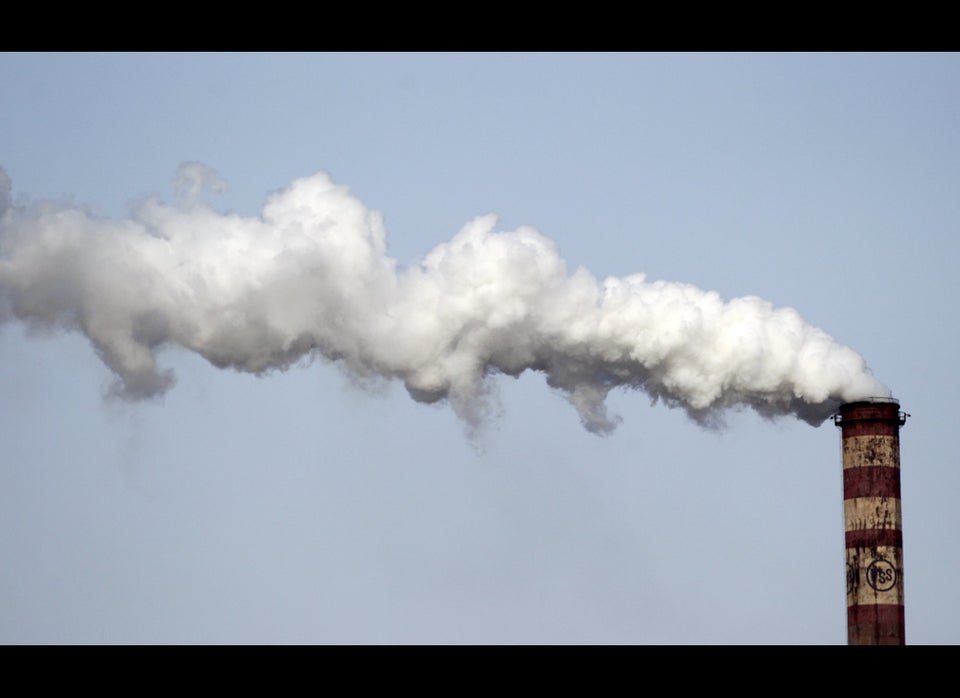 Top 10 Most Polluting Countries (2010)
Popular in the Community