Coal-fired power is on pace to collapse in the United States and Europe over the next two decades, and will peak worldwide in nine years, according to a long-term forecast released on Thursday.
Solar and wind energy, meanwhile, will dominate over the next 23 years, comprising nearly three-quarters of the expected $10.2 trillion in new electricity investments.
"This year's report suggests that the greening of the world's electricity system is unstoppable, thanks to rapidly falling costs for solar and wind power, and a growing role for batteries, including those in electric vehicles, in balancing supply and demand," Seb Henbest, lead author of Bloomberg New Energy Finance's 2017 New Energy Outlook report, said in a statement.
As a result, carbon pollution from the power sector will reach its apex in 2026. By 2040, emissions are forecast to be 4 percent below 2016 levels.
That prediction depends on a few things:
The cost of installing wind turbines needs to fall. That seems likely. With offshore wind, which is booming in Europe, but only just starting in the Northeastern U.S., the analysis predicts prices will plummet 71 percent by 2040. Onshore wind costs, which have already dropped 30 percent over the past eight years, are expected to decline by an additional 47 percent on the same timeline as its seaborne sister sector.
Batteries need to improve and become widespread. The market for lithium-ion batteries, like the ones that power Tesla's electric vehicles, could be worth at least $239 billion by 2040, which would allow utility-scale renewable projects to compete with natural gas made cheap by the drilling process known as fracking. But utilities are just one part of the equation. Homeowners need to adopt batteries, too, which would serve a function similar to a household furnace. That market is on track to make up 57 percent of storage worldwide by 2040.
China and India need to keep going green. The two rapidly developing Asian giants are on pace to make up a combined 39 percent of all energy investment over the next 23 years ― about $4 trillion. Of that, just under one-third will go to wind and solar each, and an additional 18 percent is likely to go to nuclear energy. A mere 10 percent is predicted to go to coal and gas.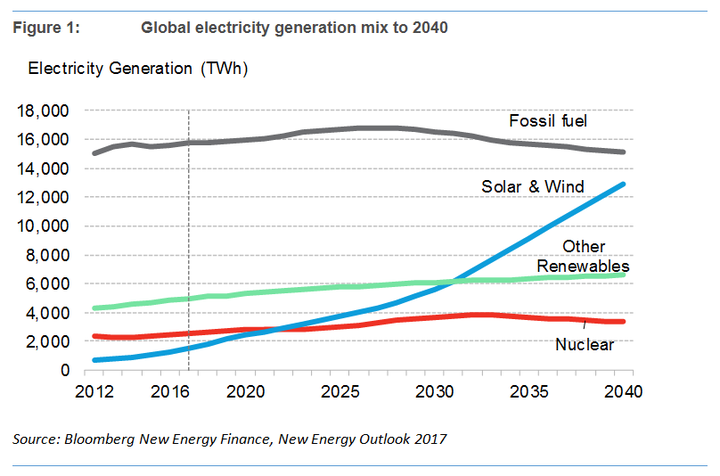 Even as President Donald Trump takes steps to increase coal use, the market isn't likely to rebound in the U.S. Coal-fired power is expected to fall by 51 percent over the next two decades. In its place, gas-fired electricity will increase 22 percent, and renewables by a massive 169 percent.
These are mostly hopeful predictions. They are based on assumptions about prices that are subject to change wildly in the coming decades. Like a long-term weather report, it's impossible to take the energy forecast as certain.
"You have to make assumptions about how technology progress in the coal sector is going to develop," Steve Cicala, an economist at the University of Chicago's Harris School of Public Policy, told HuffPost by phone. "Coal plants are getting more efficient over time, making it cheaper to burn coal."
Global warming ― driven by the influx of planet-warming emissions from burning fossil fuels, industrial farming and deforestation ― is accelerating at a rapid pace. The planet is currently on track to warm well past 3.6 degrees above pre-industrial levels ― the cap set by the now-embattled Paris climate agreement. Beyond that point, the catastrophic effects of rising sea levels, unstable climate and widespread drought could ravage human civilization, scientists predict.
Waiting nearly a decade for emissions to decline from new electricity projects only makes the worst-case scenario more likely.
"Any delay puts us in a more dire situation," Deborah Bathke, a climatologist at the University of Nebraska's National Drought Mitigation Center, told HuffPost. "The longer we delay action, the more likely we are to be at the higher end of where those scenarios are telling us we could be in the future."
Before You Go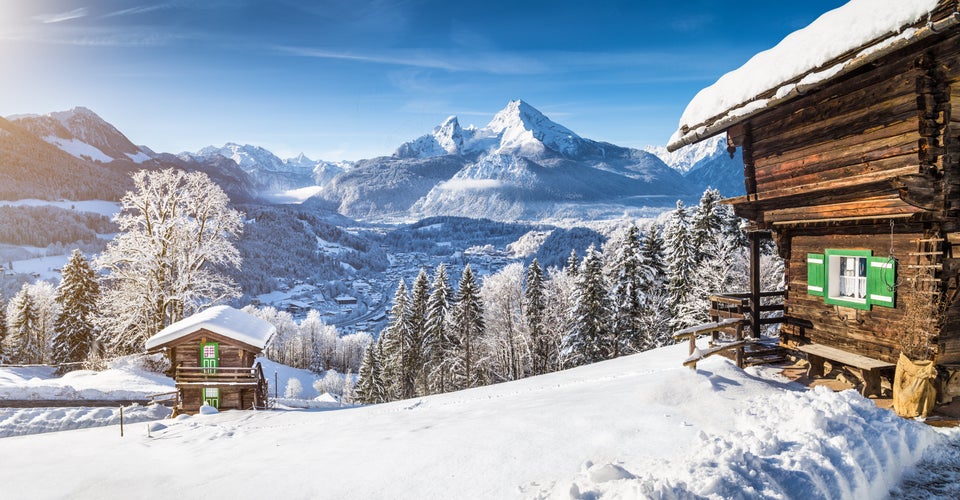 4 Surprising Places At Risk From Climate Change
Popular in the Community