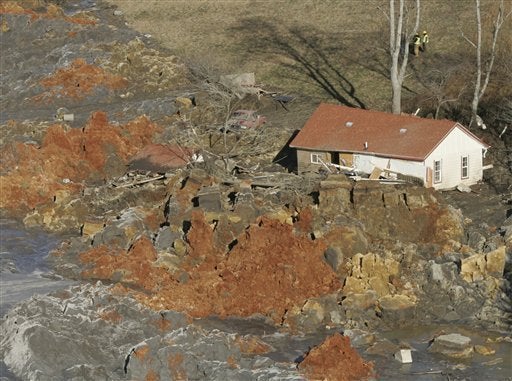 In West Virginia, Kentucky and Tennessee, the people of the Appalachian coalfields are fighting for a basic human right: clean water to drink, cook, and bathe.

What would you do if your water looked like this?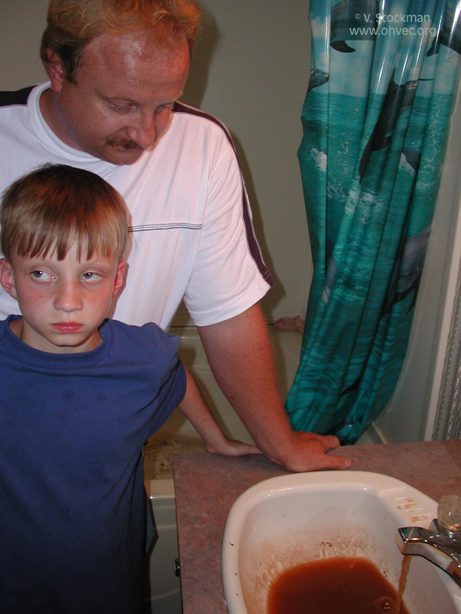 Photo credit: Vivian Stockman
In Larry Brown's town of Rawl, West Virginia, formerly pristine mountain streams are now contaminated by coal waste from mining operations. In Prenter Hollow, WV groundwater has allegedly been contaminated by by the injection of coal waste underground. And in Kingston, Tennessee, residents are fighting a catastrophic one billion gallon spill of coal waste from a TVA power plant into the river.
Coal waste is killing Americans. In a heart-rending scene in the film Burning the Future - Coal in America, Kenneth Stroud of Rawl, West Virginia holds up a glass of orange water and says "This is my tap water. I'm unemployed and can't afford to buy any water. I'm worrying now every day daily that I'm going to die. I've asked a lot of the people around ... if they would watch out for my kids, you know ... if I do die." The film trailer (excellent -- 2 mins) is below:
Dr. Ben Stout, professor at Wheeling Jesuit University, stated in a Dec 17
Charleston Gazette
article entitled
:
"The tragedy in Prenter and other Appalachian communities is that folks had good water, then over a period of time, their water gradually degraded to the point where it is obviously not fit for bathing, much less cooking and drinking... they have been unknowingly exposed to high levels of metals that have well-known human consequences."
According to the Gazette article, registered nurse Pam Johnson said 98 percent of adults interviewed in the Prenter area have gallbladder disease. "Before I went down there I thought that people were exaggerating their problems, but when I got there, I realized they were underreporting their health problems."
Coal waste is not regulated as a hazardous waste by the EPA, despite the presence of known toxins including arsenic and lead. The coal industry doesn't want any regulation on coal waste, because it would hurt their corporate profits. Despite extensive news coverage, some congressional representatives from coal states have done little to help the people of the coalfields get clean, safe drinking water.
For example, southern West Virginia Rep. Nick Joe Rahall is a strong supporter of the coal industry. On March 1, 2000 Rep. Rahall and 10 other representatives wrote to then-EPA Administrator Carol Browner "We strongly urge the EPA not to regulate the ash from combustion of fossil fuels [coal ash] as a hazardous waste."
In response to the TVA coal ash disaster in Tennessee, Rep. Rahall has proposed to regulate coal ash. According to Rahall staffer Jim Zoia, "...utility coal ash impoundments should be regulated in the same manner as coal sludge impoundments."
Great -- does he mean regulated in the same manner as the Martin County Coal impoundment, which failed disastrously in October, 2000, sending 300 million gallons of coal waste into two eastern Kentucky mountain streams? Does he mean regulated in the same manner as the coal waste injection that has allegedly caused the colorful water problems in Rawl and Prenter, West Virginia?

One West Virginia coalfield resident has called Rep. Rahall "the worst of the worst." Another writes
"Rahall is rude and dismissive of his constituents when they lobby on behalf of the environment. He is totally in support of mountaintop removal ... He certainly has no regard for the coalfield population that has been sickened or forced to leave their homes to make way for mountaintop removal. He does not care that family cemeteries are being blasted away. He supports "clean coal" wholeheartedly and obviously is not concerned about global warming."
Rep. Rahall's Washington office phone number is (202) 225-3452. A nice staffer will pick up the phone (not Rep. Rahall) -- politely ask to leave a message for Rep. Rahall asking him to help the people in Rawl and Prenter get clean safe water. Also, tell them that you think coal waste should be regulated by the EPA as hazardous waste, because the spill in Tennessee released over 1 million pounds of arsenic into the Emory and Clinch Rivers.

For more information, contact the Prenter Water Fund, c/o Coal River Mountain Watch, P.O. Box 651, Whitesville, WV 25209.


Related
Popular in the Community