(Written with considerable input from residents of the Louisiana Delta and a concerned citizen of the UK)
A post I did over the weekend on the Coast Guard's new 65 feet boom rule has given me a lesson in the power of social networking. Rest assured, my work here at the Huffington Post hardly ever gets this attention. For some reason my post struck a very sensitive nerve. I mention the power of social networking because tips that I received on Facebook and Twitter about the Coast Guard's use of paid Public Relations professionals panned out in ways I never expected. On my own, I would have never pursued investigating commentary by Petty Officer Rachel Polish of the Deepwater Horizon Response team on my post -- a post which soundly criticized an attack on the First Amendment by the new "boom rule." I was not the only person expressing concern about maintaining press access to Barataria Bay, Louisiana on this long holiday weekend, which ironically celebrates the Declaration of Independence. CNN's Anderson Cooper was first out of the gate.
It was Petty Officer Polish's right to offer commentary and within readers' rights to offer positive and negative commentary on my post. This is the age of interactive media after all. What absolutely floored me were the number of tips that came in on my Facebook page from concerned citizens of the Louisiana Delta and elsewhere. This information offered the possibility that Petty Officer Polish was a paid public relations operative for BP, working in her capacity as a Coast Guard reservist.
Did my post inadvertently provide a bully pulpit for BP and Coast Guard propaganda?
Could this be true? As it turns out, there is plenty of room for concern regarding this apparent marriage of public relations and a government agency, especially when the PR firm that employs Petty Officer Polish is the same PR firm that represents BP.
SAN FRANCISCO, July 9, 2009 - Ogilvy Public Relations Worldwide (Ogilvy PR) announced Rachel Polish as Vice President of Digital Strategy of the 360° Digital Influence Group on the West Coast. With more than 15 years of public relations, corporate and crisis communications, government affairs and social media strategy, Polish will provide counsel to clients across all practice groups and support business development efforts on behalf of the agency.

"Our Digital Influence team has a proven approach to digital word of mouth that constantly attracts an ever-growing client base," said John Bell, Managing Director of 360° Digital Influence. "Rachel's experience, talent and leadership in the digital space will be an invaluable addition to our team, and we are thrilled she is joining us."
A brighter tomorrow" is the theme for BP Gas, Power and Renewables. We were responsible for brand positioning, creative development and style guidelines for activities above and below the line, worldwide.
Ogilvy widely promotes this YouTube video as an example of how the company handles "ultimate" branding.
Still, I wondered if Polish's PR career was concurrent with her duties as a Coast Guard reservist. The answer is "yes."
Ogilvy Public Relations Worldwide (Public Company; WPPGY; Public Relations and Communications industry) June 2009 -- Present (1 year 2 months)

Creating engaging experiences designed to promote awareness, brand loyalty, advocacy and conversion as part of Ogilvy PR's 360 Degree Digital Influence Practice.
Develop comprehensive digital strategies and events for consumer brands, technology companies and government agencies designed to increase word of mouth and positive buzz
Manage research projects, providing actionable insights that inform engagement planning
Integrate with account teams, serving as the digital strategy lead for high-profile clients and brands
Partner with clients on internal social media training needs, brainstorming big ideas, measurement and targeting
Here are Petty Officer Polish's Coast Guard responsibilities.
Public Affairs Specialist, Petty Officer First Class, U.S. Coast Guard Reserve
(Government Agency; Military industry)
2001 -- Present (9 years )
Serve as media liaison for breaking news or Coast Guard operations cases
Compose press materials and stories for media and Coast Guard publications
Function as on-scene photographer for Coast Guard events and cases in progress
Coordinate with multiple Coast Guard units and external agencies on press events and announcements
In her own words, Polish is a media liaison for the Coast Guard, a Coast Guard reservist, a photographer for the Coast Guard, a branding and media specialist, and is working for Ogilvy, whose client is BP, "Creating engaging experiences designed to promote awareness, brand loyalty, advocacy and conversion."
On her website, in the post "The Brand of 'We' Versus the Brand of 'Me'", Polish offers a "brand and communications" strategy for the Coast Guard.
Because it is so critical that we consider how we as a branch of the military want to be portrayed in the media and in the public eye. (emphasis from Polish) This is how we build taxpayer trust, support from our elected officials and confidence from our partner organizations...

...Ensure consistency of the brand and key messages in press releases, in the look and feel for official websites (I ask you to compare the public affairs sites from three different Coast Guard districts and ask if they appear to be from the same government agency) and in social media channels such as Twitter, Facebook and the official blog - Coast Guard Compass.
OK, so the Coast Guard wants to build taxpayer trust -- let's give them that. But to do so with "a partner organization," makes one ask the question, just how "partnered" is the Coast Guard with BP, and why have so many, not just the media, felt that the Coast Guard is operating as a puppet of BP ever since the BP oil catastrophe began on April 20?
Polish is obviously a skilled and talented woman, but does it constitute a conflict of interest for her to be working in these two capacities concurrently?
It is no surprise that Polish has latched onto the Huffington Post as an "engaging experience." One has to ask the question, "How many of the additional negative comments directed at social networkers who criticize BP may have been encouraged by Polish's 'coordination?"'
It is a legitimate question. Sure, "trolls" are everywhere in comments sections, but to have them here because the Coast Guard and BP are paid to make sure they are here is the proverbial horse of a different color. The larger question is whether taxpayers are footing the bill for BP's interest in spinning this environmental catastrophe.
In her own words, Polish is also "serving at the Unified Command as part of the Deepwater Horizon Response effort." Unified Command consists of the Coast Guard, BP, NOAA and Homeland Security. They are certainly unified, and one of Polish's Twitter re-tweets strangely says the "Coast Guard IS Homeland Security."
A quick check of the Internet requires no special skills as an investigative journalist. It is almost too easy, and one of the reasons I am shocked is that a paid PR professional would have so much of her private life available on Twitter, including what bars in New Orleans she frequents, as well as fawning accounts of her encounters with Thad Allen, Janet Napolitano and Vice President Biden, and the Secret Service's guard dog. I like dogs, also and get that, but I would never tweet about it. However, I must admit my dog sometimes figures prominently in my Facebook adventures, as does a traveling lamp. You can find out anything about me on Facebook, and most of it is very uninteresting.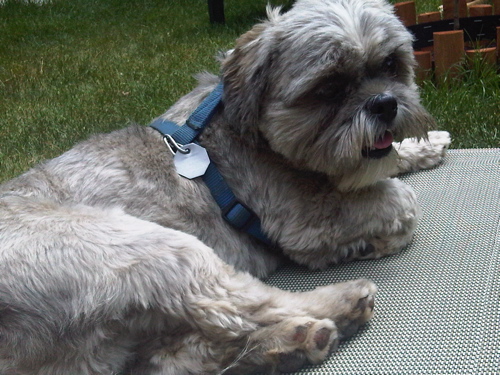 My Cool Dog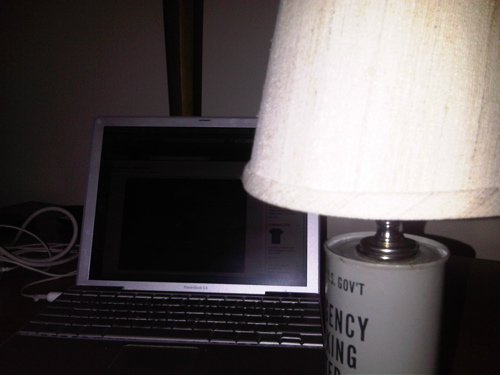 My Traveling Lamp
A member of an Atlanta bluegrass band gave the lamp to me. I won't use the name here, because BP and Unified Command might send trolls after them. Just doing a little social networking here, folks. They are a great band, but I am not in their employ. If you want to know who they are, contact me offsite. I like doing this branding thing for them and I like poking fun at myself.
But the use of social networking as a forum by the Deepwater Horizon Response Team is no laughing matter.
Her Twitter account is certainly interesting and probably will be embarrassing for Polish, but what is far worse is the calculating way she has approached "branding" the Coast Guard for public consumption. Where do we go from communicating to messaging to branding, and how does that hinge on Polish's public relations career opportunities, not to mention playing a larger role in possible press censorship? The current directive on distance from boom material is the case in point, especially since Polish is managing the media.
If the truth is censored you have to replace it with something, and in this case, since myself, Cooper, and Plaquemine's Parish President Billy Nungesser came out squarely against the boom law, there have been several press releases alleging vandalism, including this photo of "vandalized boom."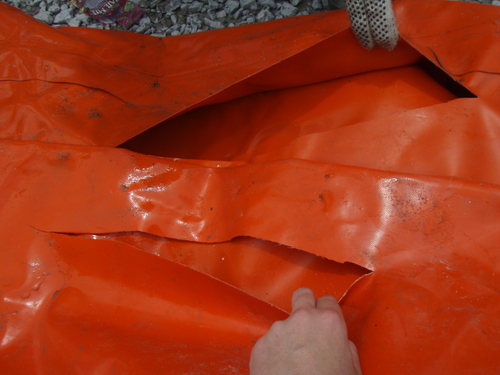 Here is one of them. Ask yourself if this boom came out of oiled water, where is the evidence of oil? Examine the clean slit in the boom. Oiled waters should at least have impacted this area. This looks like pristine boom material. Compare it to what we photographed in the water in Barataria Bay.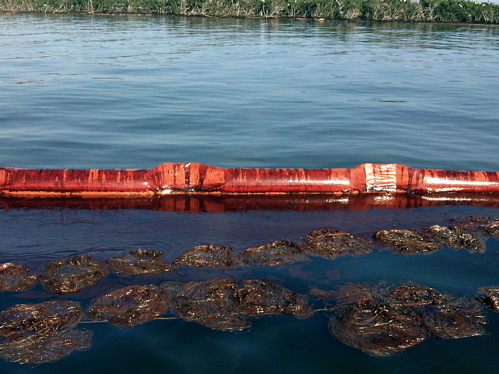 Yes, the boom is hosed off when it is taken out of the water for redeployment, but one would think boom vandalized with a knife while in the water would have oil all over the inside. You be the judge.
Billy Nungesser in a radio interview backing up his constituents and the beleaguered people of Louisiana says, "Nobody is destroying the boom," adding that "stupidity is ruling instead of cleaning up the oil. We need someone with guts to keep the oil out instead of making up stupid rules."
In frustration Nungesser added, "Why are we fighting them when they are supposed to be helping us? I am sick to my stomach."
I searched high and low for photos of propeller-damaged boom on the net. It turns out that oil containment boom is pretty sturdy stuff and if a prop does encounter it, it "shreds" and does not leave a clean, sharp cut like the one pictured in the Coast Guard photo.
Such barriers, to be practical, must meet stringent operating conditions. The barrier should be made entirely of rubberlike material, and free from metal chains or cables extending therealong, so that when it is accidentally run over by a ship, rather than winding up around a propellor or shaft and so possibly causing considerable damage or delay necessary for its removal, it is simply chopped up into pieces. In such case, it is desirable that its sections be relatively short and easily replaceable, thus causing no particular problems, certainly fewer than those of a ship immobilized until its propellor can be freed of chain or cable wrappings. The barrier of said Patent has proved to be highly effective under actual operating conditions in permanent installations.
Then, to add more confusion, a "corrected" press release was issued late in the afternoon of July 4: "Correction: A photograph of boom suspected of being damaged by vandals was cut by workers as part of the normal removal process." The original photo is gone from the current online version, but we have the original email.
It is this sort of behavior that leads to suspicion and accusations that BP and the Coast Guard are being less than candid with the media and the American public. If the "vandalized boom" press release was an honest mistake, it stands to reason that there would be no need to scrub the previous release from the Internet, unless, perhaps, the photo was staged to begin with.
It is also curious that the new press releases came out on the Fourth of July (usually a dead media day) and after comments criticizing Petty Officer Polish ramped up on the Huffington Post.
Coincidence? It is certainly possible, but curious all the same.
Again, you be the judge. I don't know what was in their minds. I can only see the results.
By the same token, Petty Officer Polish has now been placed in a very compromising position by both the Coast Guard, which she truly loves, and by the public relations firm, Ogilvy, which employs her as a Vice President and maintains BP as a client.
I am not an attorney, but I ran this entire mess past one.
There appears to be a conflict of interest under any rules, except perhaps those of the US Coast Guard. Normally when one has an interest in a company as Ms. Polish does given that in her civilian capacity she is employed performing PR work for BP, one would recuse themselves from any work concerning that company in another capacity, e.g., judging a case involving the company or considering the company for a contract award. In fact, the rules at many government agencies require one to do so when one is acting as a judge or engaged in procurement activities. Therefore, why Ms. Polish would be employed performing PR work involving one of her company's clients on whose account she works as a reservist is beyond me, especially when there are other Coast Guard PR tasks that she can perform which would not involve accounts that she handled as a civilian, e.g., perhaps the work that the Coast Guard is undertaking in the Middle East, or on drug interdiction, to suggest just two.
On the one hand, anyone with compassion, and I am such a person, would feel very sorry for Petty Officer Polish. She is probably kicking herself for participating in this grand social networking experiment and engaging Huffington Post readers to begin with. On the other hand, she should have known better than to allow herself to be placed in this position. Perhaps the whole situation was just too heady and we all know power intoxicates. I know I could feel very protected and insulated to have such close access to the Vice President, the Homeland Security Director, and Thad Allen as well as the upper echelons of BP. Together, they are running the show on the Gulf Coast, but the lesson here is that social networking has made it possible for ordinary citizens to level the playing field by doing their own Internet research and loudly voicing their opinions.
Polish offered a response to Huffington Post readers late in the evening of July 4. They don't seem to be buying it.
As a Coast Guard reservist, I was activated on Title 14 orders - involuntary recall - for 60 days as part of the response effort and am proud to serve my country. I've always been incredibly transparent about my civilian job. My employer has thousands of clients, but I would never work on anything that would pose a conflict of interest. I am happy to answer any questions you may have.
The bottom line is this. Are BP and the Coast Guard knowingly operating on the American taxpayer's dime? Who has the best interests of the people, the wildlife and the ecosystem at heart? Nungesser is correct when he calls for someone, anyone, to take the reins and make some sense out of this mess.
I hope CNN's Anderson Cooper picks up on this and runs with it, although my Facebook friends say Rachel Maddow is the better bet. Rachel had best hurry home from Afghanistan.
Me, I will be down on the Gulf, talking to people, relating their stories, taking photos, and sharing their experiences during this horrible catastrophe -- a catastrophe that is destroying their lives and livelihoods.
Last week Coast Guard Captains of the Port in the region put in place limited, small waterside safety zones around protective boom and those vessels actively responding to this spill. This was required due to recent instances of protective boom being vandalized or broken by non-response vessels getting too close. These 20-meter zones are only slightly longer than the distance from a baseball pitcher's mound to home plate. This distance is insignificant when gathering images. In fact, these zones, which do not target the press, can and have been opened for reporters as required.
It is hardly a comfort to learn that the media will still be controlled by the Deepwater Horizon Response Team. The good news is that the voices of dissent are being heard, loud and clear.
UPDATE: Just received permission from Sarah Markworth (UK) and Editilla of The New Orleans Ladder to mention them in regards to tips.

Popular in the Community