HOUSTON ― Little Zaiden Thomas squealed with glee from his hospital bed here on Monday as U.S. Coast Guard Ensign James Gardner blew bubbles toward him.
"Look at those bubbles!" the 3-year-old crowed. "Do it again!"
Gardner, 24, was all smiles.
"I think I've found my new job," he said. "Professional bubble blower."
The two have a special connection. During the height of the flooding in the Houston area caused by Hurricane Harvey, the Coast Guard and Texas Children's Hospital coordinated "mission impossible," a plan to rescue 33 children with kidney failure who were stranded throughout southeast Texas.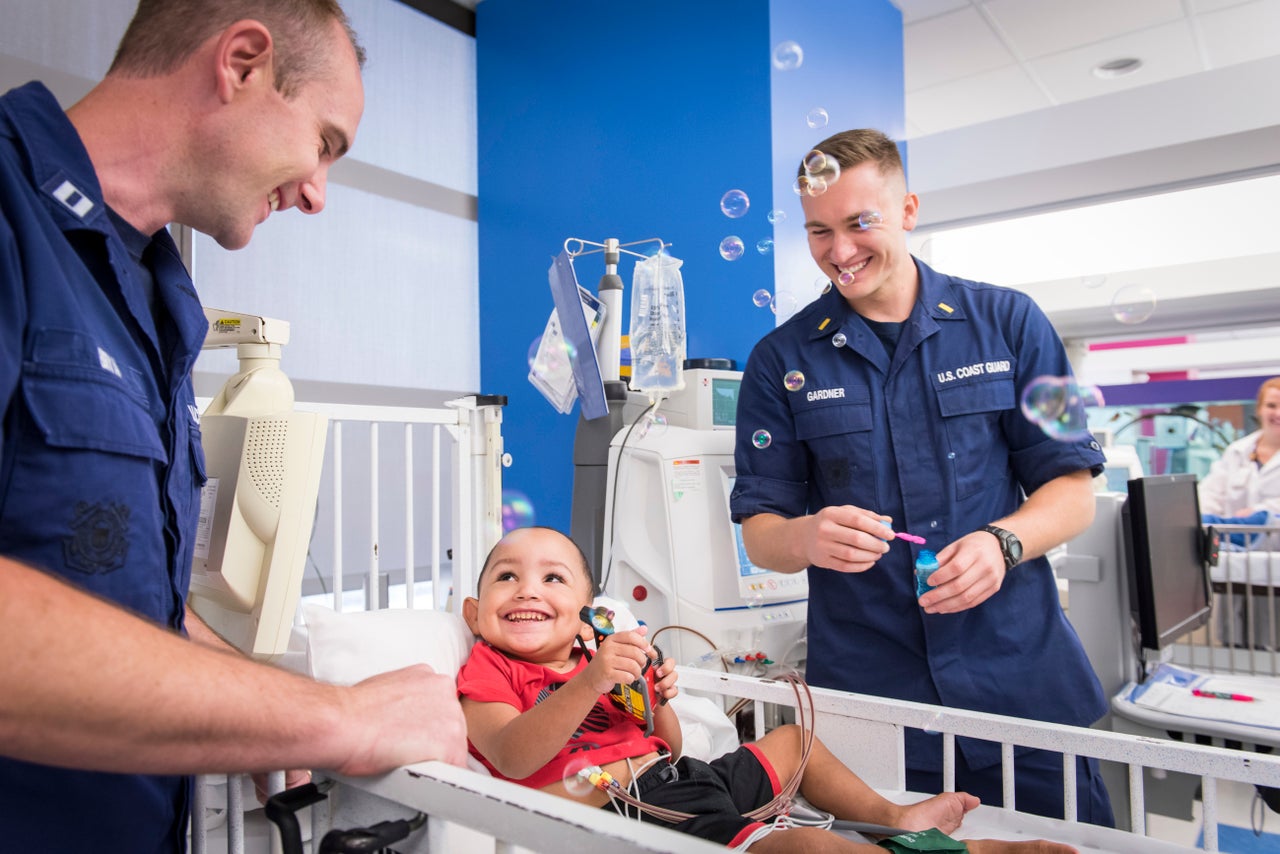 They needed immediate transport to the hospital for dialysis; without it, they might die.
Zaiden lives in Bryan, Texas, about 100 miles from the hospital where he receives treatment four times a week. Gardner, alongside three other Coast Guard personnel, planned and executed the boy's rescue by Blackhawk helicopter last Tuesday, Aug. 29.
By Wednesday morning, all 33 children in need had made it safely to dialysis units at Texas Children's Hospital and neighboring Children's Memorial Hermann Hospital, thanks to the daring mission.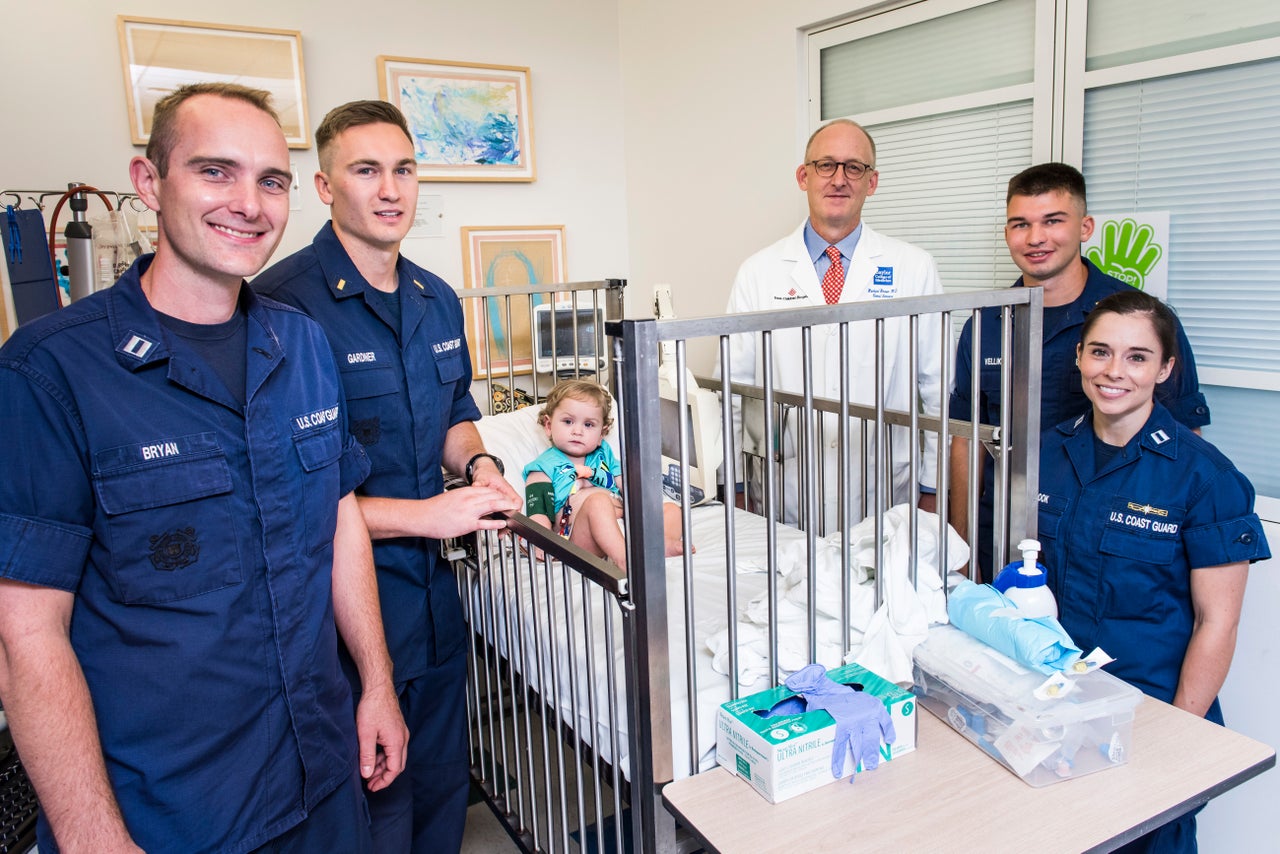 On Labor Day, Gardner and the colleagues who helped him ― Lt. Brad Bryan, Lt. Lindsay Cook and Ensign Gregory Velliky ― got to meet Zaiden and other kids in person at the pediatric dialysis unit.
"I'm overwhelmed with emotion," Gardner told HuffPost. "To actually put a face to the name and see the children and the parents we talked to, I don't know how we kept it together in there. It was amazing."
"Well, we didn't really keep it together in there," Bryan said with a grin.
Indeed, the Guard members teared up as they handed the children toys and coloring books, and chatted with the hospital staff who were eager to share their gratitude.
Dr. Michael Braun, chief of the pediatric nephrology center at the hospital, and the four Guard members worked closely to coordinate the patient pickups, which also involved other first responders.
Hospital staff knew that each moment the children spent without dialysis ― a treatment that filters blood to remove waste and excess fluid ― could affect their chance of survival.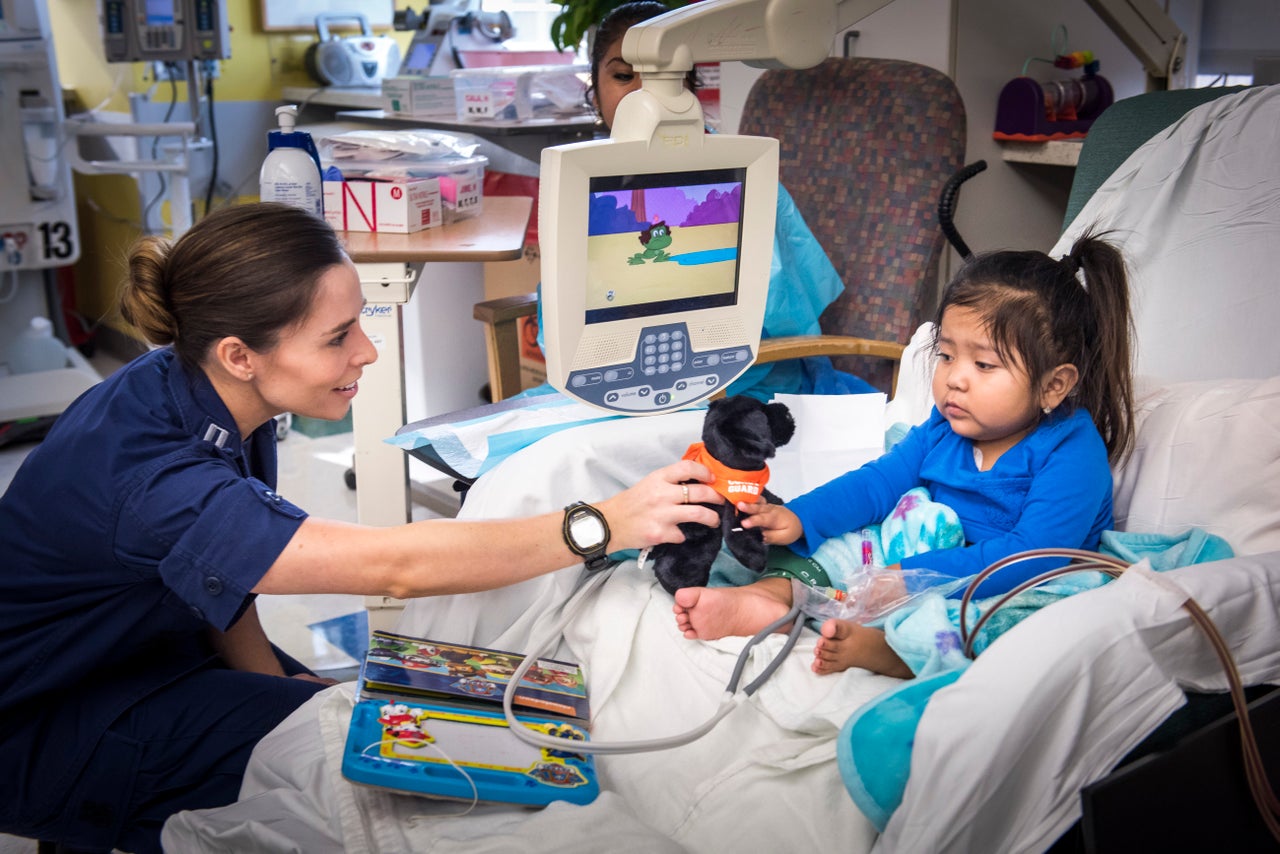 Vilma Besandre, 57, a longtime pediatric dialysis nurse, arrived for work on Aug. 25 ― the Friday night Hurricane Harvey made landfall ― and didn't return home for more than 100 hours. As the storm raged over the weekend, waters swelled around the hospital, flooding the streets.
On Monday, Aug. 28, she answered call after call from families who were stranded and frantically trying to find a way in for treatment. Their children were overdue for dialysis, and starting to experience symptoms from missing it, such as headaches and trouble breathing.
"They missed Monday," Besandre said. "They could not miss Tuesday as well."
For five nights, she slept on a recliner at the hospital, where she stole a few hours rest between tornado drills. As the patients began arriving, she was able to relax some.
"We were so happy," she said.
For the Coast Guard members, the feeling was mutual.
"To hear the panic in that parent or guardian's voice, you just feel for them," Cook told HuffPost. "So when we got the email from [Gardner] saying that all the kids were accounted for and that they had made it to the hospital, it was such an amazing feeling."
Related