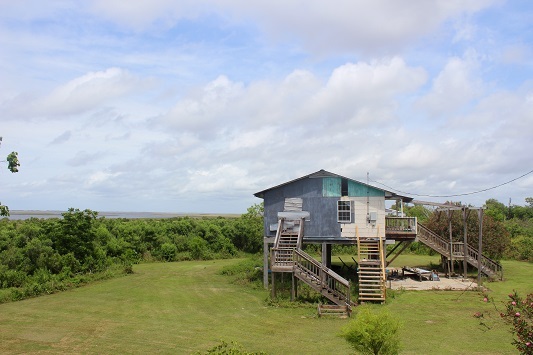 This article first appeared in the May 2016 issue of Preservation in Print magazine. All photos by Liz Jurey.
Wenceslaus Billiot stands on his front porch on the Isle de Jean Charles in Terrebonne Parish.
Water laps at the base of a small levee 20 feet from the back door of his home, which sits perched on pilings 11 feet above a manicured lawn.
Between the house and levee, vegetables grow in small, well maintained strips of handmade garden planters, a testament to the self-sufficiency of the island's residents.
Across the island's only road, another single file line of homes is backed by more open water, at once representative of the island's primary means of sustenance and its steadily approaching destruction.
Billiot, an 89-year-old member of the Isle de Jean Charles Band of Biloxi-Chitimacha-Choctaw tribe, has lived on this sliver of land below Houma all his life.
Life on the island was much different when Billiot was a young man, and fishing wasn't the only way members of the tribe took advantage of the area's abundance of natural resources.
"Way back in the old days, people used to trap, that used to be trapland!" Billiot said, pointing across the road to a patch of open water dotted with occasional clumps of marsh grass. "They trapped muskrat, and mink, raccoon, and whatever they had. Now it's nothing but water."

Louisiana is Losing Land
Only one road connects the island to the rest of Terrebonne Parish, and it has been reduced to two lanes snaking through open water on both sides.
A steady south wind will push water across the road, cutting off the island until the water subsides. A storm of any size means residents have to prepare for being cut off from the rest of the world for an indeterminate amount of time.
In 1955, the island was made up of 22,400 acres of land, which is about 18 times larger than City Park in New Orleans. Today, only 320 acres remain, an area about one quarter the size of City Park's 1,300 acres.
"They had to build that road through the marsh," Billiot said. "It was a good marsh. People used to walk on that marsh. It was hard land. They had some people from Bayou Lafourche that used to come trap on that marsh. Now it's just water."

Resettlement
Louisiana Office of Community Development executive director Pat Forbes said the amount of land loss surrounding the island puts it in the most dangerous tier of his office's land rating system.
Having heard of the island's precarious future even before Hurricanes Katrina and Rita, Forbes said he was on the lookout for ways to help the Biloxi-Chitimacha-Choctaw tribe relocate.
"When the National Disaster Resilience Competition came along, we reached out and talked to them right away," he said.
The state of Louisiana ended up bringing home $92 million in grant money from the competition, which was administered by the United States Department of Housing and Urban Development.
More than half of the grant money the state received, about $48 million, will be used to relocate the residents of Isle de Jean Charles to higher ground.
Giving Climate Change a Face
The voluntary relocation program aims to preserve the essence of the island's unique community, which traces its roots back to the early 1800s when Frenchman Jean Marie Naquin moved to the island after being ostracized for marrying a local Native American woman named Pauline Verdin.
Two other mixed-race families soon joined, and the Isle de Jean Charles Band of Biloxi-Chitimacha-Choctaw tribe was soon established.
What was once a remote Cajun-inspired slice of paradise has been steadily whittled down by a confluence of ecological factors including saltwater intrusion, soil subsidence, hurricanes, and man-made disasters such as the BP Oil Spill.
"In our mind, we have given climate change a face," Tribal Executive Secretary Chantel Comardelle said. "This is reality. This is what climate change does to a community."
In the past 16 years, Comardelle said she has watched the high water marks from floods during hurricanes push steadily further and further up the bayou, putting more and more residents at risk.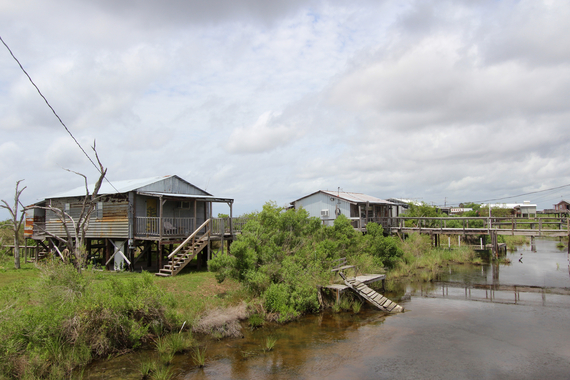 "The effects of just letting that one community go, it's just a drop in the bucket," she said.
But the problems don't just begin and end with steadily increasing global temperatures as we see new historic high temperatures month after month.
"When you take climate change and look at it from our perspective, it's layers of effects that all point back to one thing," she said. "You have your man made disasters, like the BP Oil Spill - that's a layer that has affected us. You have your natural disasters - your hurricanes - that's another layer. There's land loss from erosion and saltwater intrusion from gas and oil exploration. You have sea level rise and subsidence from the damming of the Mississippi River that robs us of sediment to rebuild the land. All those layers put together create the big ball of wax of climate change that we are dealing with every day."
Transplanting the Community
Unlike "buy-out" programs that do little more than cut a check to cover relocation expenses, moving the tribe to higher ground is a very complex process designed to protect the essence of the island's once-thriving community.
"This is definitely new ground," Forbes said. "The basic model is buy-out, and the people scatter to the wind, and all the community that they had living in a tight knit little place like that is gone."
Joseph Evans and Barney Lighter of Evans + Lighter Landscape Architecture are working with the Lowland Center to work out the details of the tribe's new home.
While a definite location has yet to be selected, Evans and Lighter have drawn up extensive plans that incorporate as many of the island's current features as possible while strictly adhering to the gospel of sustainable living.
"In this design, we're looking at sustainability and resilience in the long term," Evans said. "We're trying to design a safe and healthy site for the community so that they can re-engage with the culture and identity of the tribe."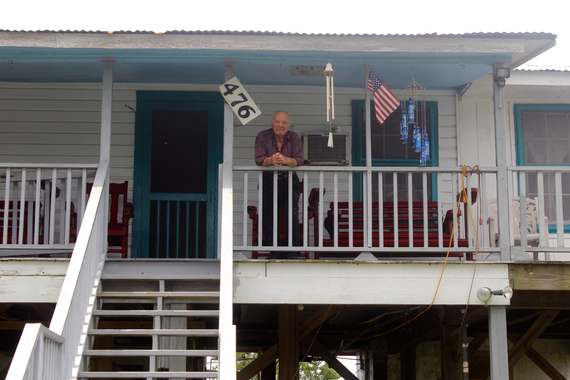 Each new house will face water, preserving the maritime views the island's residents have come to expect.
The new site will also feature a single main road mimicking the way the current Island Road works its way down through the heart of what is left of the island.
While Comardelle said most of the island's residents are ready to move to higher ground, some are reluctant to abandon their homes.
"If some people want to leave, they can go, but leave us alone," a handmade sign staked to solid ground near the front of the island reads. "The people have a right to live where they want, not where people tell them to go and live...God bless the island."
For his part, Billiot said he plans to leave his home for higher ground without a fight.
"I tell you one thing: if a big hurricane comes, there won't be no more road, probably," he said. "If I was a younger man, maybe I would stay, but not now. If the water moves us, we're going to move."
Calling all HuffPost superfans!
Sign up for membership to become a founding member and help shape HuffPost's next chapter