 "Delivery Man," the new Vince Vaughn comedy about a New York resident who has unwittingly become father to 533 people because of a sperm bank mix-up, isn't exactly a comedy. Written and directed by Ken Scott, and based on Scott's well-reviewed 2011 Canadian film, "Starbuck," "Delivery Man" is filled with dramatic elements that might surprise fans of Vaughn's R-rated comedies like "Wedding Crashers" and "Old School."
"The tone of this movie affected all of us in the sense that it was very grounding," Cobie Smulders, who plays Vaughn's long-suffering girlfriend in the film, told HuffPost Entertainment. "It was very sweet and heartwarming. It was about the relationships rather than who was going to get off the best one-liner."
Smulders, 31, plays Emma in "Delivery Man," a New York City police officer pregnant with the child of Vaughn's character, David Wozniak.
"I found her to be a very conflicted character," Smulders said of the supporting part, which forces her to be strong-willed yet often naive to the mess surrounding David and his 533 offspring. "I think the fun thing to play is that she's completely unaware about what's going on in the second half of this movie. She sees David starting to change and starting to grow and become this man that she's always envisioned he would be, and then, at the end, the bomb is dropped on her [about the kids]. It's so quick. I'm sure after the film fades to black there are many conversations being had about this situation."
There were many conversations, too, about Emma herself before production even wrapped. The character is different from what was presented in the original "Starbuck," because Scott sought to give Emma a bigger voice in the film. That, however, caused its own set of problems.
"It was actually funny, because her voice became very angry. We were shooting these scenes and they were like, 'Let him have it! Scream at him!' I was constantly berating him. It was getting intense. I'm like a screeching woman here," Smulders said with a laugh. "We had to reshoot some scenes where it was a little bit more toned down. Because people weren't connecting to the relationship as much, obviously because I was screaming at this man the whole time. He deserved it, but there's only so much the audience can see of that."
Not that Smulders didn't understand where Emma was coming from. David, after all, is an unreliable partner: He's got a host of financial problems, and when we first see him interact with Emma, it's after he has stood her up.
"It's hard, because in her eyes, he is such a screw up. A lot of that negativity comes out," she said. "So we played with those levels a lot. We wanted to make sure we got it right. In the end, I think we did."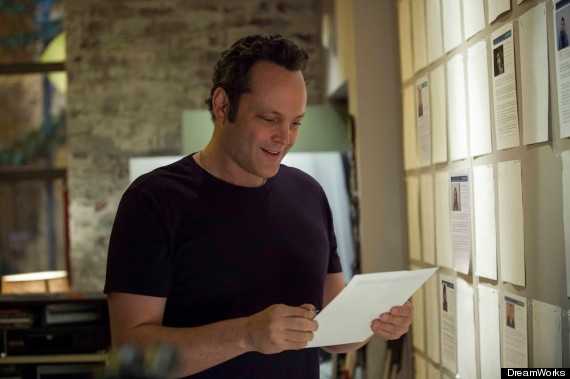 Vince Vaughn stars in "Delivery Man."
Smulders rose to fame on the back of "How I Met Your Mother," the popular CBS comedy that entered the Canadian-born actress into the zeitgeist for, among other things, her television alter ego, Robin Sparkles. With that show in its final season, more movies are on the horizon: She'll reprise her role of Maria Hill from "Marvel's The Avengers" for "Captain America: The Winter Soldier" and then likely again in "Marvel's The Avengers: Age of Ultron."
"I hope I'm in Avengers 2. I didn't get my invitation yet," Smulders told the Calgary Herald. "Well, actually, they know I'm in it but they don't know to what degree I'm in it."
That's fitting, since Smulders isn't exactly sure what's coming up for her in the immediate future either. Not that she's stressed about the freedom following what will be nine years on television by the time "How I Met Your Mother" wraps up next spring.
"I'm not going to be very picky. If something comes to me and I want to do it, I'll do it," she said. "I'm just looking for really good projects with varying characters -- ones I haven't done before -- so I can continue to grow as an actress. I like to challenge myself. Whether that's on television or film or on stage, that's what I'm going to go for."
Just in case, she has one project already picked out: "I want to do a Tennessee Williams play. I'm too young, but 'Sweet Bird of Youth.' Maybe in 20 years."
"Delivery Man" is out on Friday.
REAL LIFE. REAL NEWS. REAL VOICES.
Help us tell more of the stories that matter from voices that too often remain unheard.
BEFORE YOU GO
PHOTO GALLERY
Celebrity News & Photos